(And before Ohio, Vermont and Rhode Island too of course.)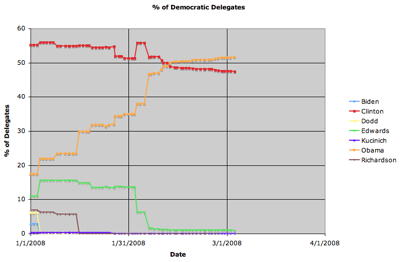 Hillary picks up 2 superdelegates. Obama picks up 9 superdelegates. That gap between them is now 109 delegates.
In percentage terms… Obama 51.6%, Clinton 47.5%, Edwards 1.0%.
Obama needs 647 more delegates to win. Clinton needs 756.
We'll see how all those numbers change after we get results from today's voting.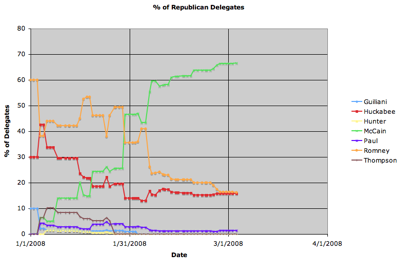 McCain picks up 14 delegates from a variety of places. A few unpledged delegates. Then delegates trickling in from delegate allocation processes in Alabama, Illinois, Maryland, Oklahoma and Tennessee.
In Percentages… McCain 66.7%, Romney 16.2%, Huckabee 15.7%, Paul 1.3%.
McCain needs 144 more delegates to wrap it up.