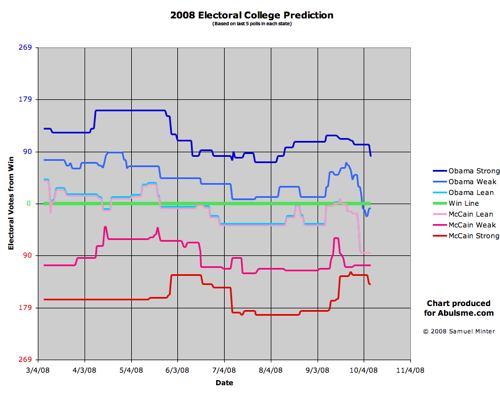 Only one status change today. Obama's lead in Pennsylvania heads north of 10%, moving that state from "Weak Obama" to "Strong Obama". This does not change the map, or affect our best or worst cases. It does mean that unless something changes, there is no need for Obama to waste too many more resources in Pennsylvania over the next few weeks.
New Summary:
McCain Best Case – Obama 277, McCain 261
Obama Best Case – Obama 375, McCain 163
If everybody gets their leans – 353 Obama, 185 McCain
We still have McCain's best case scenario, sweeping all of the swing states, still giving an Obama win. The overall charts, despite Florida becoming a swing state again, look incredibly strong for Obama. Right now McCain winning is simply not a possibility… barring of course a major earthquake that changes the landscape of the campaign completely.
Looking at some of the internal numbers though… poll changes that have not yet caused changes to switch categories… there has been some movement toward McCain in a few states. I still expect some additional tightening before we are done here.
And, just for my own fun on election night, I'd rather go into election night NOT having a map that is completely determined. I am a news junkie. I want a tight race and some suspense here. 2000 is my ideal election, with the results unknown for weeks… that was fun! A map that looks like we already know the winner at the beginning of October? Not as much fun.
But it looks like that is what we have right now.
Again, barring some major event that has a quick and dramatic effect on the map. This is not the kind of thing McCain can orchestrate though. It almost needs to be an external event that happens. And as the days dwindle, the odds of such a dramatic event happening are dropping rapidly.