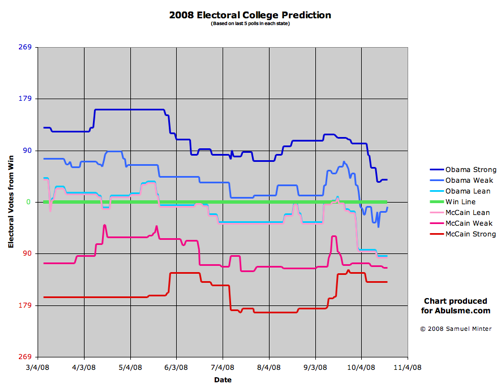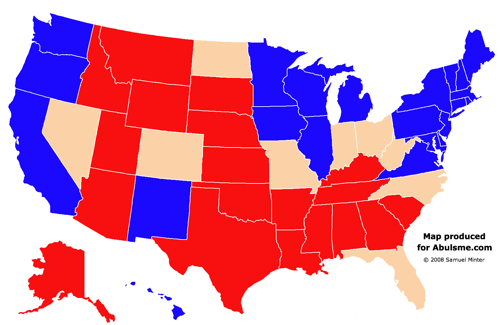 Today Obama's lead in Colorado drops below 5%, moving that state from "Weak Obama" back into swing state status. This expands the inventory of swing states, and improves McCain's best case that assumes he gets all the swing states.
New Summary:
McCain Best Case – Obama 277, McCain 261
Obama Best Case – Obama 383, McCain 155
If everybody gets their leans – 364 Obama, 174 McCain
Now, this still has McCain's best case being to lose. However, it has him losing by much less than he has been. Looking back at the last week, Florida finally stopped moving around, and seems to have stabilized as a "Lean Obama" swing state, but still a swing state, and within reach of McCain. It now looks clear that Obama peaked around October 15th (at least on the currently most important "Weak Obama" line) and we are now seeing the predicted tightening in the race.
Now, for McCain to actually have a path to victory, he needs to move at least 9 more electoral votes into swing state status out of "Weak Obama". That means he needs to get Obama's lead down to less than 5%. (And then of course he has to take the lead, but one step at a time.)
The current Weak Obama states are: Virginia (13 ev) 8.0% Obama lead, Washington (11 ev) 9.6% Obama lead, Minnesota (10 ev) 9.8% Obama lead, New Mexico (5 ev) 7.5% Obama lead, Maine (4 ev) 9.6% Obama lead, New Hampshire (4 ev) 8.4% Obama lead. You can work out for yourself possible plans for McCain to pull some of those down, but it looks like a long road.
(Additionally, a corrective note, I'm not sure how I missed it on the day it happened, but on October 14th New Jersey moved from Weak Obama to Strong Obama. I have retroactively corrected the charts as of today, but obviously not my comments from the days since then or the thumbnail charts in those comments. Since it does not change the swing states, this would not have affected any of the summary numbers. It does however make the charts look even stronger for Obama than they did with New Jersey as a "Weak Obama" state.)