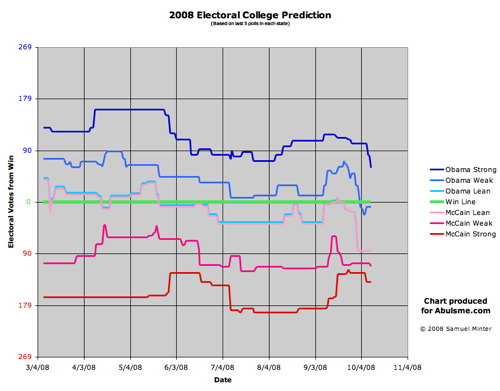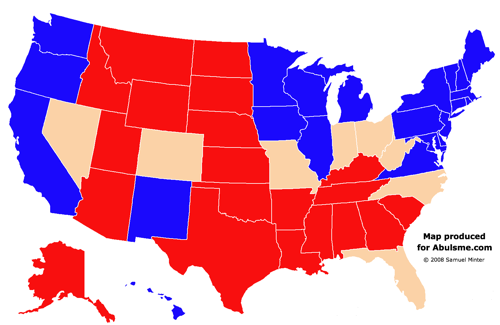 Three changes today. All three are in Obama's favor.
First, Obama's lead goes over 10% in Michigan (17 ev) and New Hampshire (4 ev), making them both into "Strong Obama" states rather than "Weak Obama". Both of these states were swing states just a few weeks ago. McCain's support in both has just completely collapsed.
Second, McCain's lead in West Virginia drops to less than 5%, making West Virginia into a swing state. West Virginia has been very sparsely polled, but McCain's margin has been consistantly decreasing with each new poll. The new poll today in West Virginia actually shows Obama *ahead*, but we still keep the state Lean McCain based on the weight of the previous polls. In this particular election cycle, seeing West Virginia threatening to go for Obama seems somewhat shocking. You just don't think of West Virginia as a possible Obama state. Especially because of how well he got crushed there by Hillary in the primaries… and frankly, due to some of the stereotypes people tend to have about West Virginia. But we probably should not really be that surprised. West Virginia has gone Democrat for 6 out of the last 10 Presidential elections. It is the home of Robert Bryd, the longest serving Senator and a Democrat. There are more registered Democrats than Registered Republicans. The state is not actually one of the "always Republican in living memory" sort of states. Nevertheless, the fact that Obama is pulling "Weak McCain" states into swing state status shows just where we are in this race.
New Summary:
McCain Best Case – Obama 277, McCain 261
Obama Best Case – Obama 380, McCain 158
If everybody gets their leans – 353 Obama, 185 McCain
Look at that. Not only is McCain's best case still to lose, but Obama's best case now has him winning by a 222 electoral vote margin. There is no standard definition of a landslide. Fivethirtyeight.com defines it as 375 electoral votes or more. Obama's best case is now in that world. And even the "everybody gets their leans" number has a 168 electoral vote margin for Obama.
And that just deserves a "wow" when compared to the close elections of the last couple of cycles.
We saw a little bit of movement toward McCain when Florida dropped back into swing state status a few days ago, but for the most part, looking at the tends, we are STILL seeing Obama continue to strengthen his position.
Can it continue? Can Obama strengthen in Florida, Ohio, North Carolina, Colorado or Nevada to make them NOT close? Maybe. Can Obama take the leads in Indiana, Missouri or West Virginia? Maybe. Can Obama start making it close again in Georgia, Arkansas, Montana or North Dakota? A week or two ago I would have said that was impossible. Now, I'm no longer so sure. Obama may not have reached his peak yet.
At this point I start to wonder if McCain has already internally resigned himself to the fact that he is going to lose, or if he really still thinks he can do this. And if he does, how does he thing he can do it? Because for that to happen, something major has to happen that completely changes the game.
And nothing McCain has been doing seems to be working. At all. In fact, it seems to be driving people toward Obama.
It almost makes me feel sorry for McCain.