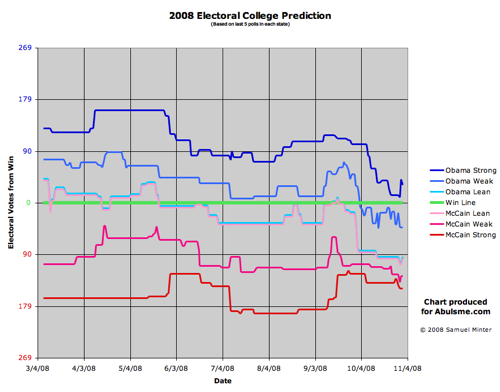 Two states change categories today.
Indiana (11 ev): After two days in Obama's column, the five poll average for Indiana once again falls on the McCain side of the line. As usual, I should point out that the difference between "Lean Obama" and "Lean McCain" is slight. States in either category should really be considered too close to call, which is why in our summaries we show the whole range of possibilities with those states going either way.
Wisconsin (10 ev): After a single day as a "Weak Obama" state the five poll average once again indicates an Obama lead more than 10%, so the state moves back to "Strong Obama".
New summary:
McCain Best Case – Obama 311, McCain 227
Obama Best Case – Obama 396, McCain 142
If everybody gets their leans – 364 Obama, 174 McCain
Without Indiana, Obama's "everybody gets their leans" count is no longer a 375 electoral vote landslide. However, just as every day since October 3rd, McCain's best case (winning all swing states) is still to lose.
To change that and make the McCain best case actually a McCain win, he needs to reduce Obama's lead to less than 5% in enough states to get 43 more electoral votes in the swing state group. The current "Weak Obama" states that McCain could be targeting look like this right now:
Pennsylvania (21 ev) – 9.4% Obama lead
Ohio (20 ev) – 5.6% Obama lead
Virginia (13 ev) – 6.0% Obama lead
Colorado (9 ev) – 7.0% Obama lead
Nevada (5 ev) – 7.6% Obama lead
New Mexico (5 ev) – 7.5% Obama lead
If McCain can get 43 of those electoral votes to less than a 5% Obama lead, then he would once again be in a situation where if he won all of his strong and week states, and then won ALL of the swing states, then he would win.
He has four days left to do it.