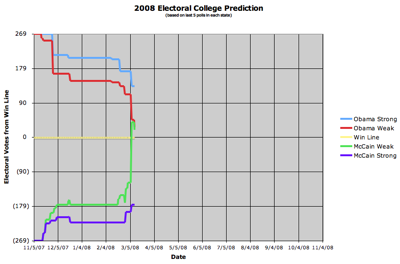 Pollster.com didn't put any new Obama vs McCain matchup polls on their poll update page that I monitor. But they did put up new charts for Ohio and Florida and lo and behold, those pages listed a bunch of polls for each state that had not previously been called out on the update page. Well, at least I didn't see them when I went to look when I started this thing. I (so far) have not gone back and retroactively added the impact of these polls to my lines going back into the past. But I made sure I had the last five for each state and included those in my average for today. The result is that Ohio flips from weak McCain to weak Obama.
This puts us at 288 electoral votes for McCain, 247 electoral votes for Obama and 3 electoral votes with no polls.
Of course, that is throwing all the "weak" states to the candidate that is ahead, and some of those contests are VERY close.
I had mentioned with my last update that I had decided to split the "weak" into those races closer than 5% and those from 5% to 10%. I meant to do this over the weekend, but didn't get a chance. I'll try to make time for it this next coming weekend, because I think it will let you read a lot more out of this chart.
I may go back and add in those additional historical polls to change the "past" portion of the lines too. Maybe. I haven't decided on that one yet. :-)
For the moment, I'm also sticking with the "last 5 polls" method. I had mentioned earlier that when pollster.com started publishing trend lines I might switch to that. I may still. But for now I'll stick with the 5 polls method.