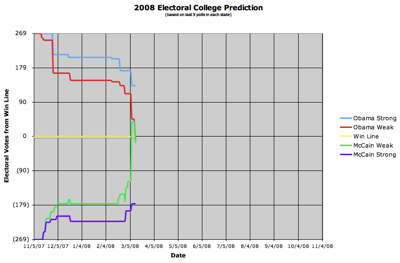 Same as last time there are not actually *new* polls per se, but rather pollster.com added new pages for New Jersey and Pennsylvania which included some polls I hadn't seen before that would fit into my "last 5 polls" criteria (and also are more recent than one year before the 2008 election).
When I added those polls in to the mix, Pennsylvania and New Jersey both flipped from weak McCain to weak Obama. This was enough to change the overall lead. We're now at Obama 283, McCain 252 and 3 with no polls.
I think I've made a couple of additional decisions on how I'll do these.
First of all, I won't make any retroactive changes to previous days totals. So, for instance, I found out about new polls today that are in the "five most recent polls" I will let that change my average from today forward, but I won't go back into the chart and try to retroactively correct yesterday's numbers to be as if I had known about those polls earlier.
Second, I'll stick with the "last 5 polls" number even when Pollster has a trendline. It will be a slightly different method, with slightly different results, but I'm OK with that.
Oh, and yeah, I will eventually get to splitting the "weak" states up. Just probably not during the week.