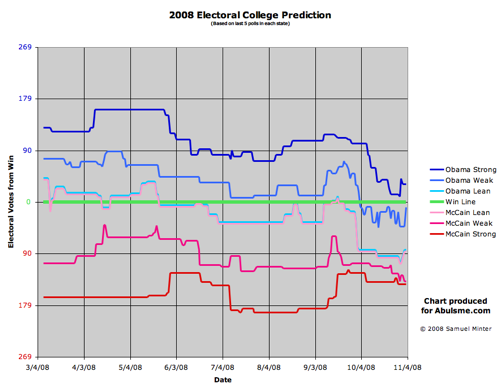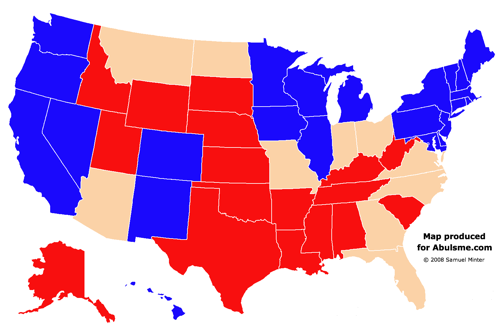 Two states change status today, both in McCain's favor:
Ohio (20 ev): After maxing out at an 8.2% Obama lead a week ago, Obama's lead in Ohio falls below 5%, making it a swing state again, and putting it once again within reach for John McCain.
Virginia (13 ev): With a pattern very similar to Ohio, Obama maxed out with an 8.0% lead a week ago, but his lead in the five poll average drops below 5% today, making Virginia once again a swing state.
New summary:
McCain Best Case – Obama 278, McCain 260
Obama Best Case – Obama 406, McCain 132
If everybody gets their leans – 353 Obama, 185 McCain
Now, the bottom line remains the same as it has for quite some time. McCain can win all of his strong and weak states, plus all of the swing states, and he would still lose. However, it is important to note that his loss in that case is narrower than it has been in a couple of weeks, plus since then he's taken the lead in a couple of states, and Obama's had a couple of swing states weaken… most notably Pennsylvania. And Pennsylvania is at a 6.4% Obama lead now. Way down from Obama's 12.0% peak.
So, once again gaming out what McCain would have to do to win given where things are now…
First he must win in ALL of the states he is ahead in.
Then he has to win ALL of the swing states Obama is ahead in (but barely): Florida (Obama ahead by 2.8%), Ohio (Obama ahead by 3.8%), North Carolina (Obama ahead by 0.4%) and Virginia (Obama ahead by 4.8%).
And then he must find 10 electoral votes by winning some combination of Pennsylvania (Obama ahead by 6.4%, 21 electoral votes), Colorado (Obama ahead by 7.2%, 9 electoral votes), Nevada (Obama ahead by 6.0%, 5 electoral votes) and New Mexico (Obama ahead by 8.3%, 5 electoral votes).
If McCain manages to pull that off by winning Pennsylvania, his move over the past few weeks into Pennsylvania will be hailed as genius just because he won. It won't be true of course, there were better places he could have put his resources several weeks ago that he might have been able to move instead. But that will be forgotten if he actually manages it.
Right now in my charts, there is no McCain path to victory because he would not only have to win swing states, but take states where Obama is ahead by more than 5%. But if he manages to tighten Pennsylvania just a little bit more, there will be such a path, although still a very difficult one.
He has just over 50 hours before the first polls close on election day.
(Although, as noted in yesterday's update the polls lag slightly, so if anything big changes in those 50 hours, the polls will probably be blind to it.)
There will be one more regularly scheduled update tomorrow, then starting at 00:00 UTC on election day, I will switch to updates whenever there are new polls… or actual election results as they get called. I will try to be as close to real time as I can manage.