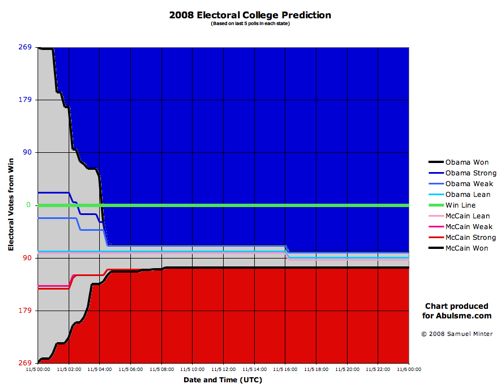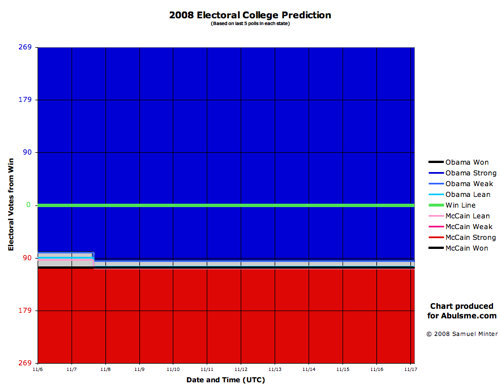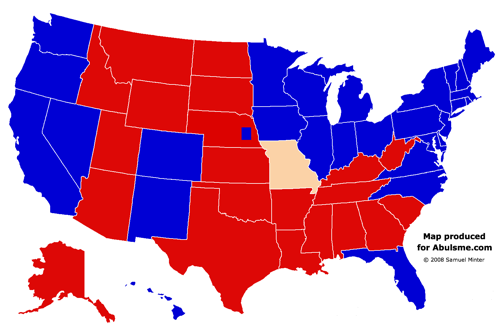 I stopped checking every fifteen minutes many days ago. I even stopped checking every few hours. But I was still checking at least once a day, and at 03:00 UTC today I noted that CNN finally, many days after other news organizations did so, reversed their earlier call, and moved Nebraska's Second Congressional District into Obama's column.
So we now have:
McCain Best Case: Obama 365, McCain 173
Current "everybody gets their leans": Obama 376, McCain 162
Obama Best Case: Obama 376, McCain 162
The one remaining state, Missouri, is still officially too close to call. However most analysis I've seen shows it is highly unlikely that Obama will take the state, so of the remaining scenarios, it looks like the "McCain Best Case" is the one likely to happen.
Official results in Missouri are due on Tuesday. It is likely to be close enough that Obama COULD ask for a recount. But he is pretty unlikely to actually bother, as it won't make a difference to the final outcome… other than to potentially put him over the 375 electoral vote line that some people use to define a landslide.