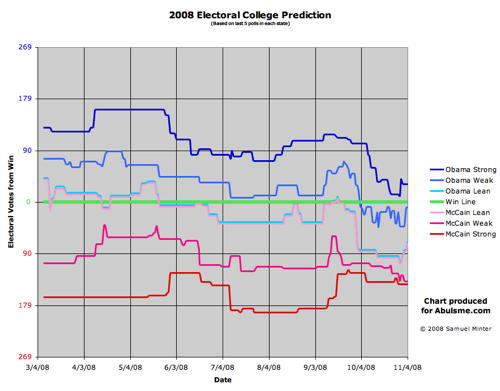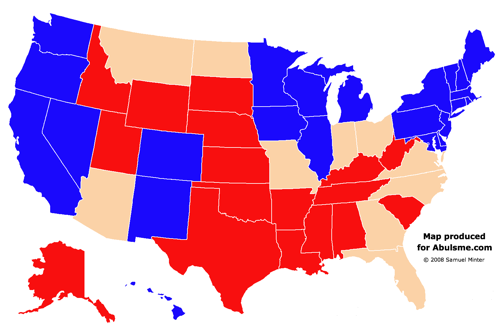 This is the last regularly scheduled daily update, so I am including the map even though it has not changed today. Starting in just over 2 hours, at 00:00 UTC, I'll start doing updates as soon as I get them if there are any remaining last minute polls, and starting in just over 24 hours when we start getting actual results I will make changes reflecting those results. I'll be "calling" states based on when CNN calls them.
But for today, there is only one change.
North Carolina (15 ev): Since the end of September, Obama's lead in North Carolina in my five poll average has ranged from 0% to 3.5%. It has always been very close though. Today, for the first time in a month, the five poll average moves to the McCain side of the fence. So the state moves from "Lean Obama" to "Lean McCain". As usual, I will caution that the true condition of North Carolina (and all of the swing states) is "too close to call", and being slightly on one side of the line vs slightly on the other side of the line, is not really a significant difference in where the state is.
New summary:
McCain Best Case – Obama 278, McCain 260
Obama Best Case – Obama 406, McCain 132
If everybody gets their leans – 338 Obama, 200 McCain
So, once again, and for the last time before election day… if John McCain gets all of the states he is ahead in, plus all of Obama's lean states… he still loses.
However, it must be said that it certainly does appear to be the case that McCain has had some momentum over the last week or so. He has pulled several "Lean" states from Obama's side to his side. As we keep saying, they are still all too close to call, but it does make the task of McCain winning "all the swing states" seem a bit easier. He now only had to pull three more states from Obama's side (Florida, Ohio and Virginia) to accomplish that goal.
Of course, that still would not be enough. Which is where McCain's Pennsylvania gambit comes in. As of today in the last five poll average, Obama is ahead by 8.8%. If there is more tightening there than the polls are showing, because of a Bradley effect or anything else, and McCain can somehow pull out a win in Pennsylvania, after already sweeping all of the swing states, then he could pull it off. His other paths involve a combination of Colorado, Nevada and New Mexico, but those seem less likely.
There is still not a path for victory for McCain in these numbers.
If I had to make a guess based on the polling pattern of the past two weeks rather than just trusting my numbers completely and going for the "everybody gets their leans" results, I would say that the final result will be closer to McCain's best case than Obama's best case.
On the other hand, the reports of super high early voting turnout which is leaning democratic, plus the massive Democratic Get Out the Vote effort this year, and the "enthusiasm gap", and some last minute one off polls showing Alaska and Louisiana close… which are probably outliers… but… all of those things would lead me to guess something closer to Obama's best case.
And well, since there are conflicting reasons to go one way or another, I'll stick with the numbers. If I had to make a prediction, I'd use the "everybody gets their leans" numbers. Obama 338, McCain 200.
But I don't really want to be nailed down that way either. So as a final prediction, I'll just say that I'm pretty confident that the final result will be somewhere between the "Obama Best Case" and "McCain Best Case" I have outlined above.
Which means an Obama win.
We shall see if I am right. Election day coverage on abulsme.com starts shortly.