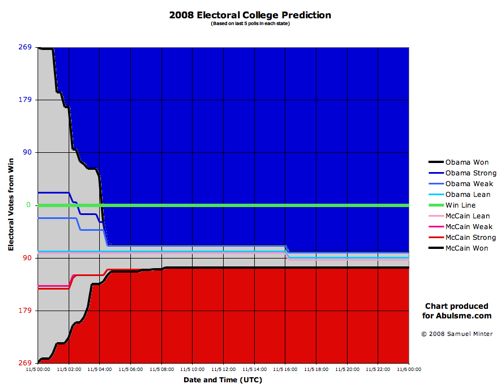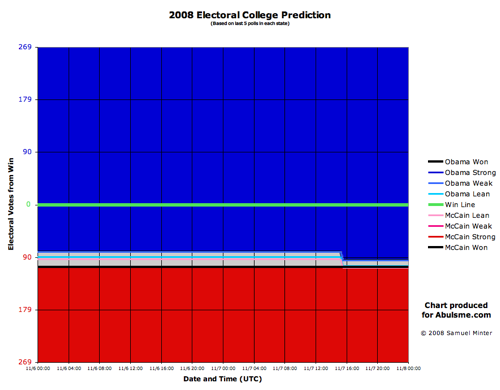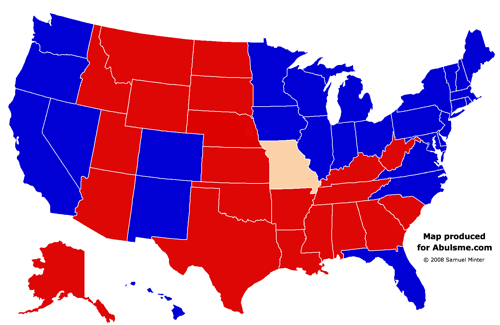 This update reflects states called by CNN in the 15 minutes before 15:30 UTC on November 7th.
There was one state called. North Carolina for Obama. This was the second "surprise" of the season compared to my immediately pre-poll closing predictions. North Carolina had been in the Obama column since the end of September, but had moved to the McCain side right before the election. This makes my record at this point 48 out of 50, with one state left to call.
New summary:
McCain Best Case: Obama 364, McCain 174
Current "everybody gets their leans": Obama 375, McCain 163
Obama Best Case: Obama 375, McCain 163
I should note however, that although CNN called Nebraska's 2nd District for McCain, and has not yet retracted that on their Election Results Page, many other sources have since called that district for Obama, thus taking an electoral vote away from McCain and giving it to Obama.
I'll keep sticking with CNN's tally here though, although they have been excruciatingly slow after the point Obama reached 270. I think in 4 years I'll have to use a different primary source.
For the moment though, I presume CNN will eventually catch up on the Nebraska electoral vote, and will eventually call Missouri.
Edit Nov 17 05:32 UTC: Corrected Obama numbers in the three scenarios above, which were all missing 3 electoral votes (from Vermont). The numbers above are now correct.