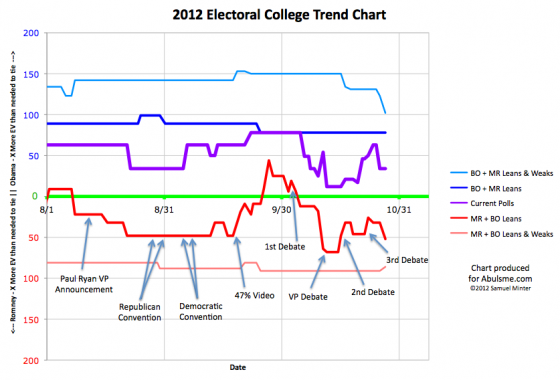 Four states change status today, three moving toward Romney, one moving toward Obama. On the surface this looks very good for Romney. We'll look into why that might not be the case in a bit, but first lets look at the four states that move today: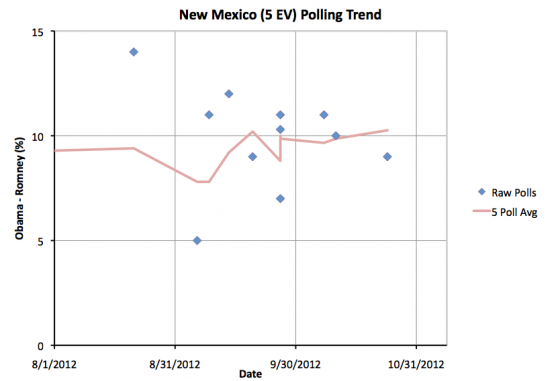 Very little to say about New Mexico. Obama's lead increases slightly and is now over 10%. Obama will win New Mexico.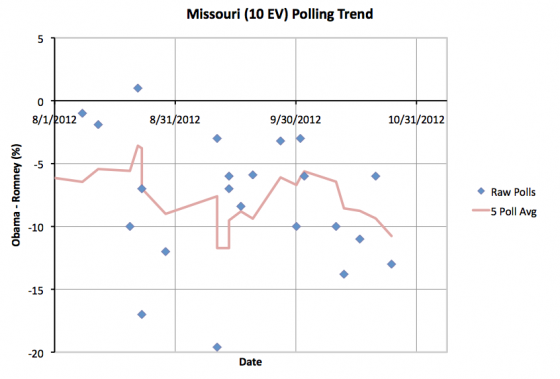 Not much to see in Missouri either. Romney's lead increases slightly and is now over 10%. Romney will win Missouri.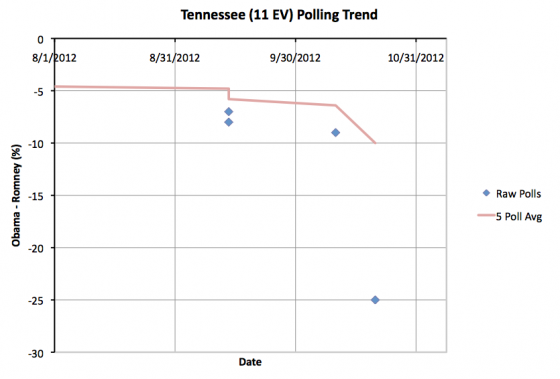 Tennessee is a bit odder. The new poll showing a 25% Romney lead in Tennessee looks like an outlier. No other poll in the state from the last year shows a Romney lead greater than 9%. Without this poll the five poll average has a Romney lead of 6.4%. With this, the Romney lead jumps to 10.0%, which moves Tennessee to the "Strong Romney" category. This may not be deserved, but I don't make judgements about outliers, I just let the average sort it out. Either way, Tennessee's not in contention this year. Romney will win Tennessee.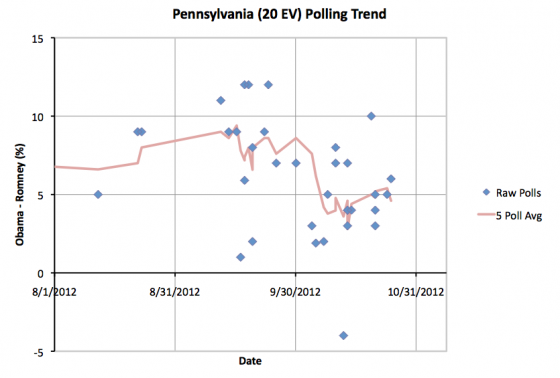 Pennsylvania shows Obama's lead dropping under 5% again as an outlier showing Obama leading by 10% drops off. Again, we just let the average deal with outliers here, and that is what has happened. Pennsylvania returns to "Lean Obama" which probably better represents the true state of the race in Pennsylvania at the moment. Having said that, it is at the high end, Obama's lead in the five poll average is now 4.6%. This is a pretty substantial lead. Any scenario that has Romney winning Pennsylvania would already have him wining the presidency handily.
OK, so this gives us this new map and summary: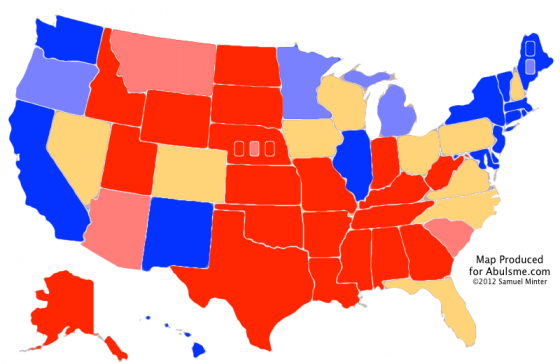 | | Romney | Obama |
| --- | --- | --- |
| Romney Best Case | 321 | 217 |
| Current Status | 235 | 303 |
| Obama Best Case | 191 | 347 |
As before though, since depending which way the close states go you could have either candidate winning, we need to look at the individual states:
North Carolina (15 ev): 2.4% Romney lead – 4/5 polls after last debate
Florida (29 ev): 0.8% Romney lead – 5/5 polls after last debate
Virginia (13 ev): TIE – 5/5 polls after last debate
Iowa (6 ev): 1.2% Obama lead – 2/5 polls after last debate
New Hampshire (4 ev): 2.2% Obama lead – 2/5 polls after last debate
Colorado (9 ev): 2.8% Obama lead – 5/5 polls after last debate
Nevada (6 ev): 2.8% Obama lead – 5/5 polls after last debate
Ohio (18 ev): 3.1% Obama lead – 5/5 polls after last debate
Wisconsin (10 ev): 3.8% Obama lead – 3/5 polls after last debate
Pennsylvania (20 ev): 4.6% Obama lead – 2/5 polls after last debate
Something interesting here, but I am running out of time to go into detail. Ohio is no longer the tipping point state! If you start adding these states up in order of how far away they are from Romney, you see that Romney's clearest path to victory is now holding North Carolina and Florida, then pulling ahead and winning Virginia, Iowa, New Hampshire, Colorado and Nevada. If he does that, he wins 273 to 265.
So as of today, if he moves every state more than 2.8% toward him, Romney wins. But yesterday that percentage was 2.5%. Wednesday it was 1.6%. Tuesday it was 1.2%
I may make a spiffy graph of this with the next update, but for now just looking at those numbers, you can see that despite moving some states closer to him, Romney's path to victory is slipping away. The states he needs to pull ahead in are instead slowly pulling away.
Note: Chart and map from the Abulsme.com 2012 Electoral College Prediction page. Both assume Obama vs Romney with no strong third party candidate and show polling as it currently exists. Things will change before election day. On the map red is Romney, blue is Obama, gold states are too close to call. Lines on the chart represent how many more electoral votes a candidate would have than is needed to tie under several different scenarios. Up is good for Obama, Down is good for Romney.