This week on Curmudgeon's Corner, Sam and Ivan's big topics are the gun control debate and the apparent Trump campaign implosion. Other topics are kid's summer activities, Brexit (recorded before the vote), and the process of choosing Presidential Electors. For a change of pace, Sam wraps it up with interviews of several delegates to the 2016 Washington State Democratic Convention.
Click below to listen or subscribe… then let us know your own thoughts!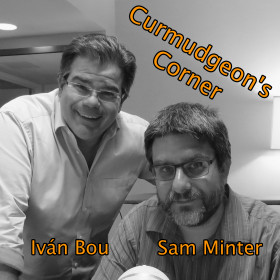 Recorded 2016-06-23
Length this week – 2:42:20

1-Click Subscribe in iTunes


View Podcast in iTunes


View Raw Podcast Feed


Download MP3 File


Follow the podcast on Facebook
Show Details:
(0:00:10-0:11:03) Kids in Summer
(0:11:04-0:19:55) Brexit
(0:20:34-0:38:03) Gun Control
(0:39:06-1:19:52) Trump Implosion
(1:21:12-1:34:45) Picking Electors
(1:35:34-1:41:17) Amy on WADemCon
(1:41:56-1:51:24) Nicholas on WADemCon
(1:52:28-2:00:11) Judith on WADemCon
(2:00:57-2:23:57) Chase on WADemCon
(2:25:07-2:37:43) Amy on WADemCon again
(2:38:57-2:42:01) Wrap Up
Note: Timestamps are accurate, but many audio players are not very precise on the timestamps they show, so depending on your player, if you scan to a specific time, you may not get exactly what is shown above and may have to scan back or forward a bit to get what is expected.