Sam is solo again on this week's Curmudgeon's Corner podcast. As you would expect, the big topics are election related. Clinton clinching. The Sanders dead enders. Trump's really bad week. Veep speculation. All of that. In addition, some brief hits on the Brock Turner case, the Gawker bankruptcy, some Apple stuff… and more!
Click below to listen or subscribe… then let us know your own thoughts!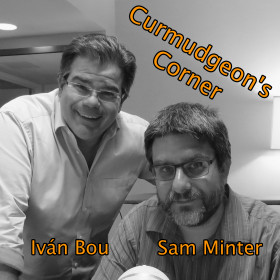 Recorded 2016-06-11
Length this week – 1:36:22

1-Click Subscribe in iTunes


View Podcast in iTunes


View Raw Podcast Feed


Download MP3 File


Follow the podcast on Facebook
Show Details:
(0:00:10-0:07:16) But First

Alone Again
Agenda
Early Mornings

(0:08:06-0:38:24) Election 2016 – Democrats

Clinton clinches
Sanders dead enders
Will Sanders get what he wants?
Clinton/Warren?
Stein effect?
Sanders as an independant?

(0:39:28-1:11:04) Election 2016 – Republicans

Trump's bad week
Trump's fundraising
Where Trump is spending money
Dump Trump?
Trump veeps
Johnson effect?

(1:12:08-1:36:02) Lightning Round

Alex promotes his channel
Brock Turner case
Gawker bankruptcy
Some Apple Stuff
I got tipped!