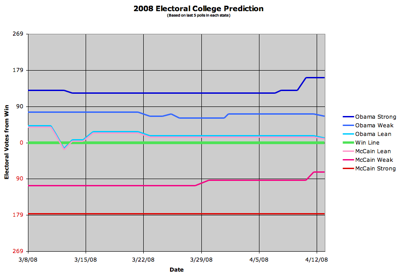 So just yesterday I talked about how there had been no good news for Obama in awhile in terms of these state by state contests. Well, of course as soon as I say such a thing, some good news comes in for Obama. However, it isn't because of new information per se, but because I know know more about the past as it were. Pollster.com added a new New Mexico Chart which included a couple polls that I did not have yet, although they were not the most recent polls. They did however change my "last five polls" average. In this case New Mexico moved from "Leans McCain" all the way to "Weak Obama". This changes several of the summary numbers.
Current Summary:
McCain Best Case – McCain 335, Obama 203
Obama Best Case – Obama 342, McCain 196
And if everybody gets their leans (and Obama gets DC) – McCain 278, Obama 260
Still extremely close. Even as we've had states slip out of the "leaning" category to go to one side or another, the range remains pretty well centered on the win line. Nice even unpredictable split.