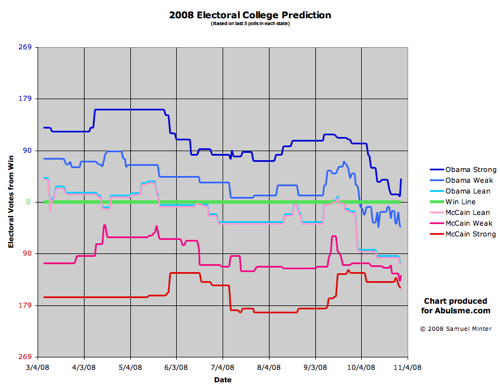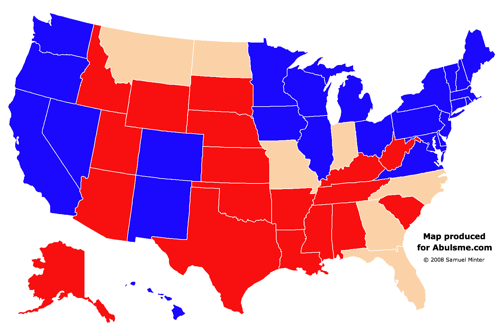 So after the massive wave of states moving toward Obama yesterday, today we have three move in the other direction.
Pennsylvania (21 ev): McCain's decision to spend lots and lots of time and effort in Pennsylvania these last couple of weeks starts to bear fruit. He has managed to take Obama's lead from its peak a couple of weeks ago at 14.1% and has now pulled it to below 10%. As such, the state moves from "Strong Obama" to "Weak Obama". Unfortunately for McCain, since the state is still quite a long way from being a swing state, it makes no difference to the summary of possible results.
Arizona (10 ev): After a brief one day flirtation with being a swing state, McCain's lead in Arizona once again goes over 5%, taking his home state back out of that category, and back into "Weak McCain" status.
Wisconsin (10 ev): After a couple of weeks as a strong state, Obama's lead in Wisconsin once again falls below 10% and becomes a "Weak Obama" state. As with Pennsylvania, it makes no difference to the overall summary.
All of these changes together mean we have this new summary:
McCain Best Case – Obama 311, McCain 227
Obama Best Case – Obama 396, McCain 142
If everybody gets their leans – 375 Obama, 163 McCain
Prior to today, Obama had been very close to being able to win this election with only states he was ahead in by more than 10%, not only not needing the swing states, but not needing his weak states either. With Pennsylvania and Wisconsin both dipping back into "Weak" territory, that scenario now seems hard to reach given we only have a few days left. (Unless of course both states bounce right back tomorrow, which is always possible.)
Having said that though, the fundamentals don't change. "Weak" states are states the candidate actually can feel relatively safe in, but which the other candidate might have a chance if they push really really hard, or if some major event suddenly changes the dynamics of the race. This kind of thing can of course still happen, but there is now very very little time for such dramatic changes.
The basics have been the same as they have been almost all month. McCain can win every state he is ahead in, plus every state Obama is ahead in by less than 5%, and he would still lose.
Right now, to actually win, McCain needs to win all of the states he is ahead in, all of the states Obama is ahead in by less than 5%, and then he needs to collect at least 43 electoral votes from the states Obama is ahead in by more than 5%… most likely from the weak states… as of today, here is what he has to choose from… Pennsylvania (21 ev), Ohio (20 ev), Virginia (13 ev), Wisconsin (10 ev), Colorado (9 ev), Nevada (5 ev), New Mexico (5 ev). There are several ways to get 43 electoral votes out of that mix.
But given that to even have any of those states matter, McCain has to have already managed to hold all his own states, plus win Florida, North Carolina, Indiana and Missouri, all of which Obama is currently ahead in (although not by much), and then pull a minimum of three of these weak states where Obama is now ahead by significant margins… it is a very hard road.