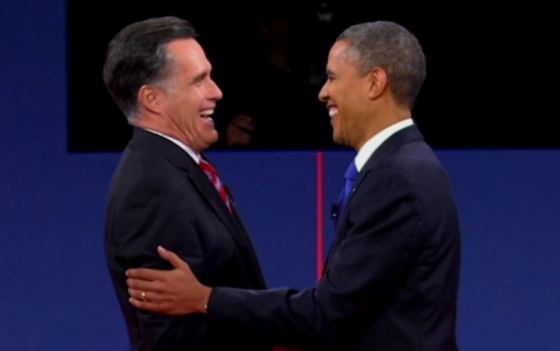 I got stuck in twitter jail about 20 minutes before the end of the debate, and was frustrated by being blocked from more live commentary.    Sigh.  Oh well.
So a quick bottom line here.
The first half was pretty even, but for the second half Obama won every exchange and got stronger and stronger as the night progressed.  Meanwhile, Romney didn't respond to attacks.  He just let them stick and looked upset.
I think on balance Obama won, and by the end was winning pretty strongly, but it wasn't a blowout like Romney had in the first debate.
In the end though, I'm not sure it will make a huge difference.
Thing is though, Romney needed it to make a difference.  The race is very close right now, but Obama is still slightly ahead.  Romney needed a big win tonight.  Big enough to move polls in his direction.  I don't think he got it.  This will either be neutral, or be a positive for Obama.
Perhaps I'm wrong.  I was wrong when I said Romney had peaked at the beginning of September, what with not having anticipated a wholesale Obama melt down at the first debate.  So we'll just have to wait and see how things move as we start getting post-debate state polls.
The first general election polls close 14 days, 19 hours and 55 minutes from now.
That will go by really fast…
Oh, final note.  I like how unlike the other two debates both candidates and their families hung out on the stage and mingled and talked to other for several minutes after the debate.  Romney introducing Obama to his grandkids and such was just cute.