937 pictures for the month. First cut got it down to 50. Second cut got it to the required 1 per day 30 for the month of November.
2014-11-01 01:13 UTC – Remember I divide things based on Universal time, so in Seattle Trick or Treat is early on November 1st and that is how we start the month. For the second year running, Brandy made Alex a train as his costume. He also wore a conductor-like outfit.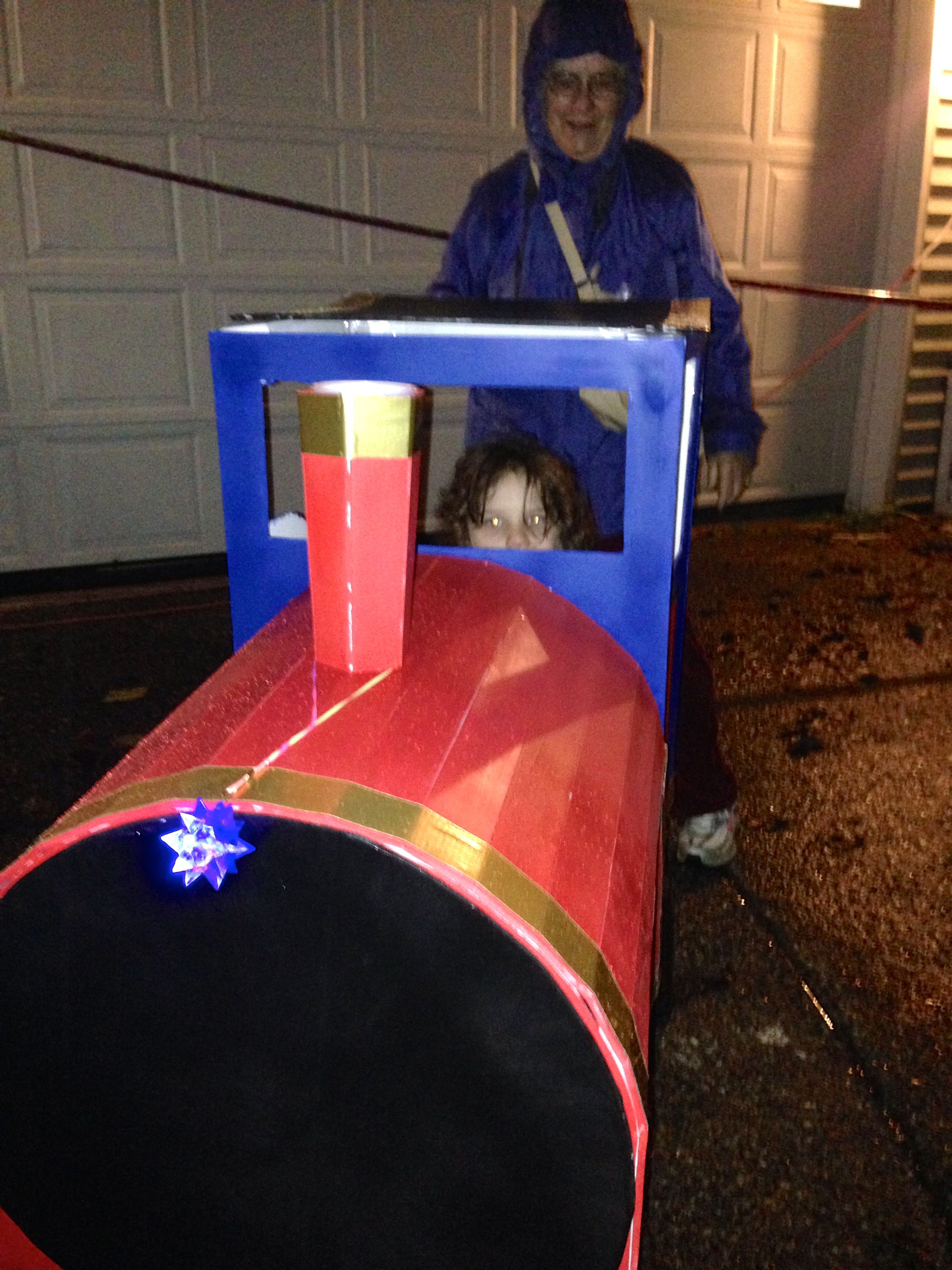 2014-11-01 02:08 UTC – The train leaves the station with Grandma Ruth right behind.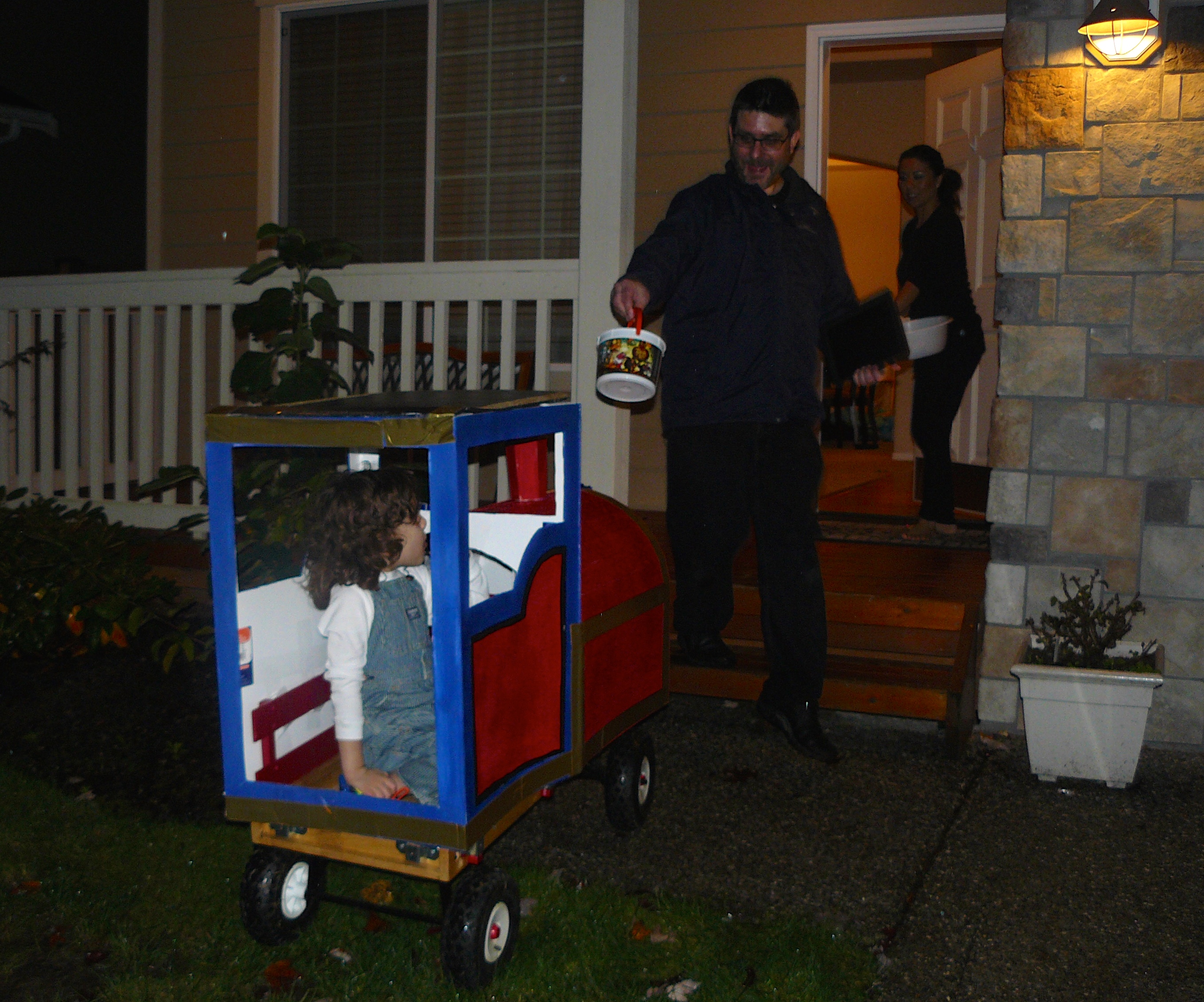 2014-11-01 02:14 UTC (picture by Grandma Ruth) – At first, all the stops were like this. Alex insisting on hiding in the train while begging me to do the doorbell ringing to collect his candy.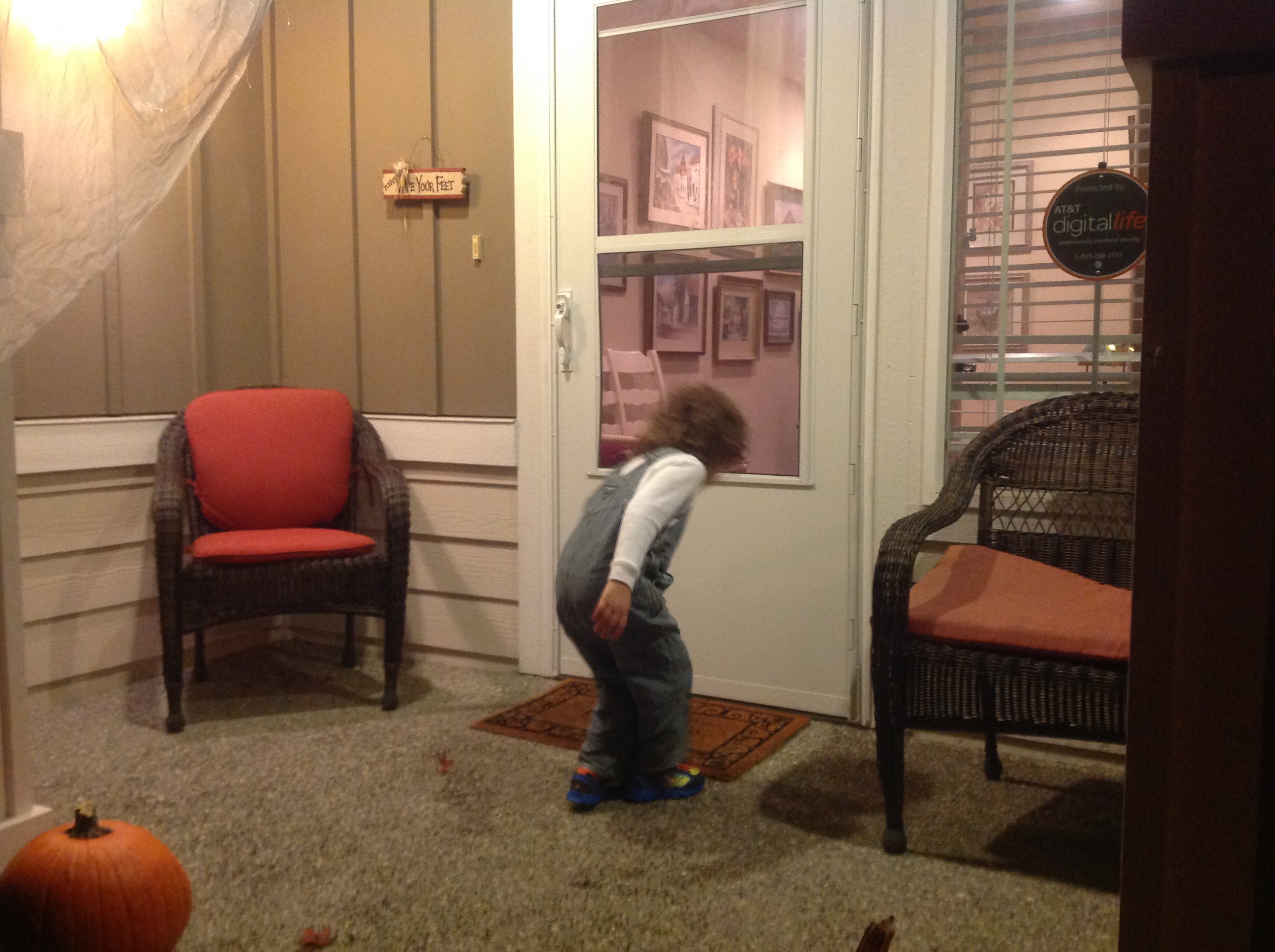 2014-11-01 02:34 UTC – Later, after a bit of coaxing, we got him to actually go up and ring the bell.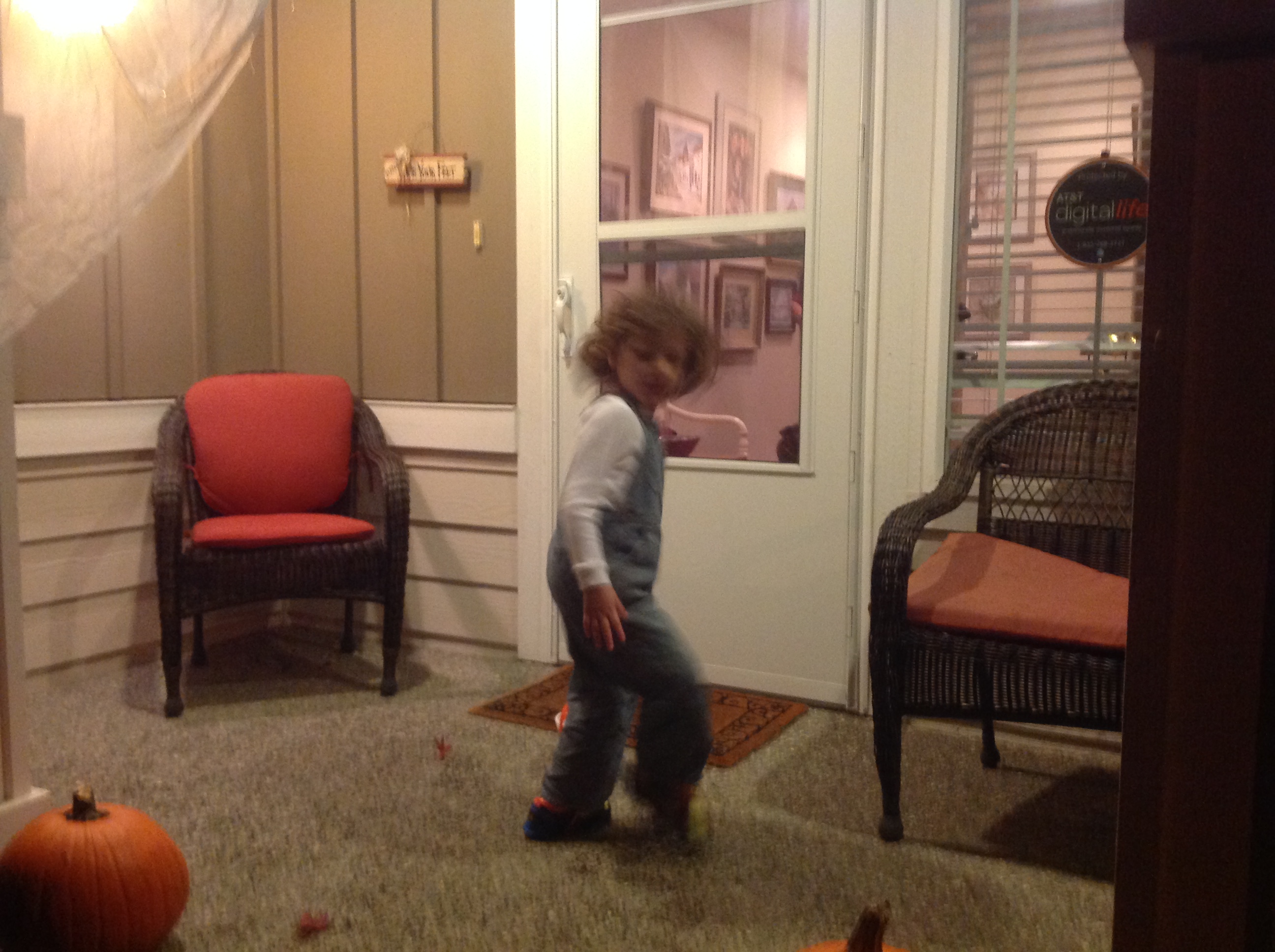 2014-11-01 02:34 UTC – After which he would immediately turn and run. He would then hide in the train again.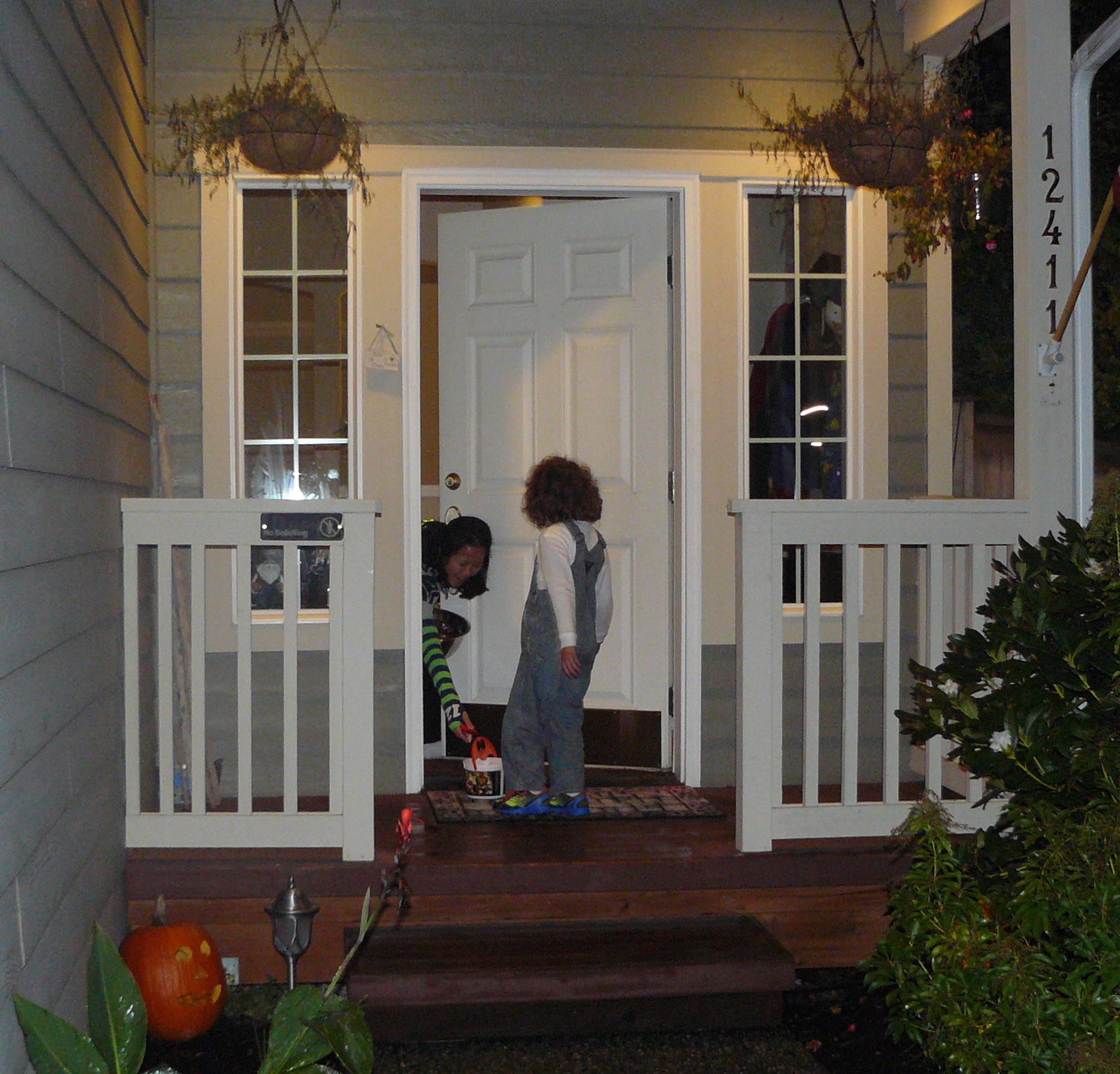 2014-11-01 02:56 UTC (Picture by Grandma Ruth) – Eventually toward the end, he finally (reluctantly) did the whole thing himself a couple of times.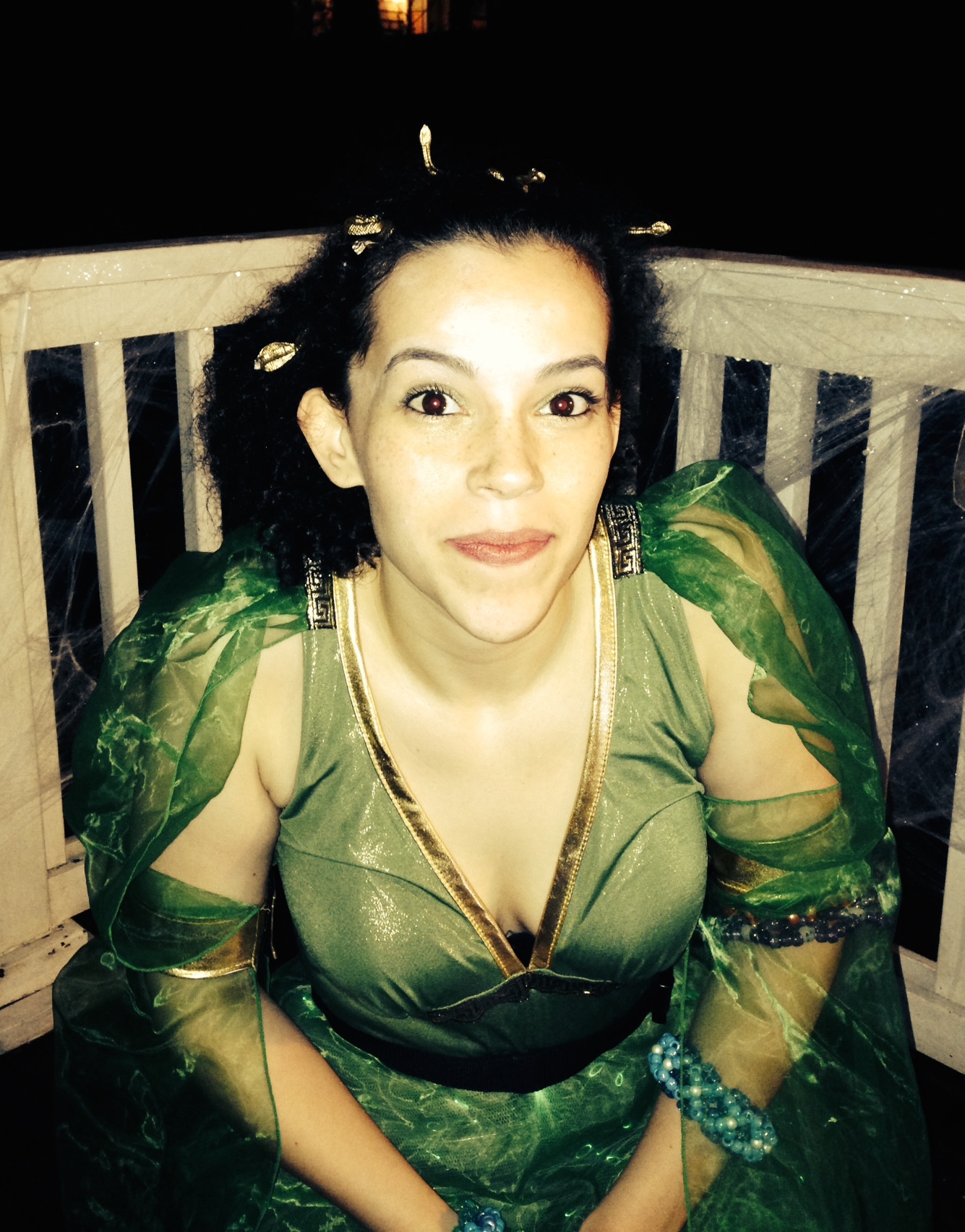 2014-11-01 03:57 UTC (picture by Brandy) – This was Amy's first outfit for Freaknight.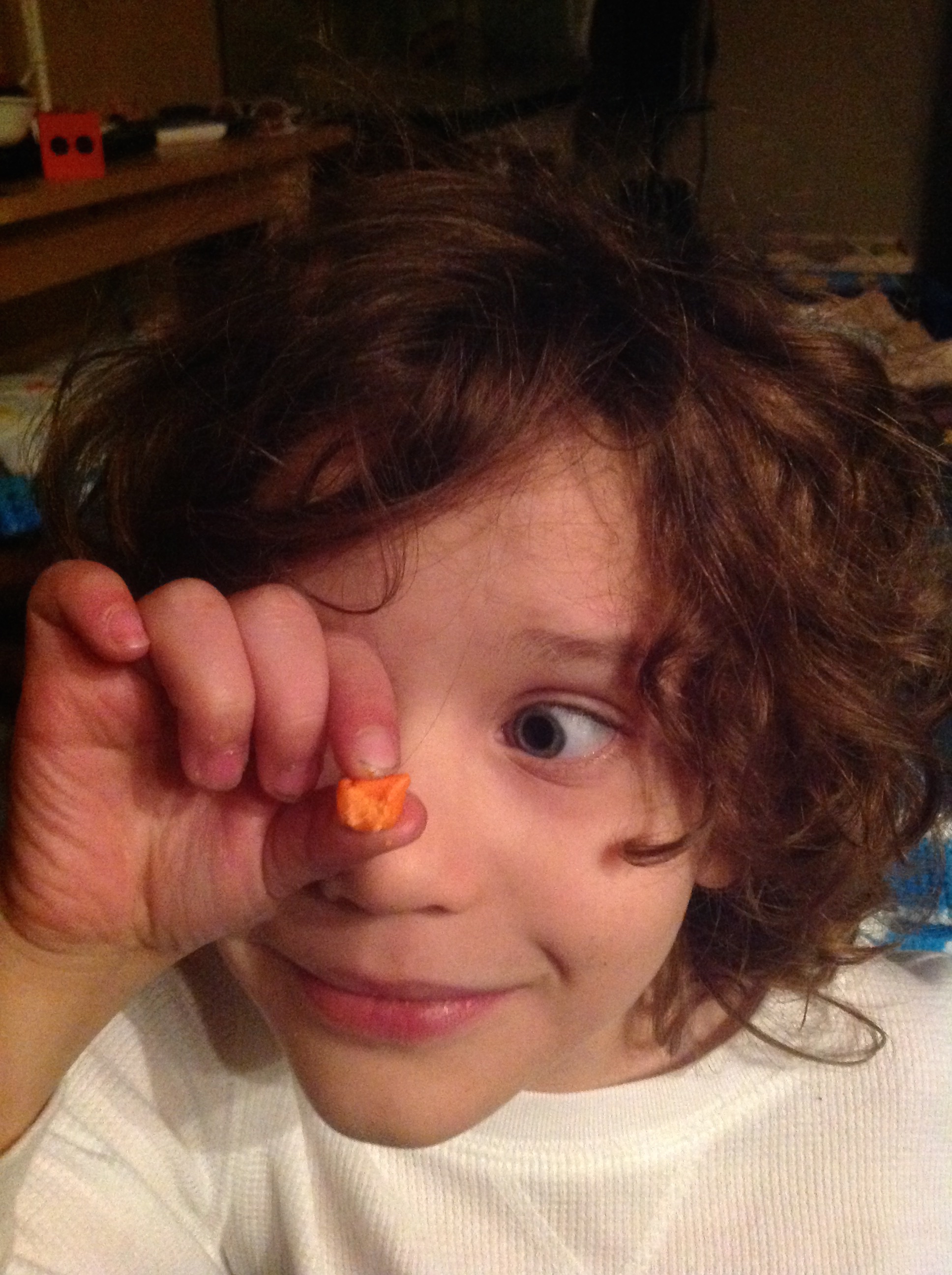 2014-11-01 04:04 UTC – Trick or Treating over, Alex wants us to inspect some food he found.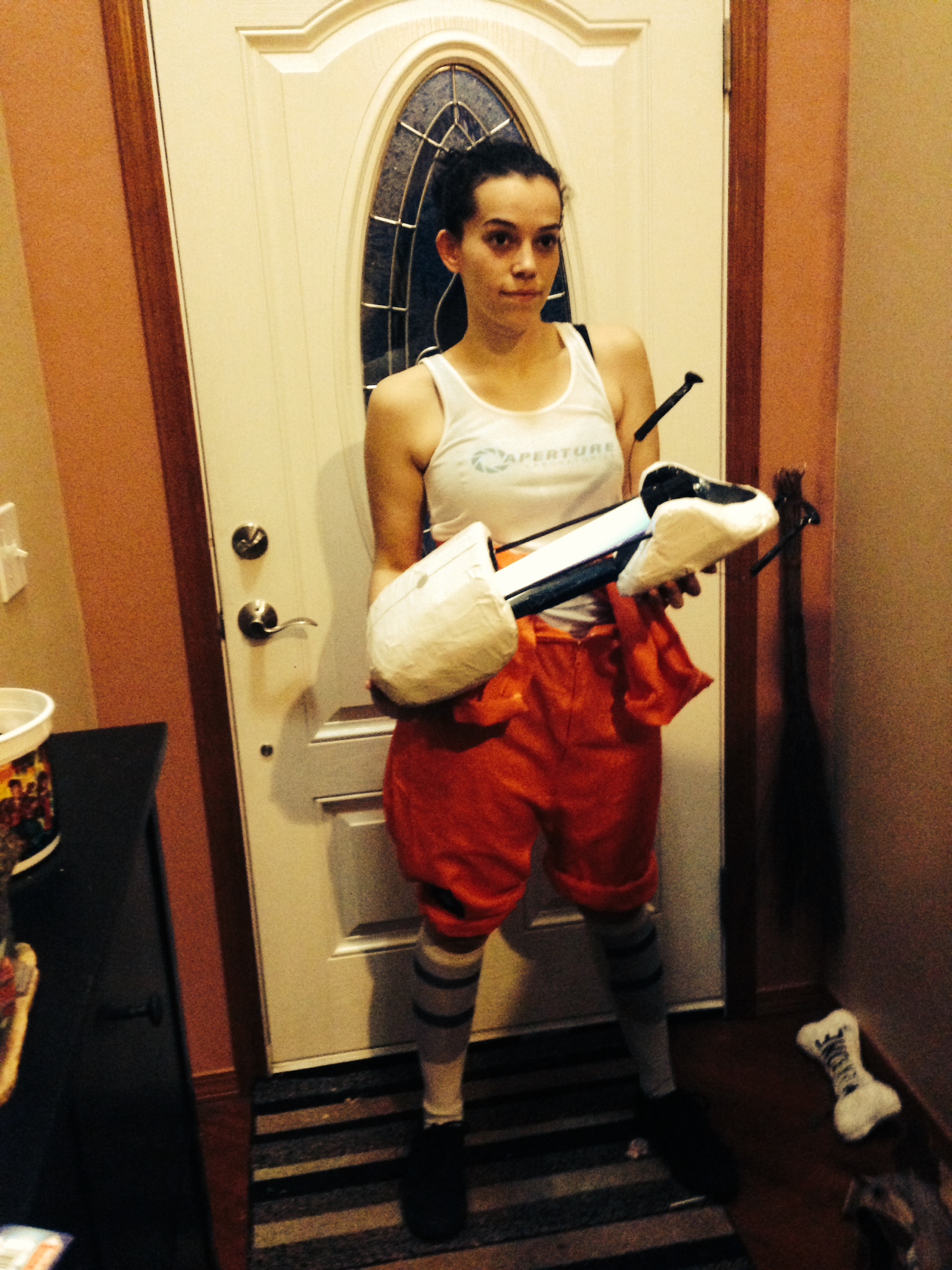 2014-11-02 01:1? UTC (picture by Brandy) – Amy was going to be Chell (from Portal and Portal 2) for her second costume for Freaknight, but it was canceled for this evening. Amy was sad.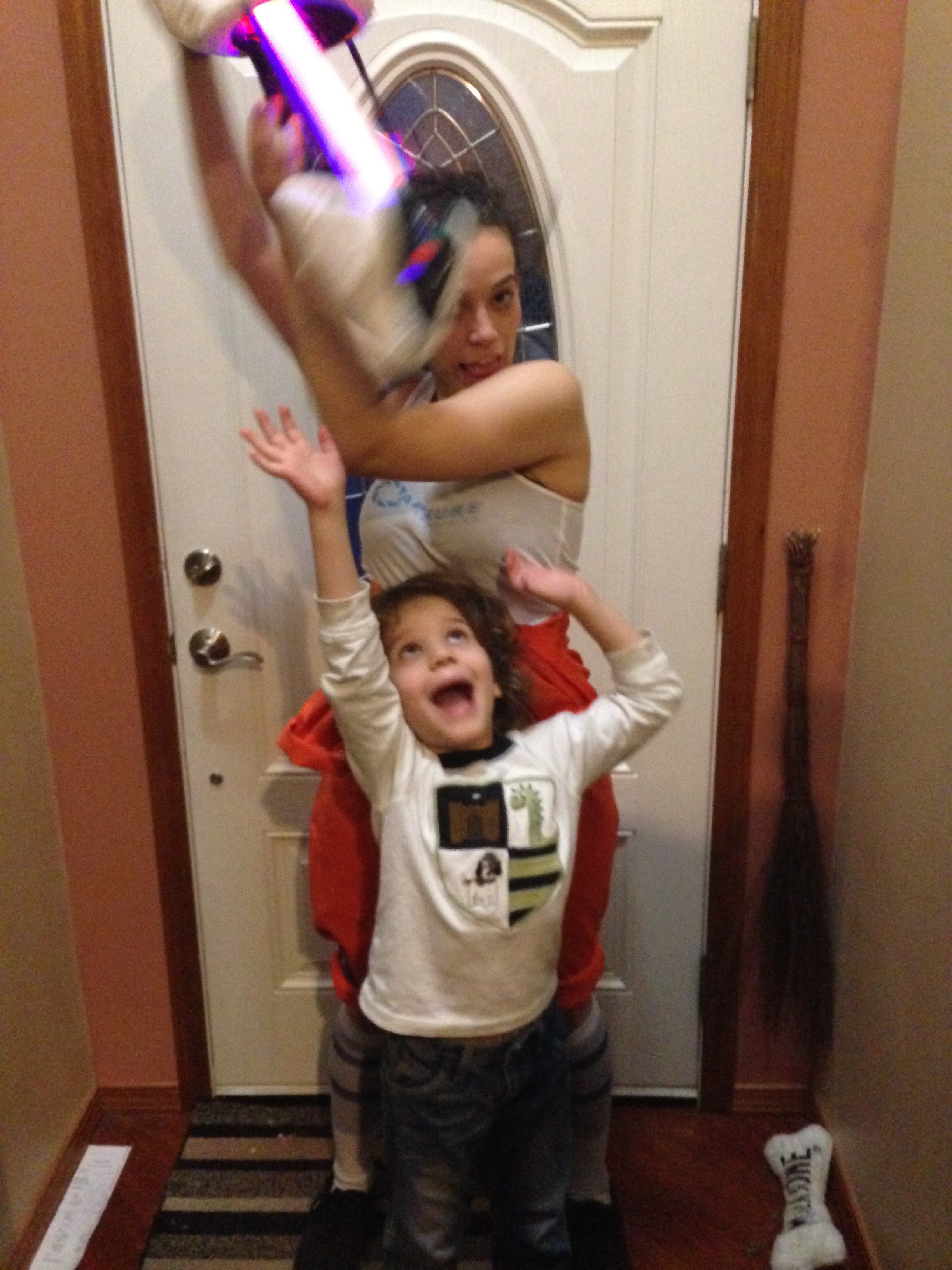 2014-11-02 01:14 UTC – Amy was not the only one in the family into Portal though, and Alex wanted a turn at the Portal Device.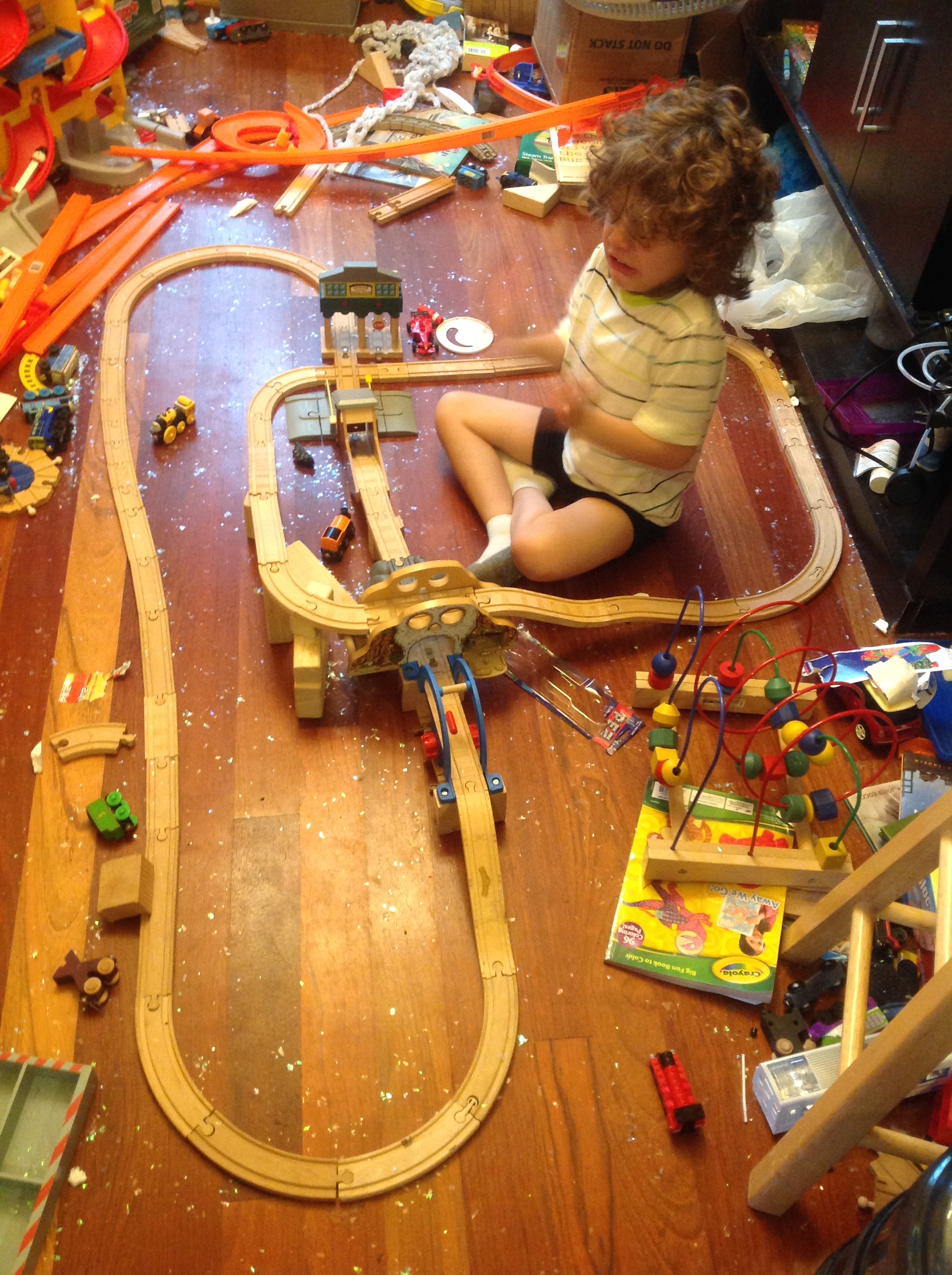 2014-11-04 20:35 UTC – Alex was working hard in his workshop on new train layouts, but it wouldn't do quite what he wanted, so he was getting very frustrated. Not much later, this particular layout was no more.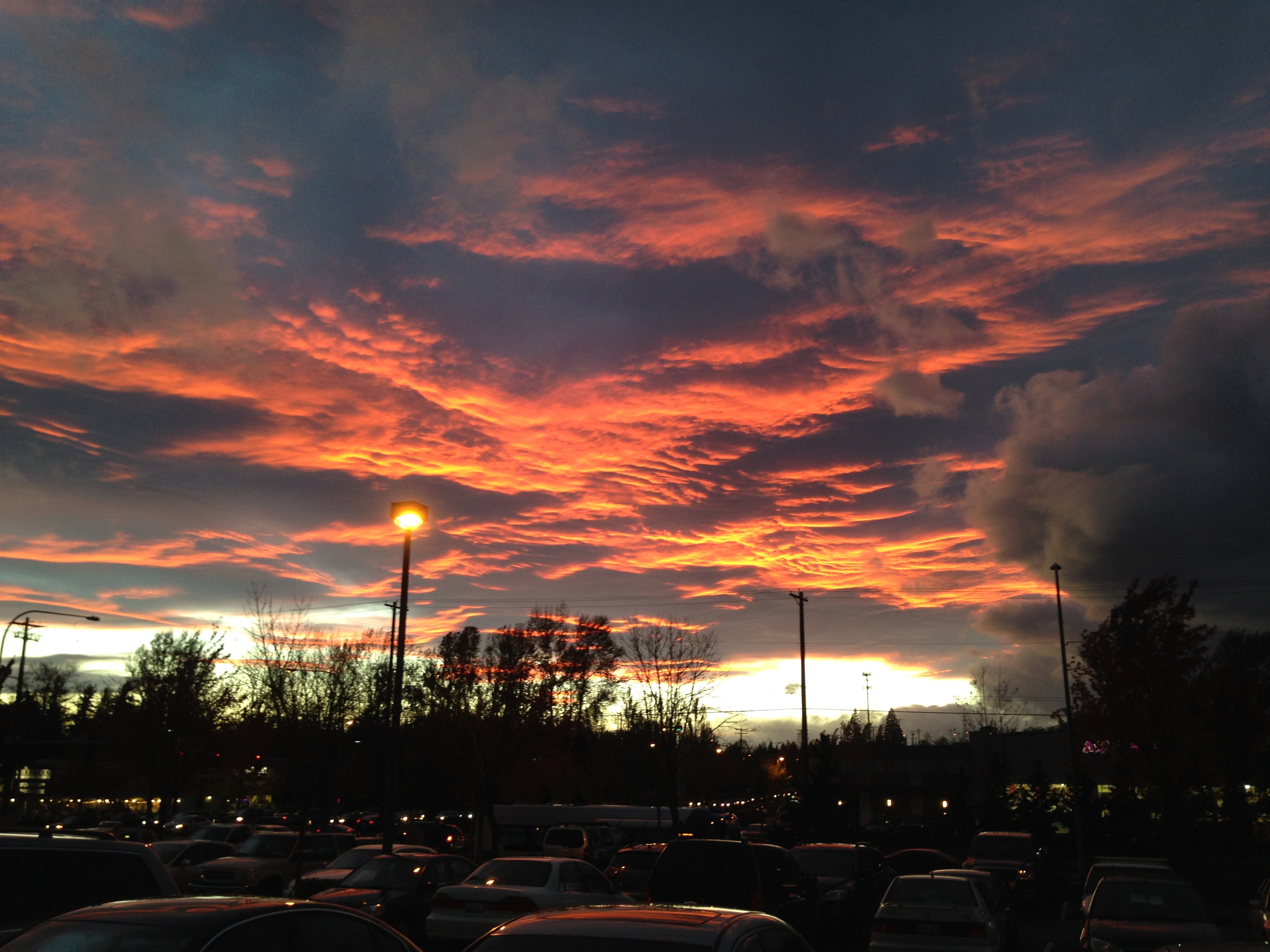 2014-11-07 00:54 UTC – I got a pic of a nice sunset in Lynnwood, WA.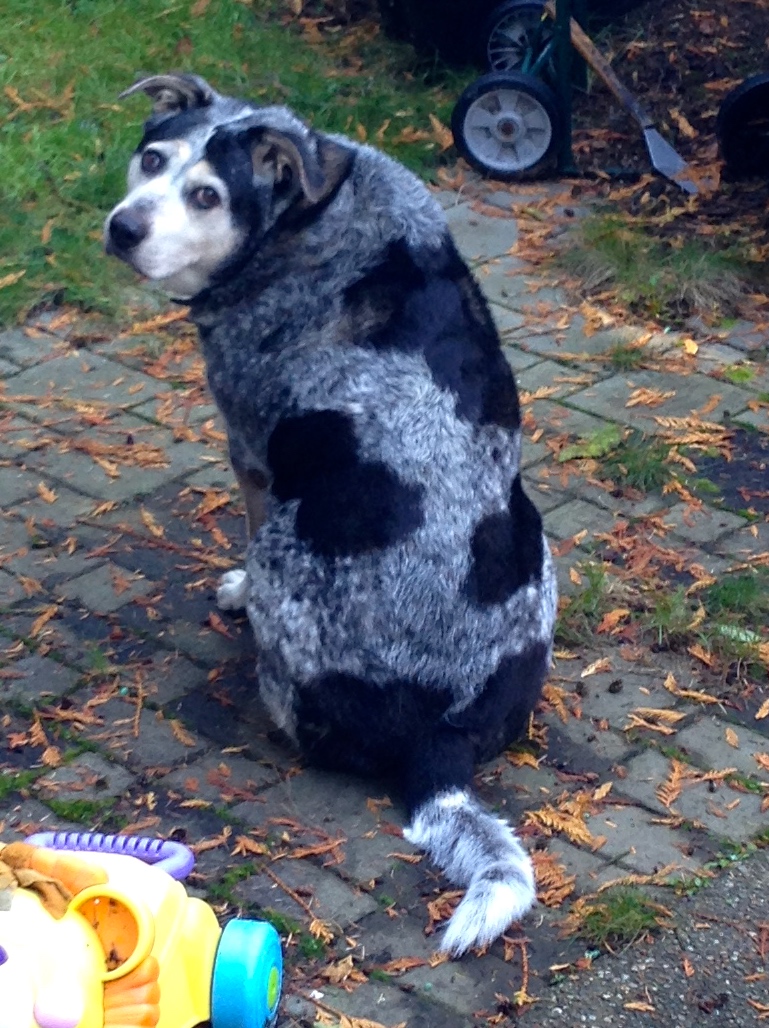 2014-11-08 20:23 UTC – Roscoe wants to know why I am taking his picture.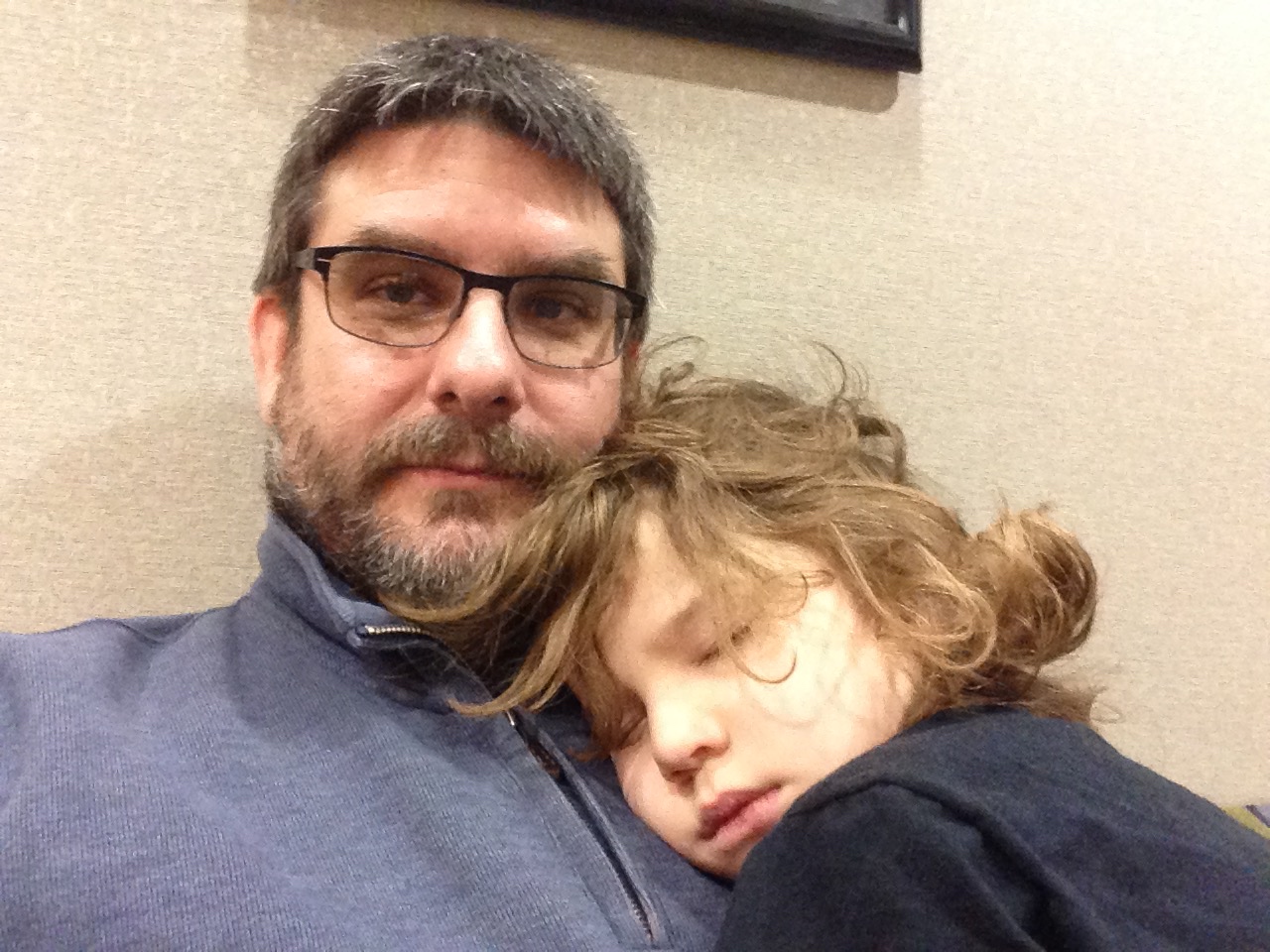 2014-11-13 21:59 UTC – Alex had a trip to the dentist that required him to be asleep via anesthesia. This was right afterwards. He had roused enough that they were OK sending him home, but he was still basically asleep.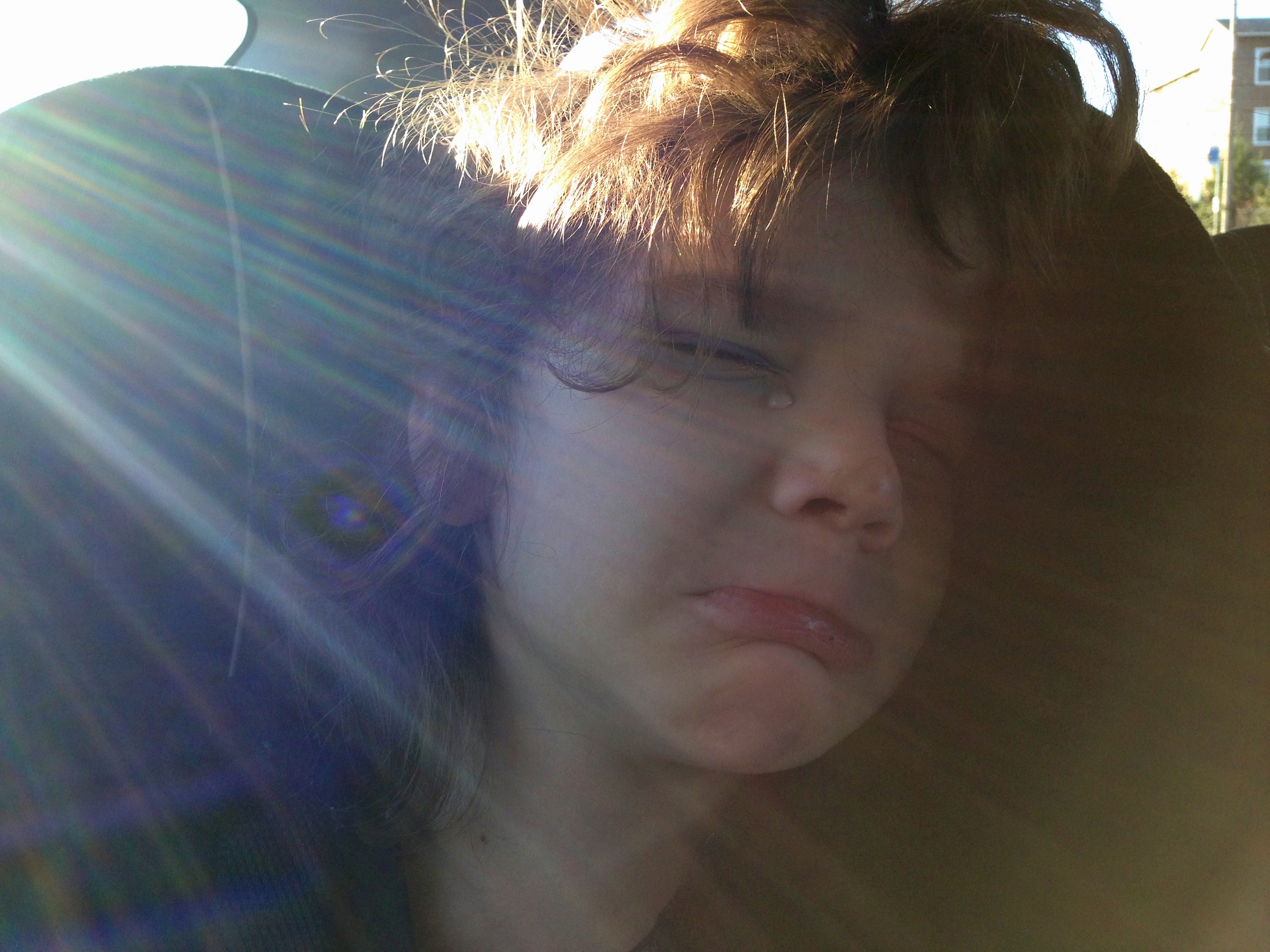 2014-11-13 22:19 UTC – Once he woke up his first request was McDonald's. We had to tell him he wasn't supposed to eat for another hour or so. He was very unhappy about this. He really wanted McDonald's.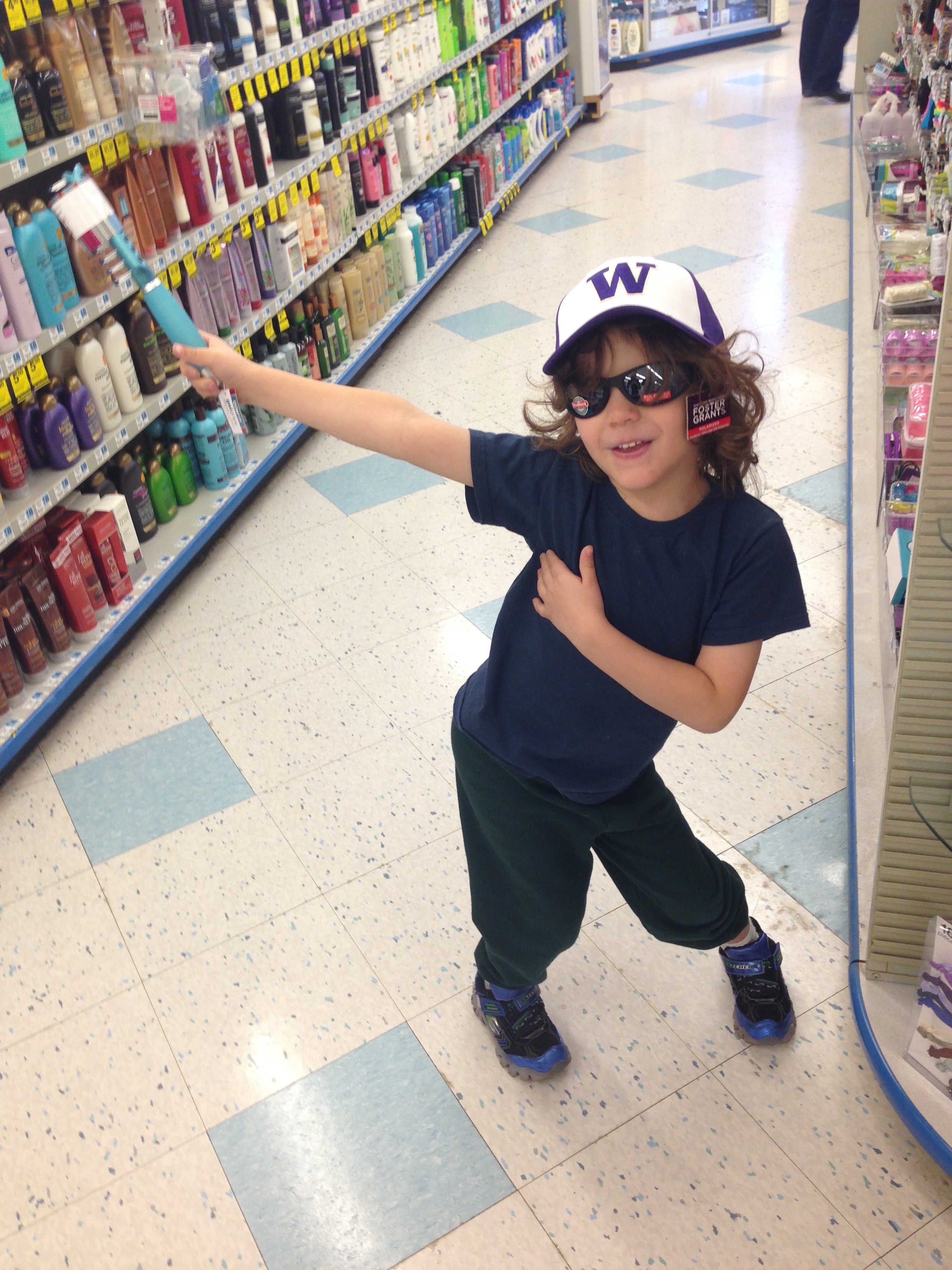 2014-11-15 21:52 UTC – A few days later though it was all forgotten. He wandered the aisles of a drug store choosing things he wanted, including the hat, glasses and brush, and asked to pose with his loot. (Which he did get to have.)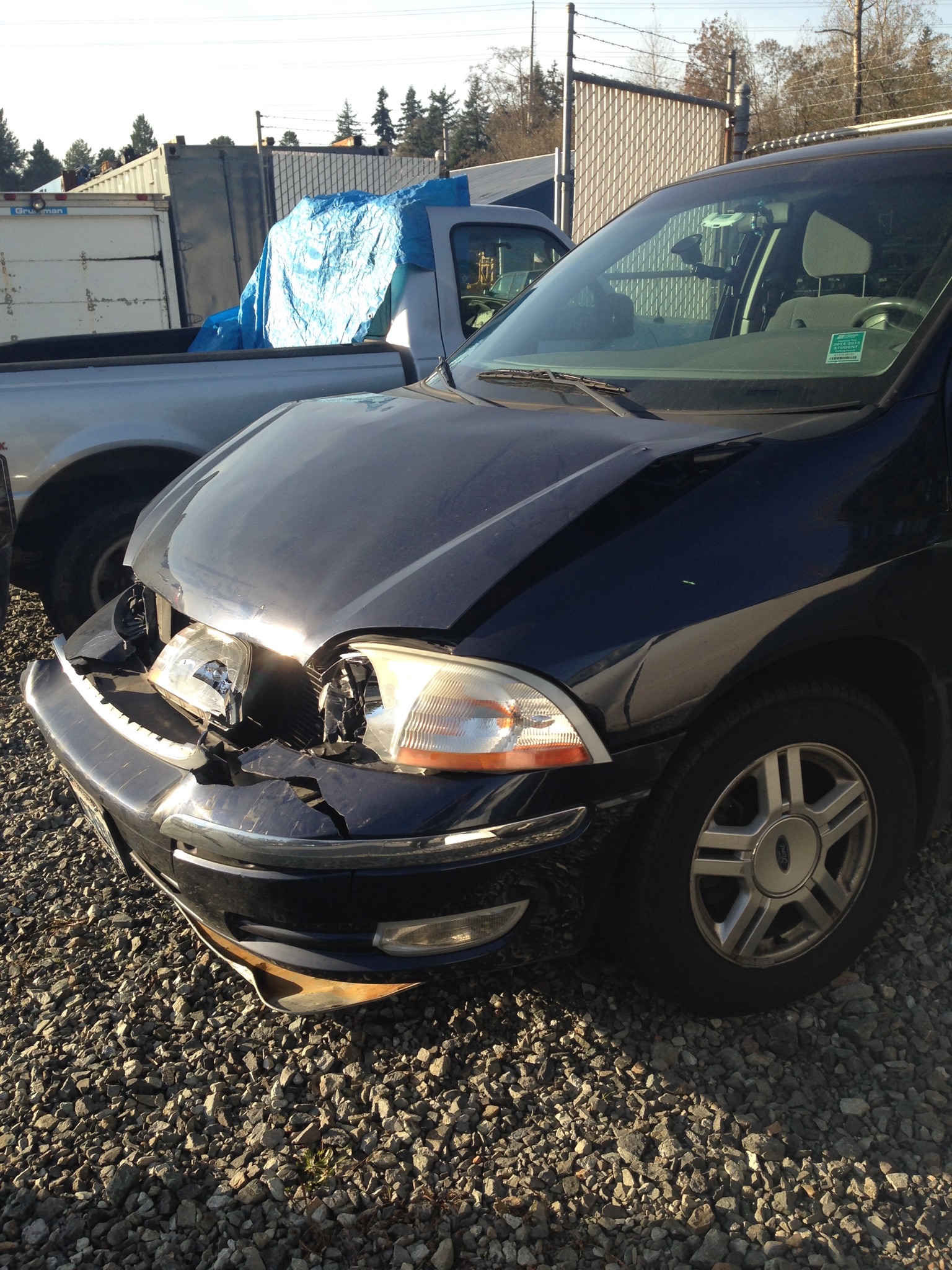 2014-11-17 22:42 UTC (Picture by Amy) – Um, then Amy totaled her car. Nobody was hurt except the car.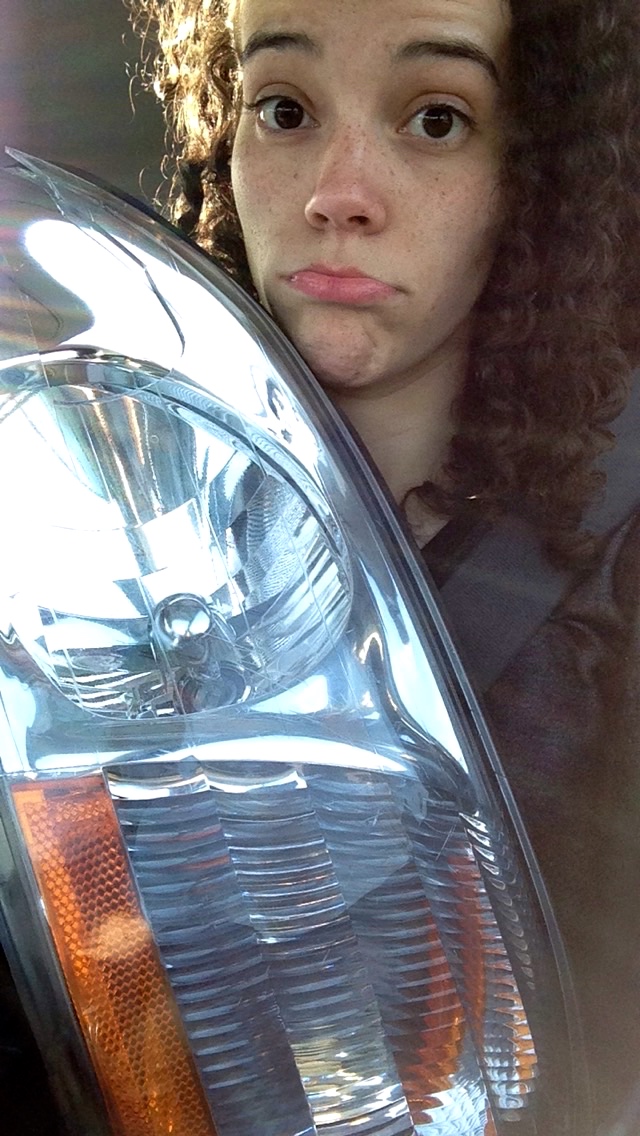 2014-11-17 22:?? UTC (Picture by Amy) – Amy was very sad though. Poor car.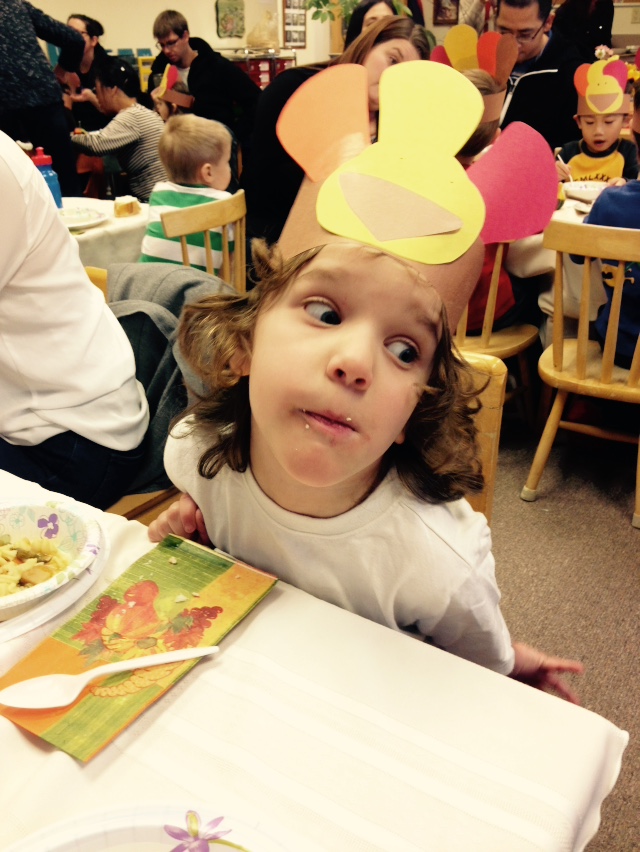 2014-11-20 22:39 UTC (picture by Brandy) – Brandy got to go with Alex to a Thanksgiving thing at his school. Alex made faces while he ate.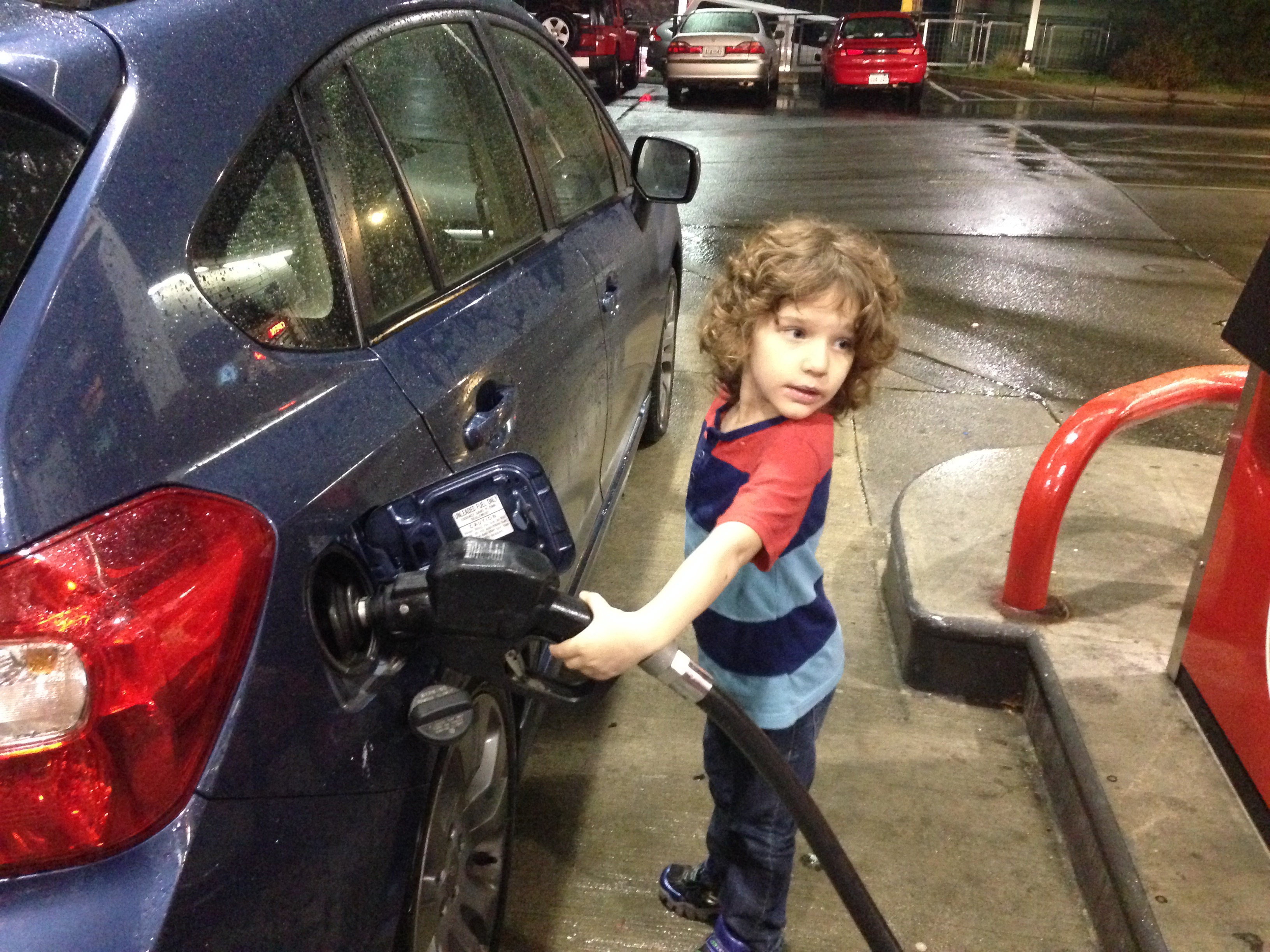 2014-11-22 01:56 UTC – I've got Alex pumping gas for me.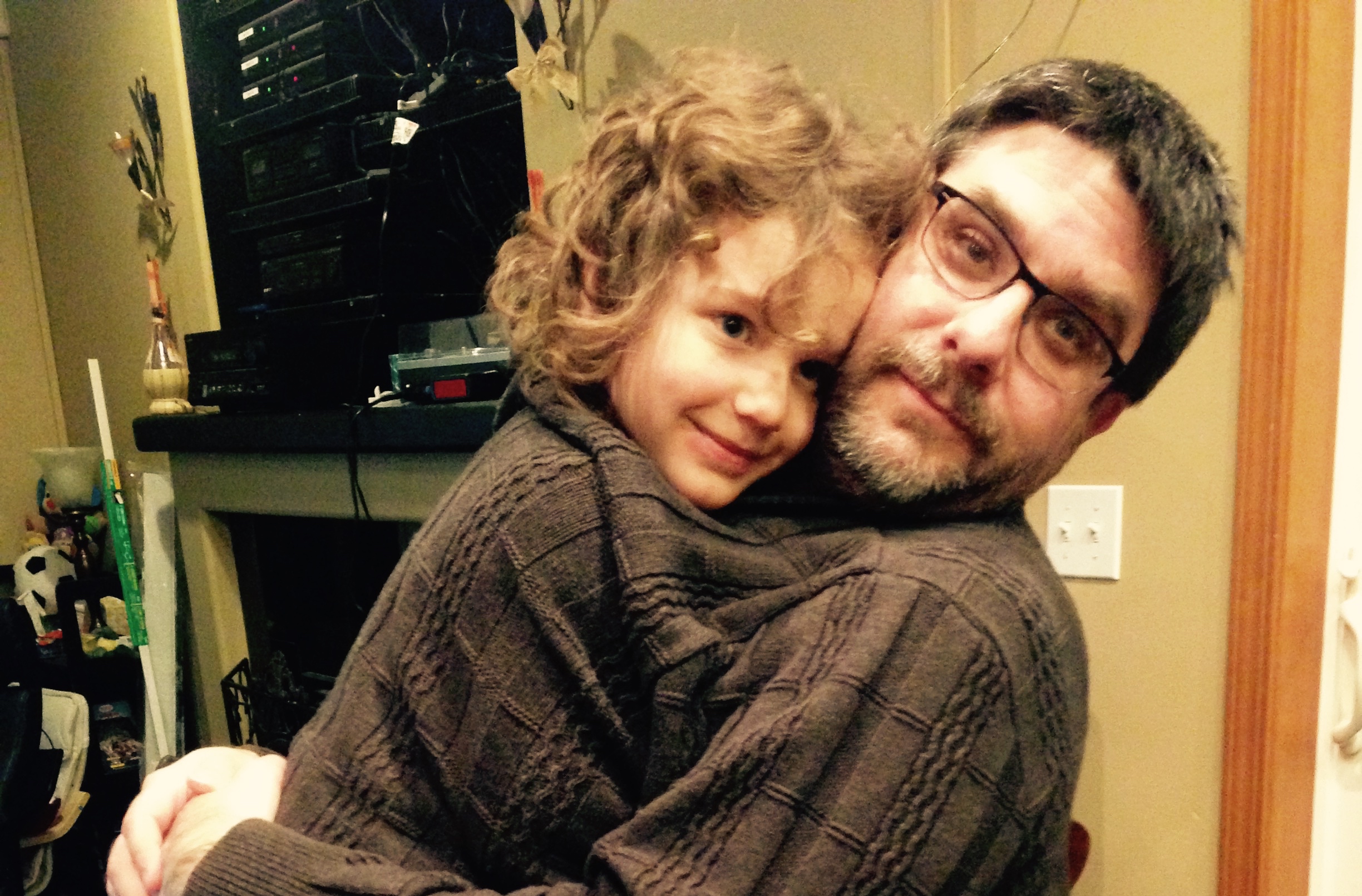 2014-11-23 04:58 UTC – Alex decided that to be warm he needed to join me inside my sweater.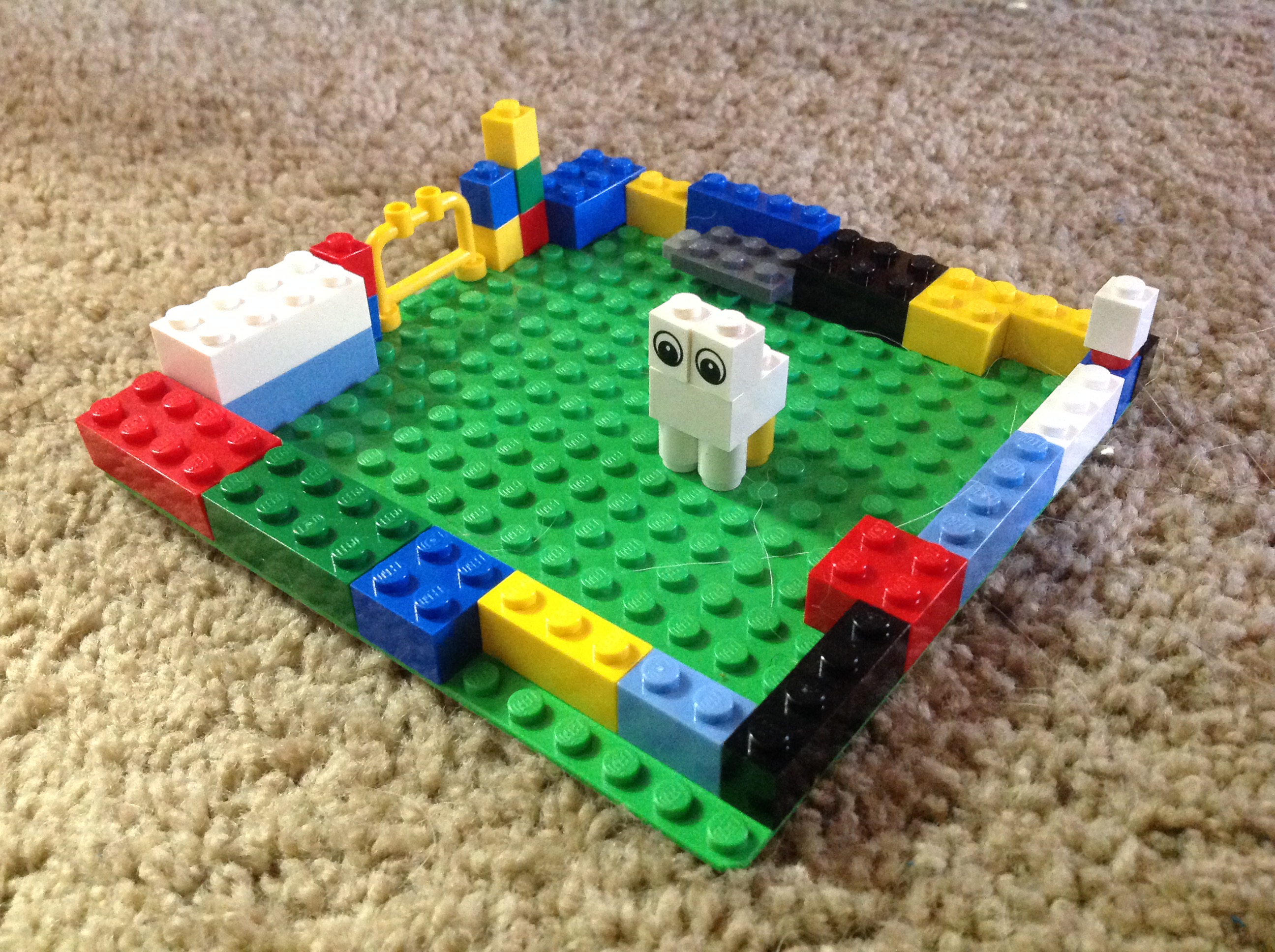 2014-11-23 18:37 UTC – Alex is starting to REALLY get into Lego. Usually it is vehicles of one sort or another, but this time he made this, which he said was "a dog in his yard".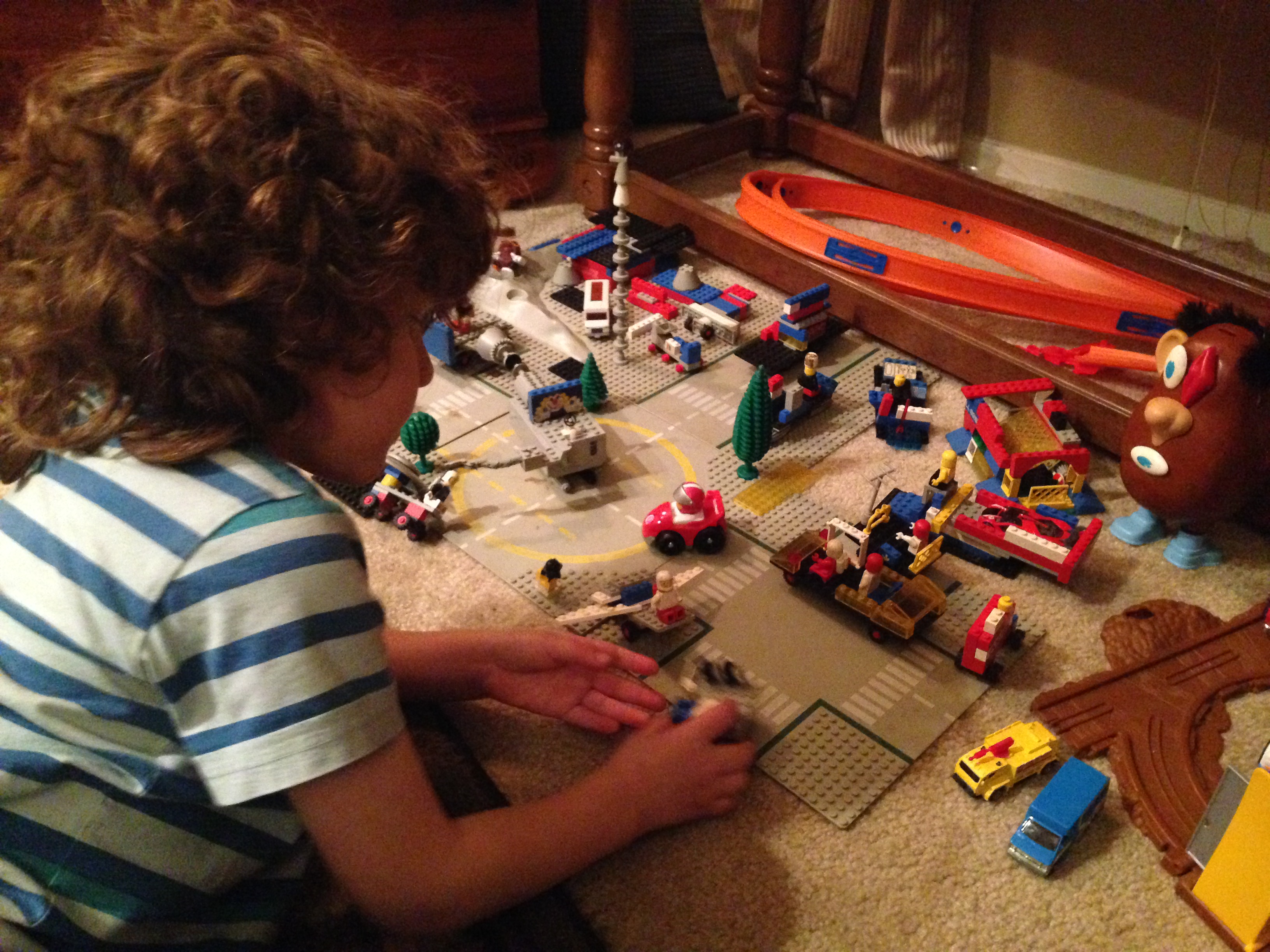 2014-11-27 03:16 UTC – And when he visits Grandma Ruth, he plays with MY old Lego from when I was a kid. You can also see the Mr. Potato Head that was modified to look like my High School Physics teacher Mr. Posa as part of a Rube Goldberg project my senior year of high school.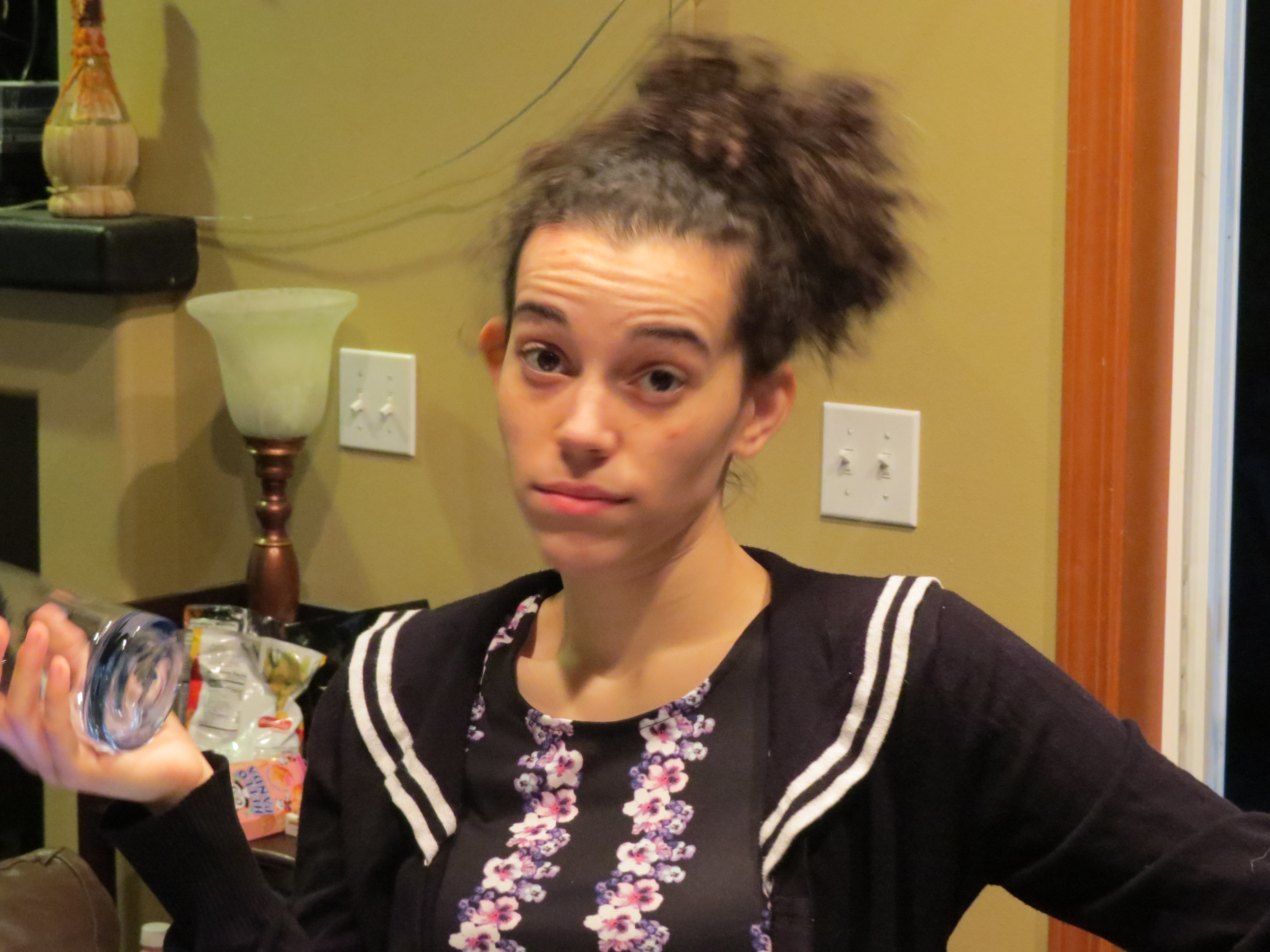 2014-11-28 01:45 UTC – Amy is not amused as I attempt to take pictures of her as we get ready for Thanksgiving dinner.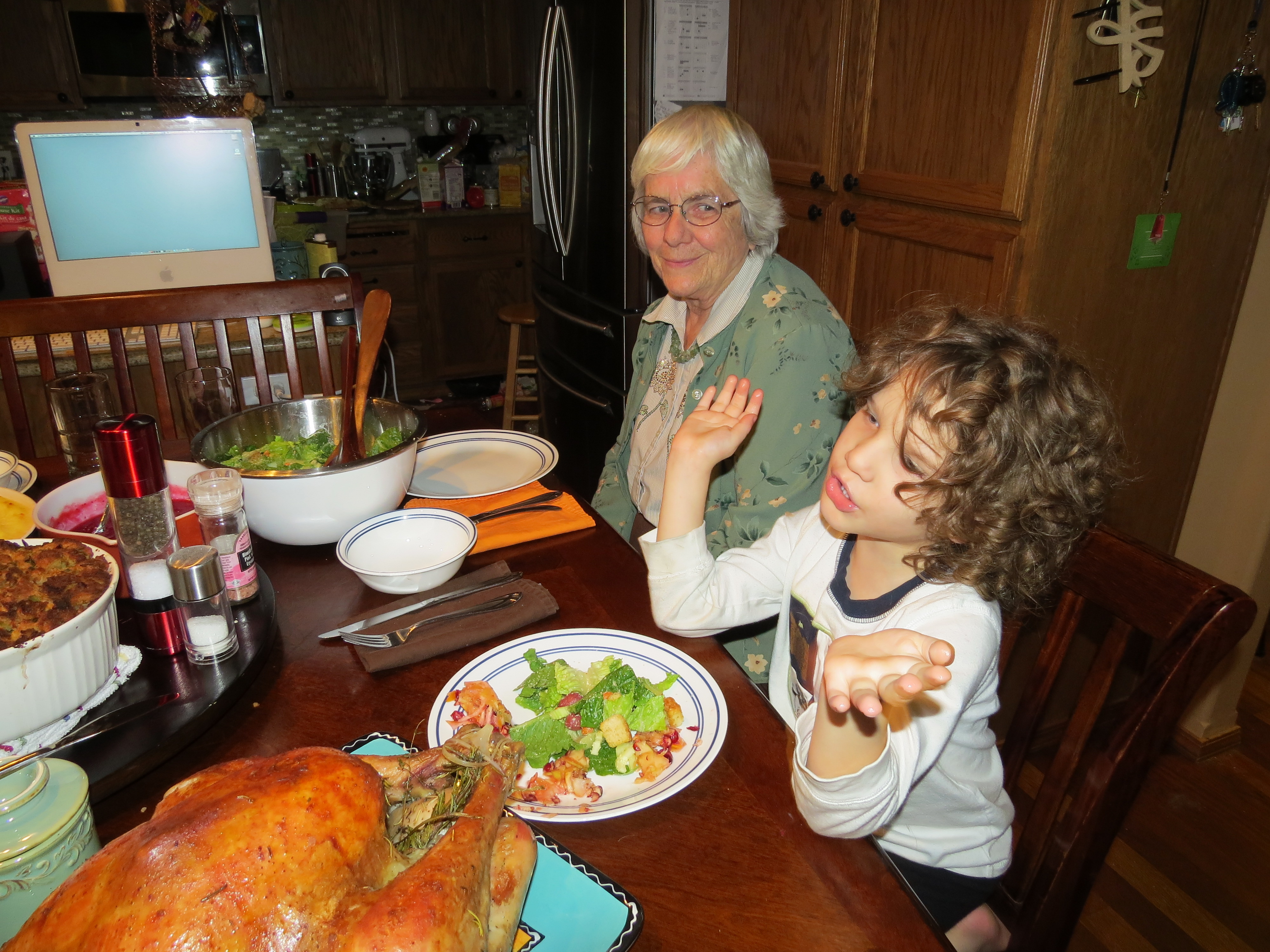 2014-11-28 01:50 UTC – A few minutes later, Alex elaborates on a story he wanted to tell before dinner.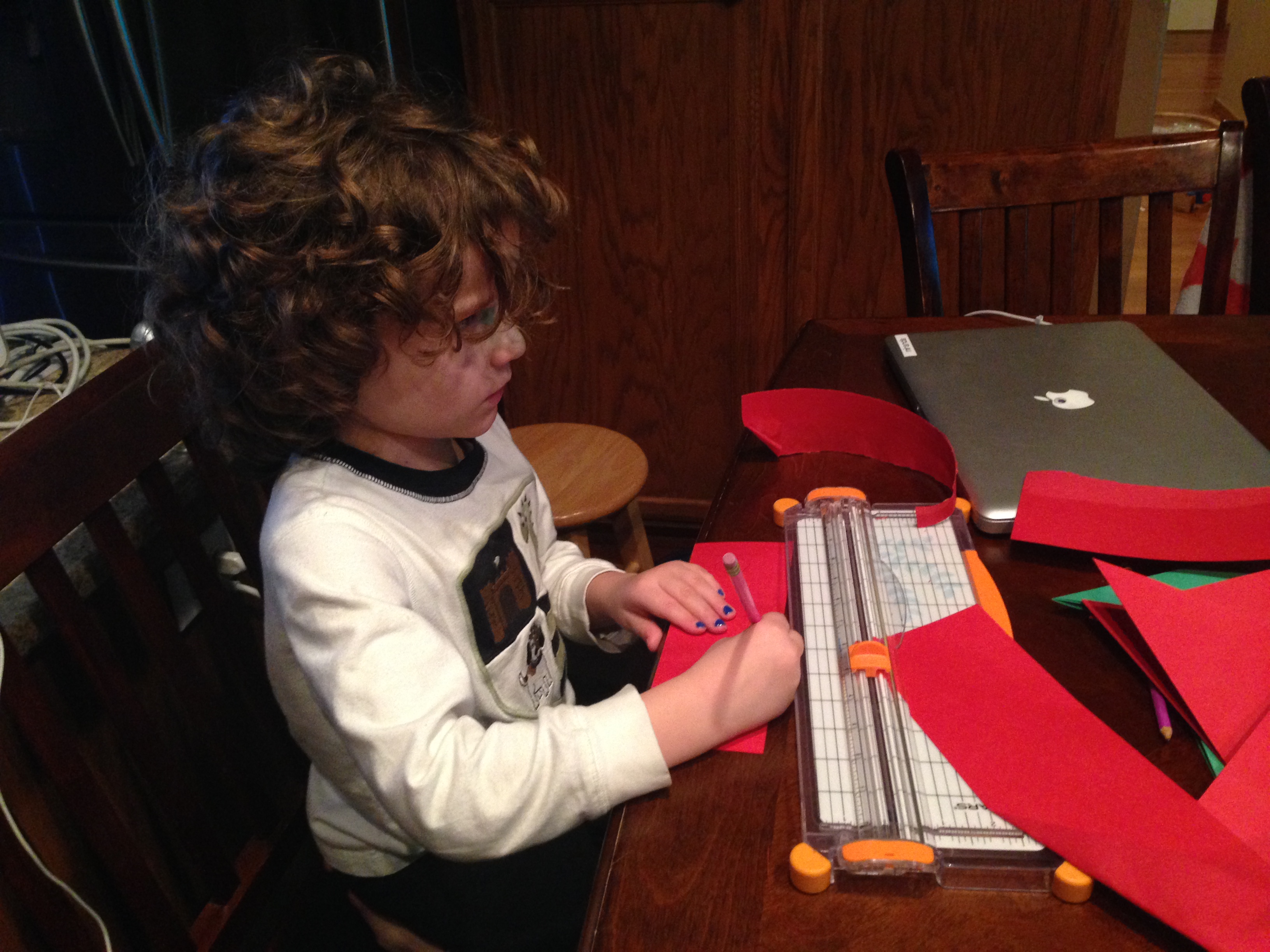 2014-11-28 05:49 UTC – Later in the evening, food cleared away, Alex starts on some crafts.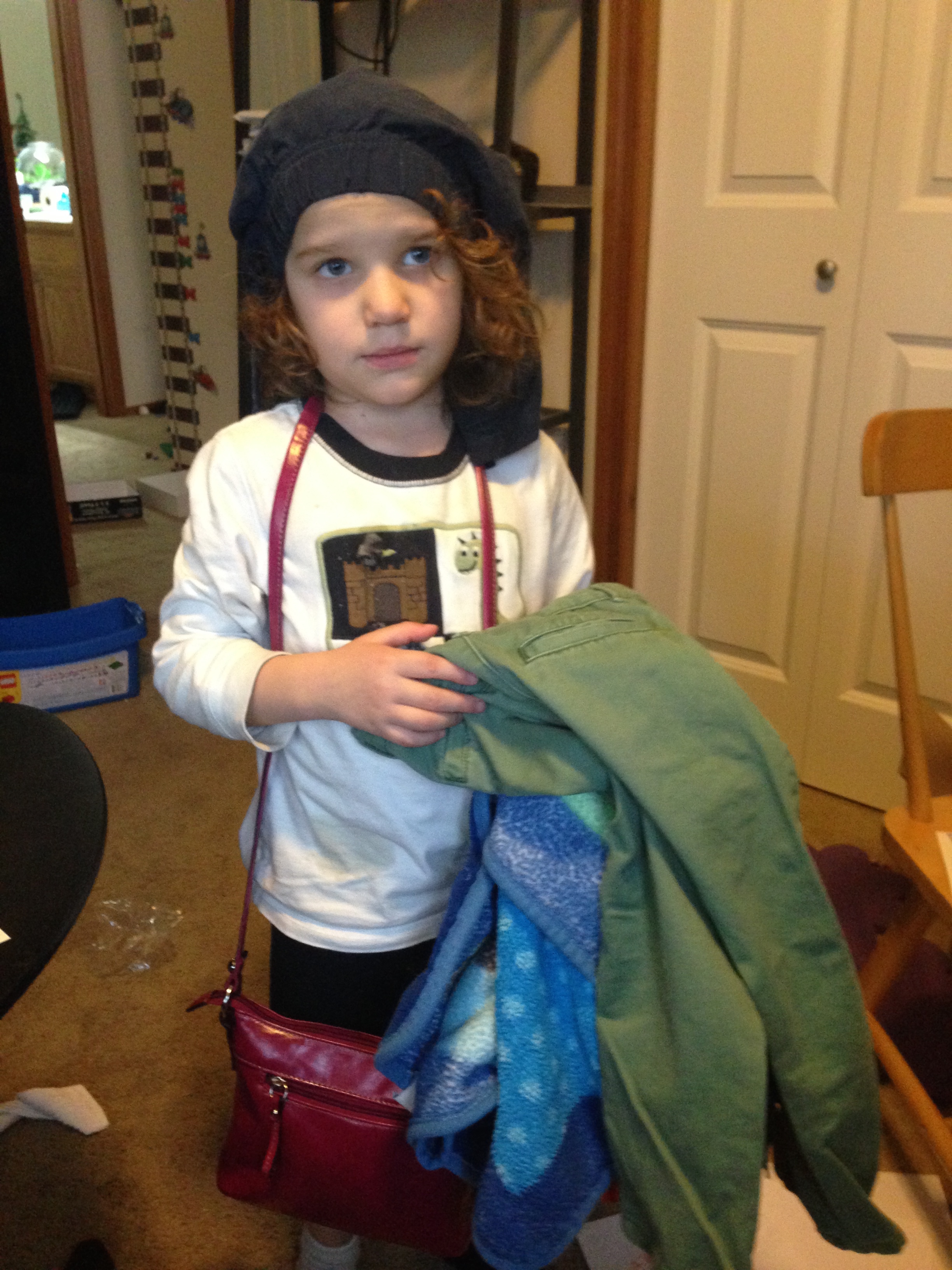 2014-11-28 21:00 UTC – Pair of pants on head as a hat? Check! Second pair of pants in case you lose the first hat? Check! Blanket? Check! One of mommy's purses? Check! Lets go on an adventure!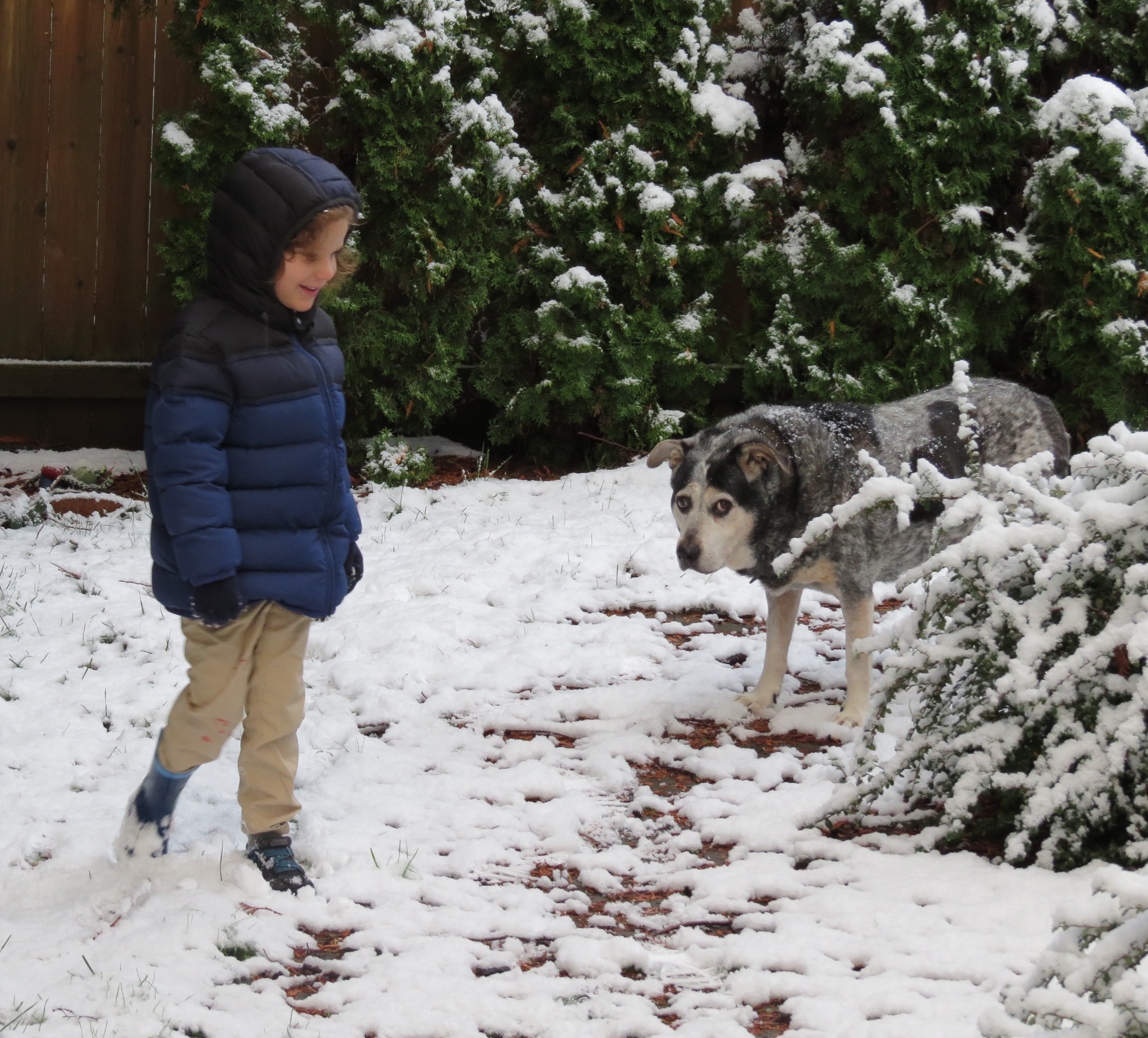 2014-11-29 16:26 UTC – Alex and Roscoe check out the first snowfall of the season.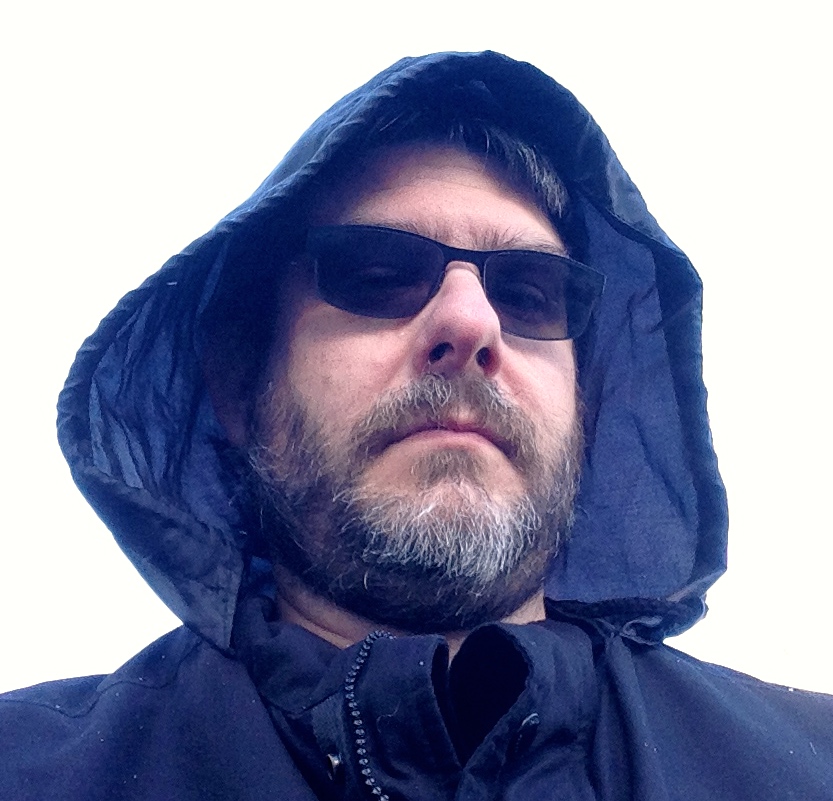 2014-11-29 18:24 UTC – Daddy is just cold.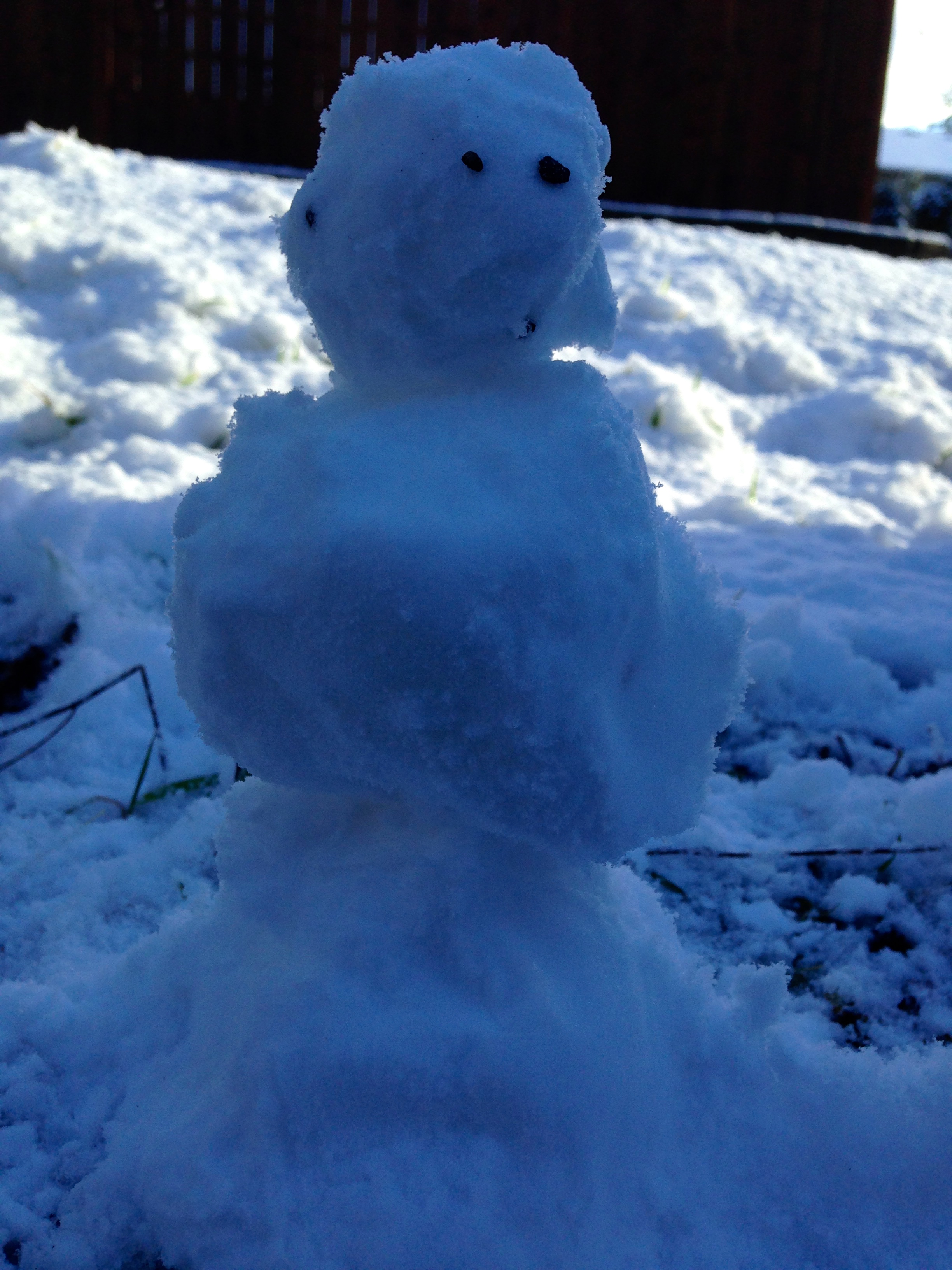 2014-11-29 18:36 UTC – There wasn't that much snow, and it wasn't very good for packing, but this was our pitiful attempt at a snowman. It was about 4 to 5 inches tall.
And thus ends November.