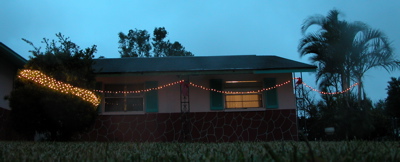 I put a stripe on the tree. Do you like the stripe? I like the stripe!
Well, all the boxes and packages have been opened and the presents dispersed. I think we all got a lot of good loot that will keep us busy for a long time. Thanks to everybody who sent us stuff. We much appreciate it. (I'll of course try to thank people individually too, but I didn't keep an actual list this year, so it may take me awhile to figure out.)
We had a good Christmas. Everybody was up late the night before. I woke up at 9:30 AM and flipped on the TV. Remarkably though, Amy, who we expected to rise at the crack of dawn, did not get up until almost noon. So the whole presents thing took us all the afternoon. Outside it was pouring rain almost all day.
Once everything was open we watched a DVD Amy got. And now Brandy is making dinner. Then I think we'll probably watch another DVD. Between Brandy, Amy and I we probably got about 30 hours of new DVDs to watch. :-)
And Brandy got me some new things to aid in my graphing! And there was a remote control car, and a bathrobe, and some clothes, and a few decorations for the house… and… and… well, like I said, I didn't make a list. But lots of cool stuff!
Tomorrow the cleanup begins. :-)