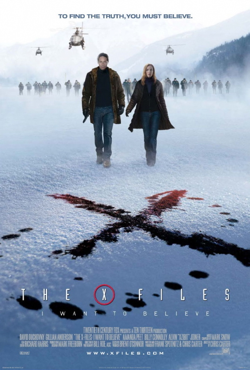 Not this past weekend, but the weekend before that, we went to see the new X-Files movie. This was specifically prompted by Brandy, who REALLY wanted to see it, but both Amy and I wanted to see it too, so that was that.
I've seen a lot of reviews panning this movie for various reasons, but I'll just say I liked it. I liked the X-files when it was on, and this was just like a giant episode. And not one of the "conspiracy" episodes either, but more like one of the one off episodes. I thought that was just fine though. I liked those kinds of episodes just fine when it was on TV.
And yes, it had more about Mulder and Scully and their relationship. Some people really hate that. I think it is just fine. And come on, given the whole history and all these two have been through, like they aren't going to end up there? Geeze! :-) I like the two characters. I like exploring them as people. They don't just have to run around doing the chasing aliens thing ALL the time. This was OK.
Anyway… as I said… basically just a long episode. If you liked the show, and you liked the non-arc episodes, then you should like this too.
If you didn't like the show, or just didn't care and never watched it, you are probably quite safe skipping this movie. You won't miss a thing.