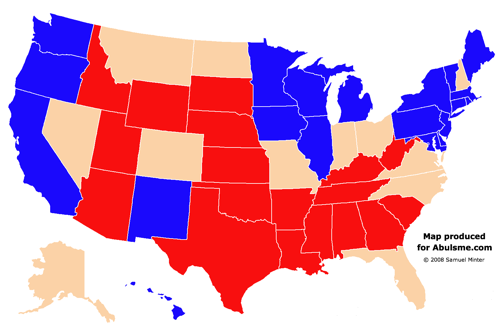 There are four states that change categories today. One brings good news for McCain. But bucking recent trends, three are good news for Obama. In order of electoral college votes…
Michigan, with 17 electoral votes, which two weeks ago weakened for a "Weak" Obama state into a "Leaning" Obama swing state, now moves back into "Weak" status as Obama's lead once again breaks the 5% mark in the state. This makes Michigan no longer a swing state, which is potentially a very big deal for the Obama camp, as they don't have to play as much defense there.
Virginia, with 13 electoral votes, which 9 days ago moved from leaning Obama to leaning McCain, now moves back to leaning Obama. (Either way, it is a very close state and could very easily go either way… the movement here is from McCain being ahead by 0.2% to Obama being ahead by 0.4%.)
Mississippi, with 6 electoral votes, sees McCain's lead move from the "Weak McCain" category to "Strong McCain" as McCain's lead grows to 10%. (This is the one state that is good news for McCain, but it will make no difference to the summary numbers, because it does not affect the swing states in any way.)
Nevada, with 5 electoral votes, moves from leaning McCain, to leaning Obama. Once again it is important to note that which side of the line the state is on right now may not be really be very relevant. We are moving from McCain ahead by 0.6% to Obama ahead by 0.2%. Either way, this state is very close and could go either way.
New summary:
McCain Best Case – McCain 281, Obama 257
Obama Best Case – Obama 384, McCain 154
If everybody gets their leans (and Obama gets DC) – Obama 291, McCain 247
The changes today can't of course be attributed to a convention bounce, but perhaps Obama merely coming back from vacation and starting to campaign again was enough to start blunting the recent McCain momentum. Or… or it could just be random variation in polls pushing states that are right on the line between my categories back and forth over those lines.