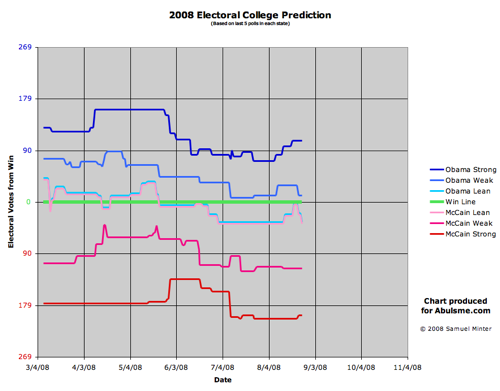 Two states flip today, one from Obama to McCain, and one from McCain to Obama. I caution however that both of these states are not just "leaning" swing states, they are both states where the margin is 1% or less. In other words, flipping from one side of the line to the other is not really that meaningful. They are both too close to call.
In general, I try to make the same point about ALL of the "leaning states". Yeah, one where the leading candidate is ahead by 4.9% might be a little better for the candidate than one where they are ahead by 0.1%. But really, the primaries showed us that a 5% lead can evaporate in a matter of days if the right set of events happen. And even the consensus average of pollsters can be off by more than that. So any lead under 5% should be considered too close to call.
Anyway, the two states, in order by electoral college vote:
Ohio (20 electoral votes): Flips from Leaning McCain to Leaning Obama. It flipped in the other direction just five days ago.
Nevada (5 electoral votes): Flips from Leaning Obama to Leaning McCain. It flipped in the other direction just two days ago.
New Summary:
McCain Best Case – McCain 281, Obama 257
Obama Best Case – Obama 384, McCain 154
If everybody gets their leans (and Obama gets DC) – Obama 306, McCain 232
As mentioned above, all of the lean states really could easily go either way. That is why they are lean states. So any observers should be cautioned to not pay all that much attention to the "everybody gets their leans" number. Rather, anything between the two best cases listed is quite possible.
But this DOES at least look like the McCain momentum of the last month has been blunted. We'll see over the next week if the trend continues and turns into a real "bounce" for Obama.
Of course, the Republican convention is immediately after the Democratic convention, so any bounce may be short lived.