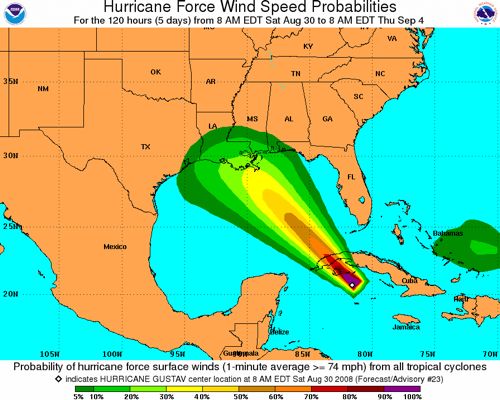 Hurricane Gustav is now a Cat 4. As of the 12 UTC update, looks like there is a 20% chance of hurricane force winds in New Orleans. (About a 70% chance of tropical storm force winds.) I guess that is high enough already that they are starting evacuations. Given what happened three years ago, I can't blame them.
Having said that, there is a non-trivial chance of hurricane force winds for not only New Orleans, but the entire coastlines of Louisiana, Mississippi and Alabama as well as parts of the Texas and Florida coasts. Not to mention a decent ways inland in Louisiana. In terms of tropical storm force winds… looking at Hannah as well, the ENTIRE gulf coast of the US is at risk in the next five days, as well as the east coast of Florida as well. (And of course Cuba, parts of Mexico, and a large number of other Caribbean Islands.)
But.. Cat 4 (although expected to weaken before landfall), with a 20% chance of hitting New Orleans… and pretty much a 100% chance of hitting somewhere on the gulf coast… just as the Republican Convention starts.
This will be quite a week.