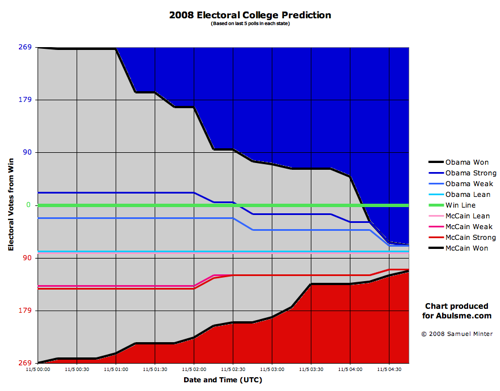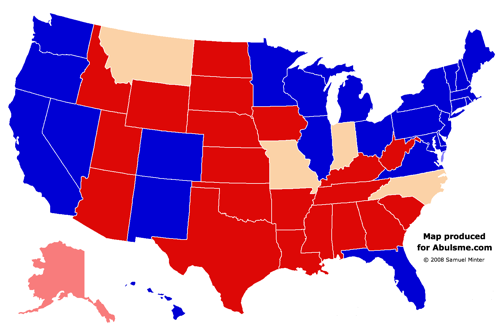 This is the 04:45 UTC update, covering states that were called in the 15 minutes before that.
South Dakota and Nebraska for McCain.
Nevada for Obama.
I'l drop the "SuperBest" estimates from the summary, as there are no longer any uncalled "Weak" states.
Summary:
McCain Best Case: Obama 338, McCain 200
Current "everybody gets their leans": Obama 349, McCain 189
Obama Best Case: Obama 378, McCain 160
There have still been no surprise states.
I am now once again caught up with all the states CNN has called. There are still five states yet to be called. Alaska, which should go McCain. And then North Carolina, Indiana and Montana which are leaning McCain. And finally Missouri which was leaning Obama.
We'll see if any of those end up being surprises. North Carolina and Missouri were both within a percent as of the last polls. If there is a surprise, I would guess it would be one of those two states. But Indiana or Montana switching would also be well within the realm of possibility.
So far my final predictions from right before the polls closed are 46 for 46. We'll see how the last 5 states go. :-)
Edit 06:03 UTC – Actually, it looks like CNN has only called 4 out of the 5 electoral votes for Nebraska. Looks like that 1 electoral vote (probably Omaha) is still too close to call. Gotta love the states that split their votes.
Edit 15:15 UTC – A reader pointed out that Iowa is the wrong color in the map above. This has been corrected on the main page. Bad paint tool. Bad. The numbers however are correct.