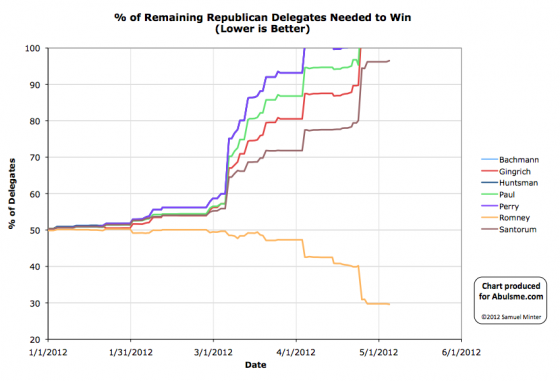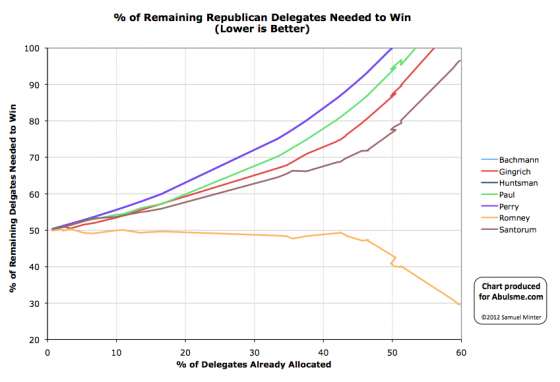 Charts from the Abulsme.com 2012 Republican Delegate Count Graphs page. When a candidate gets down to 0%, they have clinched the nomination. If they get above 100%, they have been mathematically eliminated. The first chart is by date, the second is by "% of Delegates Already Allocated". These numbers include estimates of the eventual results of multi-stage caucus processes which will be refined as the later stages occur.
If you remember, in Ohio Santorum did not file all the right paperwork to have actual human delegates designated to fill the slots he might win in some parts of the state. There were four delegate positions that Santorum won, but wasn't going to be able to claim because of that. Well, it looks like the Romney folks decided to be nice and not challenge Santorum's ability to retroactively fill those four delegate slots. So Santorum will get those four delegates after all. So Santorum +4 in Ohio.
Meanwhile, DCW adjusts their Superdelegate Count. One Alabama super switches from Santorum to Romney. And then Romney gains two more previously undeclared supers, one from Alabama and one from South Dakota.
Net for the day, Romney +3, Santorum +3. At 50%, this is of course well over the 29.7% of the delegates Romney needs to be tracking to in order to clinch the nomination.
In terms of "% of remaining needed to win":
Romney: 29.7% -> 29.6%
Santorum: 96.2% -> 96.5%
Next real contests on Tuesday.