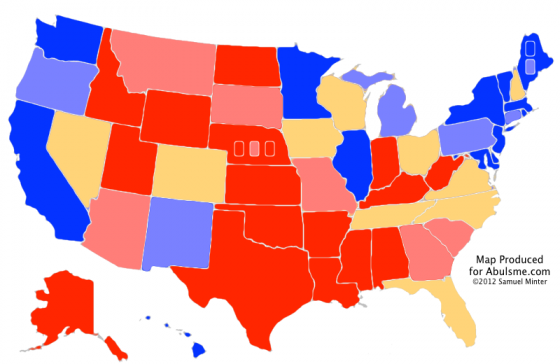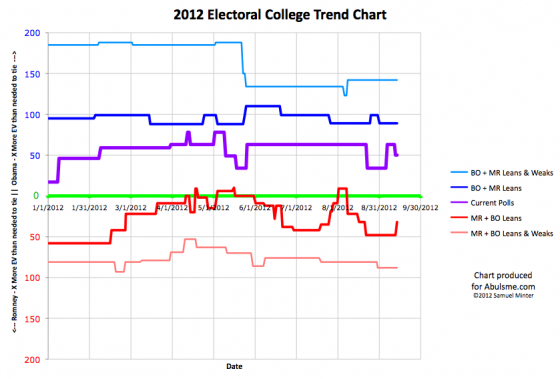 One change today.  After flirting for awhile with the idea of being a close state that might actually be in contention this election, Obama's lead in Michigan is once again starting to open up: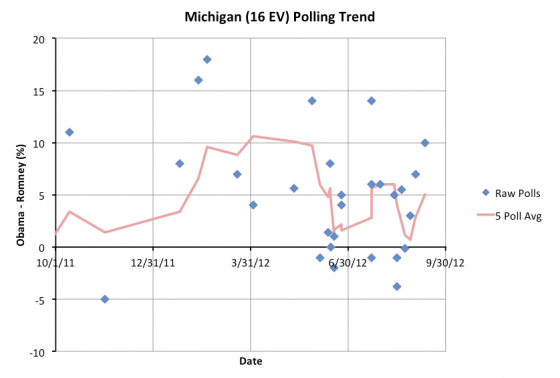 Obama's lead in the state is now just barely over my 5% threshold, so I move the state from "Leaning Obama" to "Weak Obama" and color it light blue on my map.  Basically, Obama is now far enough ahead in Michigan that it looks like a pretty safe bet that he will take the state in November.  But his margins aren't so high that he should be taking the state completely for granted.  Given the right opportunity, Romney could still make it close again.
This means that I take the possibility of winning Michigan back out of Romney's best case.  This leaves the new model summary as follows:
| | Romney | Obama |
| --- | --- | --- |
| Romney Best Case | 301 | 237 |
| Current Status | 219 | 319 |
| Obama Best Case | 180 | 358 |
At this level, Romney's best case has him with 32 electoral votes more than he needs to win. Looking at this, he still has no "must win" states mathematically. Theoretically he could lose Florida (27) and still win if he won every other close state. Realistically speaking of course, if he is in a position where he loses Florida, it is highly unlikely that Romney would simultaneously win the rest of the close states. His paths to victory are a lot narrower without Michigan as a possible win.
Although there was the move toward Romney in Virginia in yesterday's update, so far my prediction from last week that the beginning of September would be Romney's post-primary high water mark is holding.  (I updated my post from yesterday to add a note that my original accidental implication that I had already been proved wrong was incorrect.)
It has only been a week though.  And it has not been a great week for Romney.  Romney may still have some good weeks left in him before this is all said and done.
Obama has a big advantage at the moment.  Romney has a really hard road to go to make this really competitive.  Being in a spot where you essentially have to sweep all of the close states (most of which you are behind in at the moment) in order to win is not where you want to be in mid-September.  Especially as a challenger.  But it is not over yet…
Note: Chart and map from the Abulsme.com 2012 Electoral College Prediction page. Both assume Obama vs Romney with no strong third party candidate and show polling as it currently exists. Things will change before election day. On the map red is Romney, blue is Obama, gold states are too close to call. Lines on the chart represent how many more electoral votes a candidate would have than is needed to tie under several different scenarios. Up is good for Obama, Down is good for Romney.