Now that the nominees are essentially certain, state level general election polling is ramping up quickly. It has only been a few days since the last update to my electoral college models, but there have already been polls in New Jersey, Virginia, North Carolina, California, Ohio, and Wisconsin. But of these, it was the new poll in North Carolina that made a difference.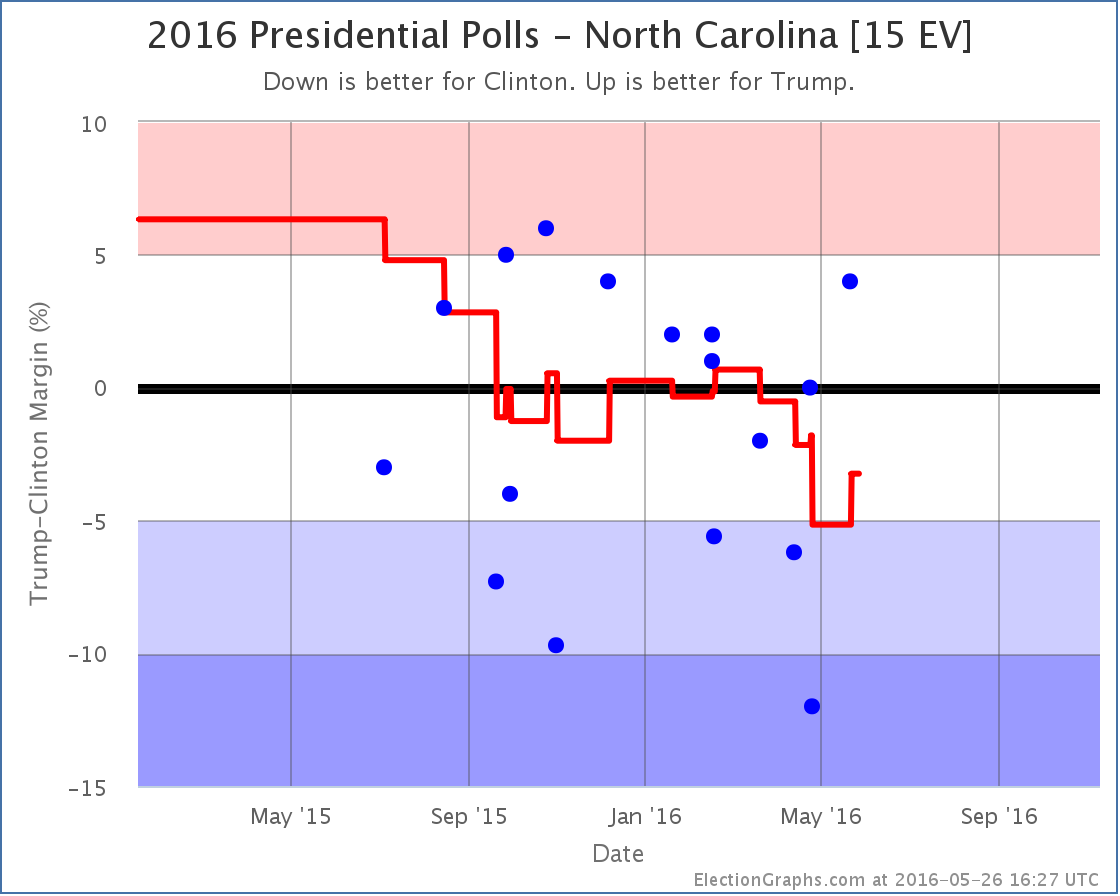 Trump gets his best individual poll result in North Carolina since last December, and the poll average moves from a Clinton lead of 5.2% to a Clinton lead of only 3.2%. With North Carolina once again within reach, Trump's best case improves: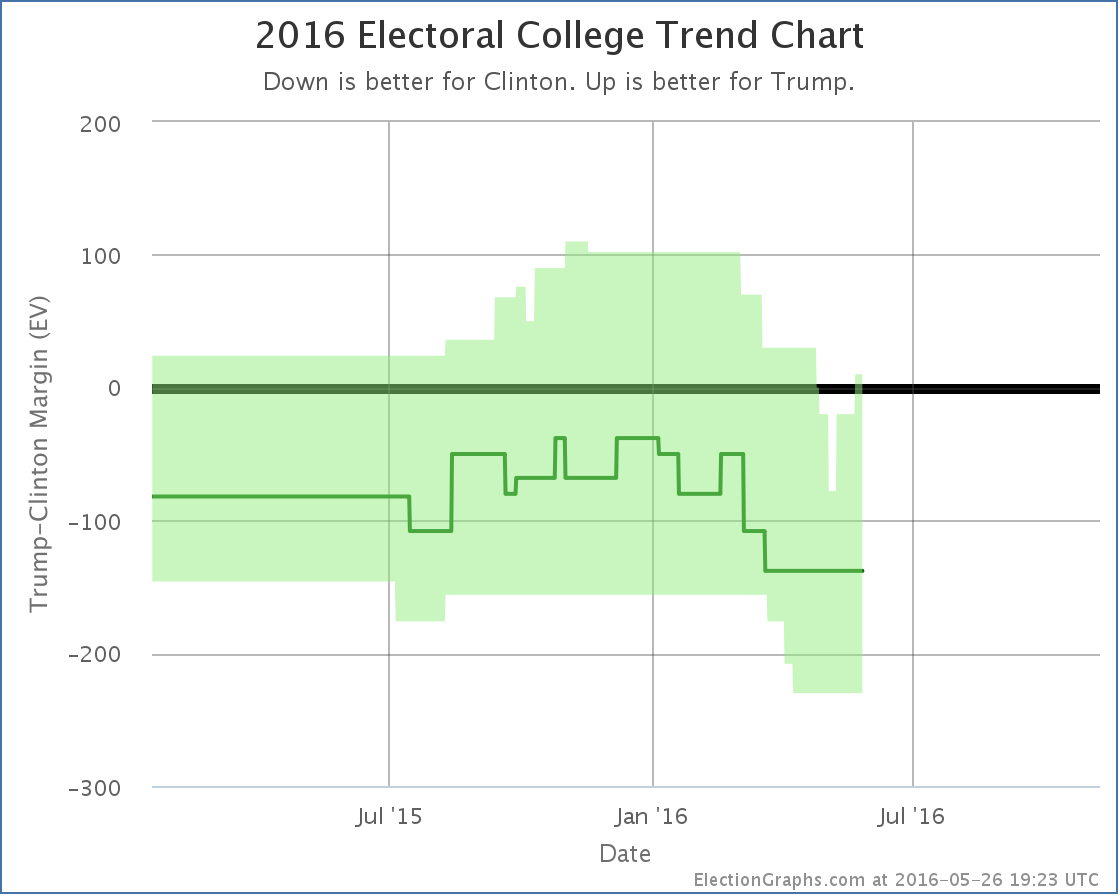 Now if Trump wins all the states he leads, plus all the states where Clinton's lead is less than 5%, he squeaks out a 10 electoral vote win. Between this and Florida, this puts him back on the plus side for his "best case" after just under a month where even this rosy scenario was underwater for him.
Since North Carolina had been the tipping point, that metric also moves: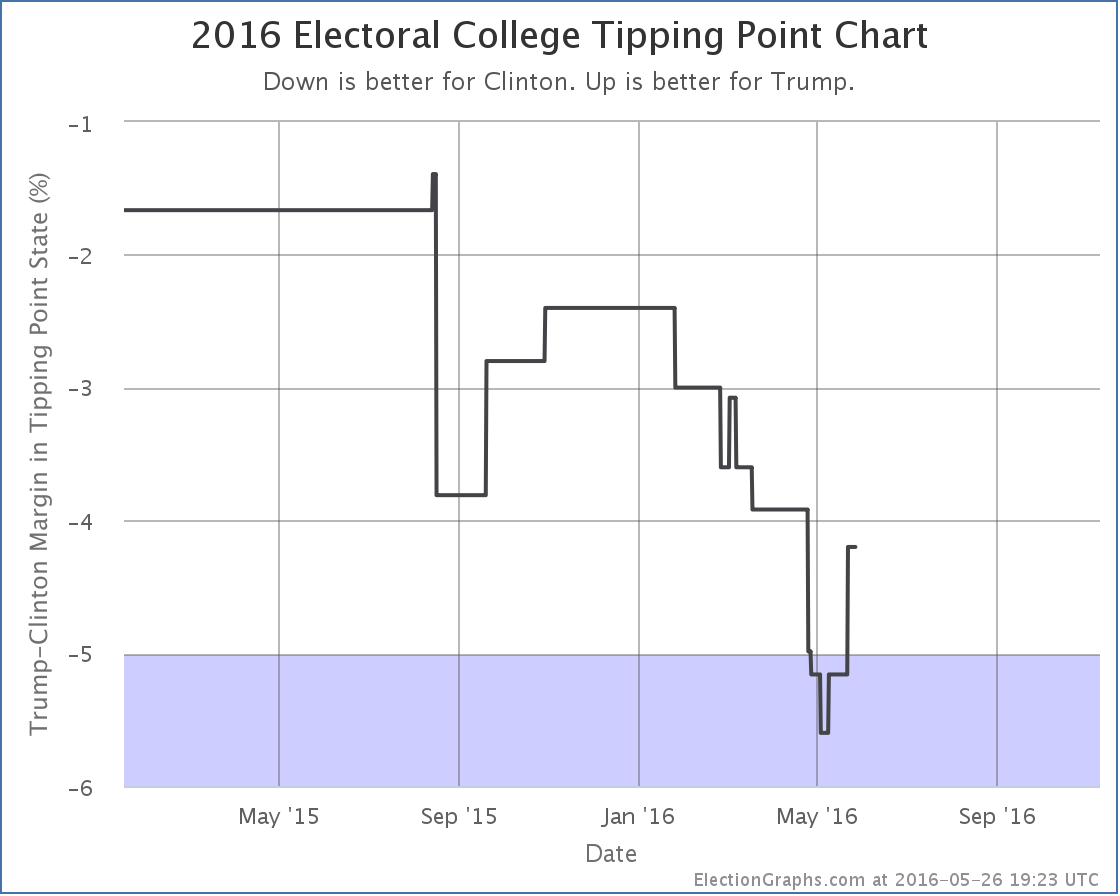 The tipping point state is now Florida, where Clinton leads by 4.2%.
From January to the beginning of May, there were 12 changes to the "bubble" and 8 changes to the tipping point. Only one of each category was in Trump's direction. Overwhelmingly those months were a story of Trump's position against Clinton deteriorating.
Since then we have two bubble changes and two tipping point changes, but all four have been moves in Trump's direction. It is certainly looking like Trump hit bottom and is now bouncing back. The question is of course how far he bounces, and how long it lasts.
165.4 days until the polls start to close on election night.
Note: This post is an update based on the data on ElectionGraphs.com. Election Graphs tracks both a poll based estimate of the Electoral College and a numbers based look at the Delegate Races. All of the charts and graphs seen in this post are from that site. Additional graphs, charts and raw data can be found there. All charts above are clickable to go to the current version of the detail page the chart is from, which may contain more up to date information than the snapshots on this page, which were current as of the time of this post. Follow @ElectionGraphs on Twitter or like Election Graphs on Facebook to see announcements of updates or to join the conversation. For those interested in individual general election poll updates, follow @ElecCollPolls on Twitter for all the polls as they are added.
Edit 23:36 UTC to adjust sentence order in the first paragraph.