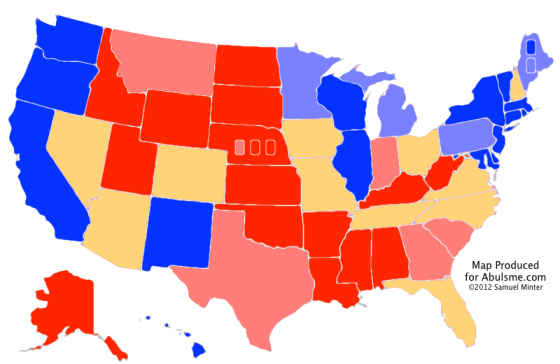 Map from the Abulsme.com 2012 Electoral College Prediction page. This map reflects Obama vs Romney. If any other candidate takes the lead in the Republican delegate race we'll switch to making maps for them.
New polls in our last five poll averages move Obama's lead in Wisconsin to over 10%, so that state moves into the "Strong Obama" category.
More interestingly perhaps, Romney's lead in Tennessee drops to under 5%, moving that state to the "Lean Romney" category, which for purposes of our "best case" scenarios, puts the state into play for Obama. In 2008 McCain won Tennessee by a 15% margin, so this is somewhat surprising. We'll see if this holds up as we move further into the year, but for the moment, that is where we are.
New Summary:
| | Romney | Obama |
| --- | --- | --- |
| Romney Best Case | 291 | 247 |
| Current Status | 210 | 328 |
| Obama Best Case | 159 | 379 |
And the trends since the beginning of the year…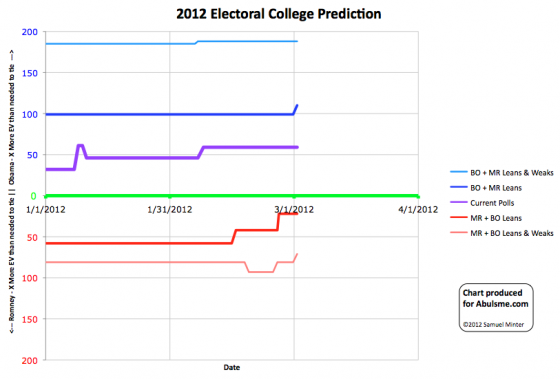 Chart from the Abulsme.com 2012 Electoral College Prediction page.
Up is better for Obama, so you can see that at least so far, things have generally been heading in his direction. It is of course still very early, so much will change between now and November.
Correction 2012 May 23 10:18 UTC: As it turns out, Wisconsin should NOT have flipped from Weak Obama to Strong Obama with this update on March 2nd. This change was influenced by the presence of a Washington State poll that I incorrectly included in my Wisconsin data. When this is backed out, Wisconsin does eventually go Strong Obama, but not until March 30th. Thanks to Darryl at HorsesAss for finding the error in my spreadsheet. The time series chart is corrected to reflect this starting with my May 23rd update.
Correction 2012 Jun 8 14:56 UTC: So, Tennessee shouldn't have moved on this day either. The HorsesAss data included an old Tennessee poll from October 2011, that shows a strong Romney lead. The presence of this poll would have delayed the Tennessee move to "Lean Romney" until May 24th. This was noted and the historical graphs corrected starting with the June 8th update.