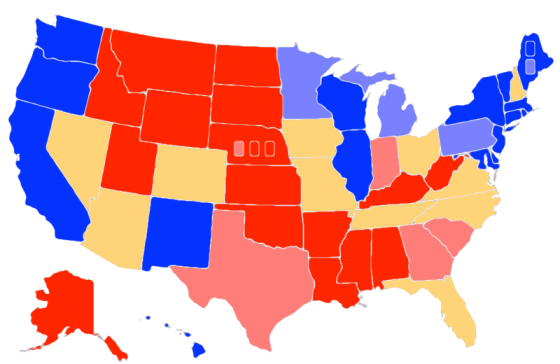 Map from the Abulsme.com 2012 Electoral College Prediction page. This map reflects Obama vs Romney. If any other candidate takes the lead in the Republican delegate race we'll switch to making maps for them.
So the latest poll in Maine (the first since October) puts our "last five poll average" up an Obama lead of 12.1%, so the state moves from our light blue color (indicating a 5% to 10% lead) to dark blue (indicating a lead over 10%). Obama won Maine in 2008 by over 17%, so this isn't a huge surprise.
This is for the whole state though. Maine is one of two states (the other is Nebraska) that allocate some of their electoral votes based on the state wide vote, but some of them by the winners in each congressional district. We have no polling yet for the individual congressional districts in Maine, so they are colored in by the average of the results in 2004 and 2008. So we classify ME-1 as Strong Obama (lead over 10%) and ME-2 as Weak Obama (lead between 5% and 10%).
In practice these states have almost never split their vote, but it does happen sometimes… Nebraska split its vote in 2008… so we have to allow for the possibility in our model.
Since this change does not effect a swing state, our summary remains the same:
| | Romney | Obama |
| --- | --- | --- |
| Romney Best Case | 291 | 247 |
| Current Status | 210 | 328 |
| Obama Best Case | 159 | 379 |
And our chart over time…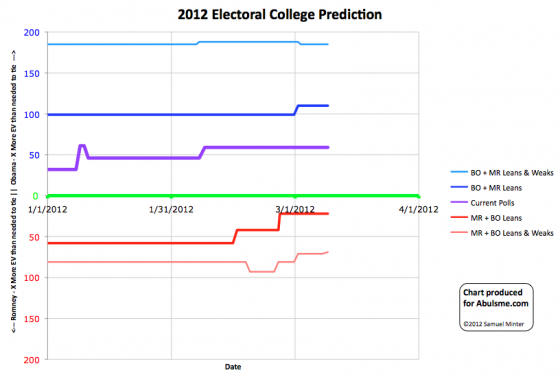 Chart from the Abulsme.com 2012 Electoral College Prediction page.
In the last month there have been 8 state category changes. 6 of them have gone in Obama's direction. It will be awhile until the state by state polls are frequent enough and in enough states to be quickly responsive to the state of the race, but from the polling we do have, it is apparent that the continuing Republican primary battle seems to be slowly but surely weakening Romney's hand against Obama. The expectation is that once Romney can pivot to the general election, he'll be able to start trying to reverse that tide. But until then, he seems to just continue to lose ground.