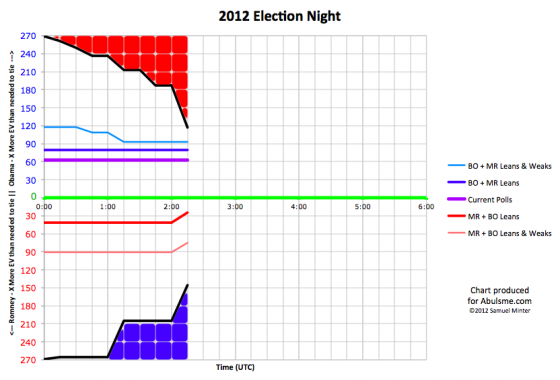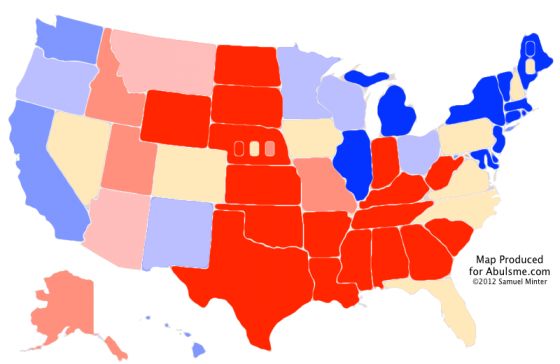 | | Romney | Obama |
| --- | --- | --- |
| Romney Best Case | 294 | 244 |
| Current Status | 206 | 332 |
| Obama Best Case | 190 | 348 |
No states were called between 01:45 UTC and 02:00 UTC, but a ton were called between 02:00 UTC and 02:15 UTC:
Romney: KS, LA, NE-All, NE-1, ND, SD, TX, WY, MS
Obama: MI, NY, NJ
All of these were no brainer expected states, except for Michigan. Michigan is the first state of the night to be called where the margin was less than 5% in the polls, so winning this state made a difference between the "best cases" that I present. Obama was ahead here by 4.5%, so a win here was predicted, but it was a close state and one that Romney really needed.
As of the final update I made on election day, Michigan was the tipping point state. That means Romney had to win all the states he was doing better in than Michigan PLUS Michigan in order to win. He just lost Michigan, which means he now needs a state he was further behind in that Michigan in order to win.
This is very bad news to Romney. His path to victory is now not quite impossible, but very close. Let's look:
With all the states he has already won, plus the uncalled states where Romney was ahead by more than 5%, he had 190 electoral votes. Then the areas he was ahead in:
Nebraska 2nd (1): 3.8% Romney lead
North Carolina (15): 1.4% Romney lead
That gets Romney to 206. He needs 63 more electoral votes. Looking at the remaining states that haven't yet been called:
Iowa (6): 2.0% Obama lead
Florida (29): 2.3% Obama lead
Colorado (9): 2.4% Obama lead
New Hampshire (4): 2.8% Obama lead
Maine 2nd (1): 2.8% Obama lead
Virginia (13): 3.6% Obama lead
Pennsylvania (20): 4.8% Obama lead
Nevada (6): 4.8% Obama lead
If Romney wins all of those through Pennsylvania, it gets him to 288 electoral votes, which wins him the Presidency. If he doesn't win Pennsylvania to win, he needs every other one of those states, including Nevada, which would get him to 274. If he does win Pennsylvania, then he could afford to lose Virginia, New Hampshire and Maine's 2nd (and Nevada).
But that is a very tall order! And there will be another update coming soon…