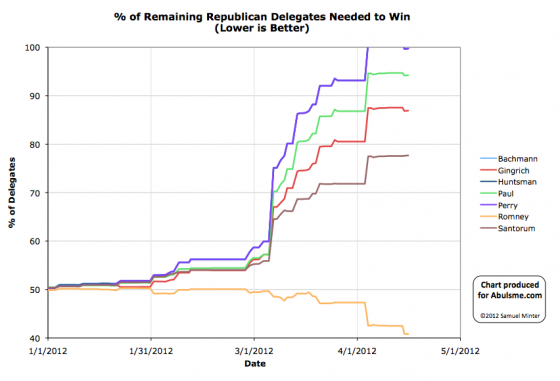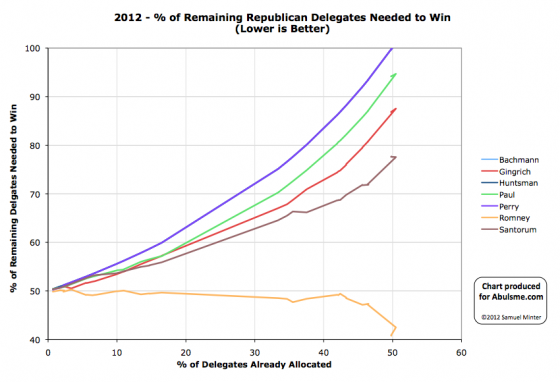 Charts from the Abulsme.com 2012 Republican Delegate Count Graphs page. When a candidate gets down to 0%, they have clinched the nomination. If they get above 100%, they have been mathematically eliminated. The first chart is by date, the second is by "% of Delegates Already Allocated". These numbers include estimates of the eventual results of multi-stage caucus processes which will be refined as the later stages occur.
Very shortly after my update yesterday, Green Papers updated their Wyoming soft count numbers again. They had been Romney 22, Santorum 2, Paul 1, and 4 TBD. They are now Romney 23, Santorum 2, Paul 1, and 3 TBD. So one of the uncommitted delegates moved to the Romney column. So Romney +1 delegate for the day. Very minor change.
In terms of "% of remaining needed to win":
Romney: 40.85% -> 40.80%
Santorum: 77.61% -> 77.68%
Gingrich: 86.85% -> 86.92%
Paul: 94.16% -> 94.25%
Other: 99.65% -> 99.74%
I believe there are also two New York superdelegates that have come out for Romney that have been tracked by DCW that Green Papers hasn't added to their totals yet. Since Green Papers now incorporates the DCW numbers, I don't add them separately as I did in the early days. If I did I'd have to do a lot of extra tracking to avoid double counting, so I'll wait for Green Papers to add them to their master soft count, which I expect will happen soon.