On this week's Curmudgeon's Corner we do our annual predictions show. Hear Sam and Ivan's take on what to expect in 2016. We talk about the economy, tech, domestic issues, international issues and of course Election 2016, with a few random things thrown in for good measure. Do you agree with our predictions? Do you think we are crazy? Tune in and find out!
Click below to listen or subscribe… then let us know your own thoughts!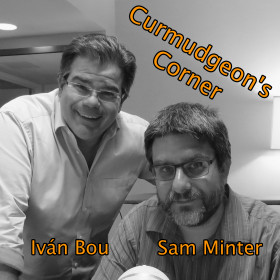 Recorded 2016-01-01
Length this week – 1:49:46

1-Click Subscribe in iTunes


View Podcast in iTunes


View Raw Podcast Feed


Download MP3 File


Follow the podcast on Facebook
Show Details:
(0:00:10-0:03:53) Intro

Ivan Sick
Predictions of the Past
Explanation
Year Confusion

(0:04:31-0:13:42) Economy

Corporate Profits
Oil Prices
Dow Jones
US Recession?
US Economic Growth
European Economy
Jobs
Housing Market
Bitcoin

(0:15:01-0:30:06) Tech

Breakout Products
Peak Apple?
Apple Car?
iOS va Android
Security Breaches
Autonomous Cars
Cable/Satellite TV vs Internet

(0:30:45-0:39:24) Domestic Issues

Guns
Police Violence
Racial Tensions
Abortion / Gay Marriage / Marijuana
Cosby
Healthcare
Domestic Terrorism

(0:40:27-0:50:23) International

Syria
ISIS
Israel/Palestine
Cuba
Iran
Russia
Alex Interlude
Ukraine
Iraq
Turkey
Venezuela
Other Countries

(0:51:02-1:40:08) Politics

House
Senate
Iowa
New Hampshire
South Carolina
Trump Collapse?
Super Tuesday
Contested Convention?
When will we have winners?
Nominees
Significant 3rd Party?
Who Wins the Presidency?
Election Margins
Big Uncertainty

(1:40:57-1:49:26) Hodgepodge

Olympics
Dead Pool
Broken Bones
Broken Devices
Weather
Mergers
International Terrorism
Your predictions?