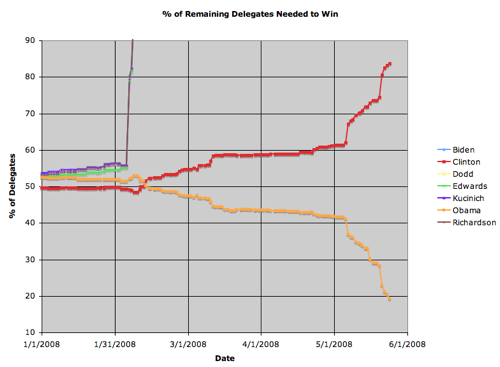 Two more Edwards delegates move to Obama. Plus two more superdelegates for Obama. Net for today, four more for Obama.
New stats:
Delegate count is: Obama 1969, Clinton 1779, Edwards 7
In percent terms that is: Obama 52.4%, Clinton 47.4%, Edwards 0.2%
2026 delegates are needed to win.
There are 295 delegates yet to be determined.
Obama needs 57 more delegates to win.
Clinton needs 247 more delegates to win.
In percentage terms, that means:
Obama needs 19.3% of the remaining delegates to win. (It was 28.3% before KY/OR.)
Clinton needs 83.7% of the remaining delegates to win. (It was 74.4% before KY/OR.)