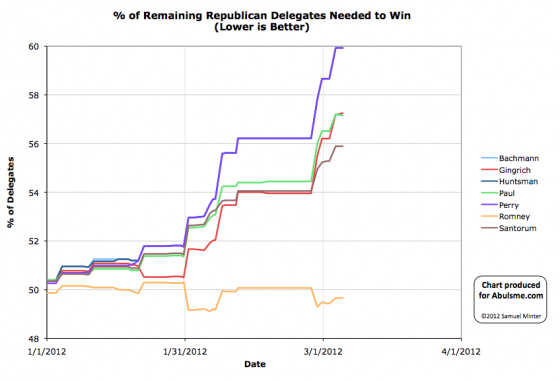 Chart from the Abulsme.com 2012 Republican Delegate Count Graphs page. When a candidate gets down to 0%, they have cinched the nomination. If they get up past 100%, they have been mathematically eliminated. Note that these numbers include estimates of the eventual results of multi-stage caucus processes which will be refined as the later stages occur.
The delegate count estimate in Maine is apparently a little jittery. On February 12th I posted the initial results as Paul 8, Romney 8, Santorum 4, Gingrich 1. On February 18th Green Papers updates this to Romney 8, Paul 7, Santorum 4, Gingrich 2. Today this seems to have gotten updated back to Paul 8, Romney 8, Santorum 4, Gingrich 1. So this means for the day Paul gains a delegate and Gingrich loses a delegate. At this point though, one delegate alone doesn't make a significant difference in the overall picture.
According to our Soft Green Papers plus DCW Superdelegate count though, this means Ron Paul actually pulls ahead of Newt Gingrich into 3rd place in the delegate count by a two delegate margin. So I guess there is that.