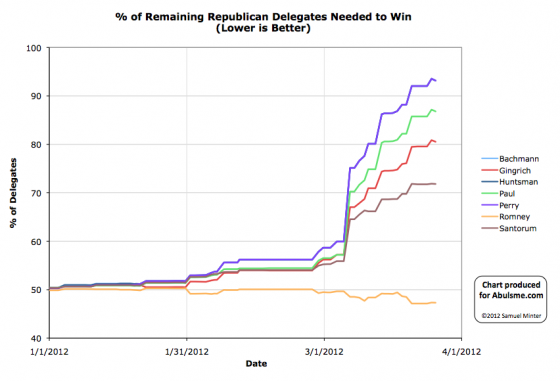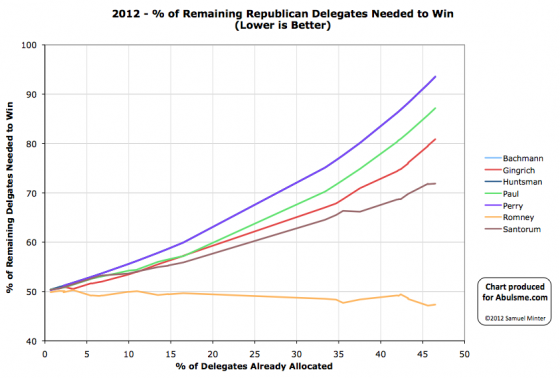 Charts from the Abulsme.com 2012 Republican Delegate Count Graphs page. When a candidate gets down to 0%, they have cinched the nomination. If they get up past 100%, they have been mathematically eliminated. The first chart is by date, the second is by "% of Delegates Already Allocated". These numbers include estimates of the eventual results of multi-stage caucus processes which will be refined as the later stages occur.
I mentioned yesterday that there was some disagreement on interpretation of the rules for how delegates would be allocated in Louisiana. Green Papers said Santorum 13, Romney 7. @FHQ said Santorum 10, Romney 5 and some uncommitted delegates. My charts use the Green Papers Numbers. Well, since yesterday's update the Louisiana Republican party weighed in… and it was 10-5, not 13-7. So @FHQ was right and wins that argument. So Green Papers updated their numbers.
So, net for today: Santorum -3, Romney -2.
This adjusts the numbers slightly, but does not change yesterday's conclusions. Both Romney and Santorum didn't do as well as they needed in Louisiana to move toward 1144. So it was still an "everybody loses" contest. Just slightly different numbers.
For today's adjustment, the "% of remaining needed to win" changes like this:
Romney: 47.34% -> 47.31%
Santorum: 71.87% -> 71.82%
Gingrich: 80.87% -> 80.54%
Paul: 87.16% -> 86.81%
So essentially today is an "everybody wins!" day, simply because there are 5 more delegates available today compared to what was thought to be available yesterday.
The race summary remains the same. The non-Romneys are rushing toward mathematical elimination. It would take an event like Romney dropping out to give them an actual shot to get to 1144 before the convention. The most likely scenario remains Romney slowly but surely accumulating delegates and getting to 1144. The possibility of the non-Romneys blocking Romney from getting to 1144 remains remote, but not yet so remote that I'm ready to say outright that it is impossible.