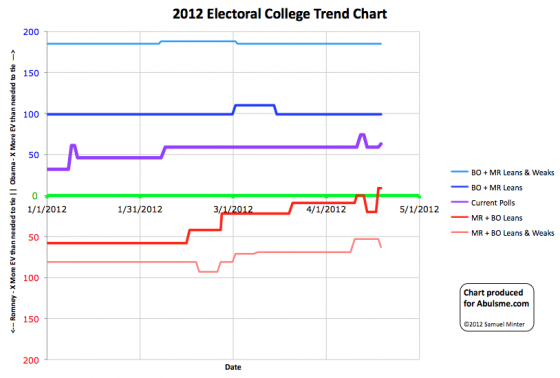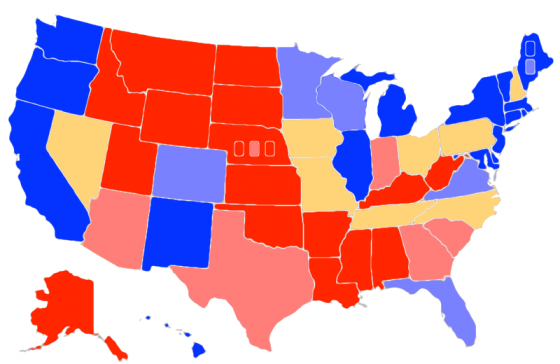 Chart and map from the Abulsme.com 2012 Electoral College Prediction page. Both assume Obama vs Romney with no strong third party candidate. Both show polling as it currently exists. Things will change before election day. Lines on the chart represent how many more electoral votes a candidate would have than is needed to tie under several different scenarios. Up is good for Obama, Down is good for Romney. On the map Red is Romney, Blue is Obama, Gold States are too close to call.
Two changes in our poll classifications today based on new additions to our five poll averages.
First, Obama's lead in Wisconsin (10 electoral votes) drops to less than 10% bringing Wisconsin into the "Weak Obama" category. Since this is still not a swing state, our "Romney Best Case" scenario still doesn't include Romney winning Wisconsin. But this does mean that Wisconsin is potentially in play. With the right combination of campaigning and events, Obama's lead in Wisconsin could drop below 5%, putting it into contention as a swing state. It is not there today… Obama's lead in the five poll average is still 8.8%… but it is close enough now to be worth spending time and money in the state.
Second, New Hampshire (4 electoral votes) moves from being just barely Romney to being just barely Obama. (Obama's lead in the five point average is 1.7%, which is negligible and can disappear in an instant.) New Hampshire remains too close to call and therefore one of our swing states. But this does change our "everybody wins the states they are ahead in" scenario.
| | Romney | Obama |
| --- | --- | --- |
| Romney Best Case | 260 | 278 |
| Current Status | 210 | 328 |
| Obama Best Case | 170 | 368 |
Romney's best case with current polling results remains a loss. And the "current status" improves for Obama because of New Hampshire.
But Wisconsin does show there is some movement in Romney's direction at the moment. Over the last eight days we've seen Obama's lead in RCP's National Poll average drop from 5,4% to 1.7%. That is a very significant drop. We'll see over the next few weeks as more state polls come in whether this starts to translate into electoral college gains as well. The expectation is that as long as the national poll trend is sustained, the state numbers will move correspondingly as soon as we have enough state polls to show it.
Edit 2012 Apr 19 07:10 UTC – Added number of electoral votes for each state mentioned.
Edit 2012 May 30 15:47 UTC – It turns out New Hampshire's move from Lean Romney to Lean Obama should actually have happened on Mar 31. Details of correction and revised historical chart posted on May 30.