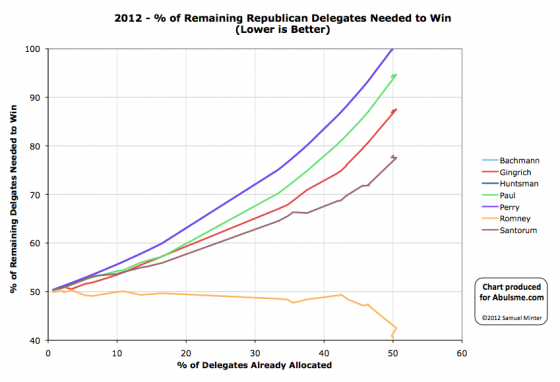 Charts from the Abulsme.com 2012 Republican Delegate Count Graphs page. When a candidate gets down to 0%, they have clinched the nomination. If they get above 100%, they have been mathematically eliminated. The first chart is by date, the second is by "% of Delegates Already Allocated". These numbers include estimates of the eventual results of multi-stage caucus processes which will be refined as the later stages occur.
A couple minor updates today as we continue through the slow period before we have NY/PA/CT/RI/DE next week.
The totals for Alabama get updated from Santorum 23, Gingrich 14, Romney 11, 2 TBD to Santorum 23, Gingrich 13, Romney 12, 2 TBD. This apparently after resolving a dispute on the results in the 7th congressional district. So Romney +1, Gingrich -1.
Also, a superdelegate from Rhode Island endorsed Romney.
So for the day, Romney +2, Gingrich -1.
In terms of "% of remaining needed to win":
Romney: 40.59% -> 40.46%
Santorum: 77.95% -> 78.02%
Gingrich: 87.23% -> 87.39%
Paul: 94.58% -> 94.66%
I know. Yawn. But we will track this to the bitter end. Look for much bigger moves next week.