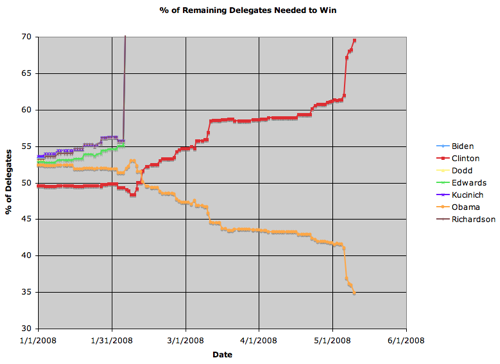 The delegate counts for North Carolina and Indiana are now complete.
99 delegates for Obama, 88 for Clinton.
(Of those, 9 delegates were new today, 5 for Clinton, 4 for Obama.)
That's 47.1% for Clinton. (Compared to the 62.0% that she needed.)
That's 52.9% for Obama. (Compared to the 41.1% that he needed.)
Clinton obviously was far far below the pace she needed to actually try to win this thing.
In addition today 16 more superdelegates declared preferences. 10 for Obama, 6 for Clinton. Once again Clinton loses the percentage game. As of yesterday she needed to be getting 68.3% of delegates to catch up and win. Of today's superdelegates she got 37.5%. Even if you add the delegates she got today from IN/NC, she only manages 44%. Oops. But yet she stays in.
Anyway, updated summary:
The new delegate count is: Obama 1860, Clinton 1696, Edwards 19
In percent terms that is: Obama 52.0%, Clinton 47.4%, Edwards 0.5%
2025 delegates are needed to win.
There are 473 delegates yet to be determined.
Obama needs 165 more delegates to win.
Clinton needs 329 more delegates to win.
In percentage terms, that means:
Obama needs 34.9% of the remaining delegates to win. (It was 41.1% before IN/NC.)
Clinton needs 69.6% of the remaining delegates to win. (It was 62.0% before IN/NC.)
More and more superdelegates are declaring their preferences. There hasn't been a massive overwhelming wave of them yet, but it seems the numbers are increasing. This will be over soon.
It seems everybody is determined, for whatever reason, that eventually the Florida and Michigan delegations will be seated in one form or another. I really think they shouldn't be seated at all, but whatever. When they finally agree how to seat those delegates, all the numbers above will of course change. But the bottom line is that any way they end up seating the delegations will be in a way that is structured such that it doesn't change the results. It will just be a way to make those states feel included. But they will not matter.