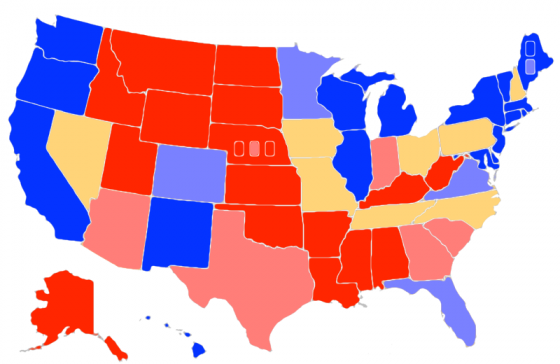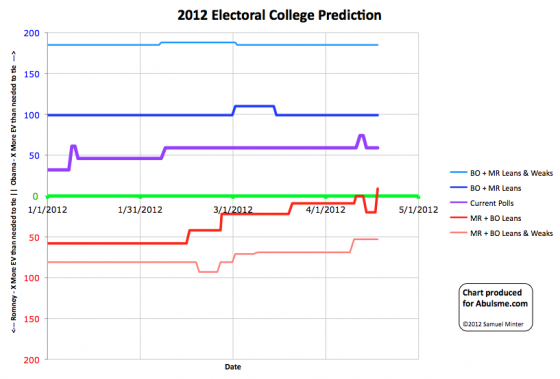 Map and chart from the Abulsme.com 2012 Electoral College Prediction page. Both assume Obama vs Romney with no strong third party candidate. Both show polling as it currently exists. Things will change before election day. On the map Red is Romney, Blue is Obama, Gold States are too close to call. Lines on the chart represent how many more electoral votes a candidate would have than is needed to tie under several different scenarios. Up is good for Obama, Down is good for Romney.
Remember how a few days ago I said things were starting to improve for Romney? Well, that didn't last long…
Obama's lead in the five poll average for Florida increases to over 5%. It leaves the swing states and moves to "Weak Obama". My "best case scenarios" give one candidate or another all of the swing states. Florida makes a big difference. So what do things look like now?
| | Romney | Obama |
| --- | --- | --- |
| Romney Best Case | 260 | 278 |
| Current Status | 210 | 328 |
| Obama Best Case | 170 | 368 |
Yes, that is right. With current state polling, if Romney wins ALL of the states that are close…
He still LOSES 260 to 278.
There are major caveats to give:
November is still far away. Romney hasn't geared up his campaign machine. Important states are not yet being blanketed by advertisements. We haven't had the conventions yet. Most people aren't paying attention yet. News events will change the agenda. The situation in April is not a good predictor of what will happen in November. Obama has a head start. That is all that can be said.
State polling is still sparse. In Florida, five polls goes back to January. Florida is more frequently polled than many others. Some states actually haven't been polled at all. Until polling ramps up, this projection will lag events.
Despite this, it is remarkable for Obama to be showing this kind of lead. Romney has a lot of work to do. But wait…. haven't there been polls in the news lately showing Romney ahead? What is going on?
First, never pay attention to individual polls. Instead look at one of the places that aggregate. Lets look at RCP's Average. Obama's lead was usually between 4% and 6% from February until April. It was 5.3% on April 10th. It declined to 2.4% on April 14th. This dip is eight days old. Too short to be picked up in state polls. The projection here is consistent with the lead Obama showed until the last few days. If the new trend is sustained, it will show up in the state results soon.
Second, the president is not elected by popular vote. It doesn't matter if Obama is ahead in California by a little more or less. Obama will win California. But that will show up in national polls. Popular vote and electoral college will only diverge in close elections, but the election is decided by the electoral college. Look at the popular vote polls as leading indicators, but in the end, look at the electoral college. That is how Presidential elections work.