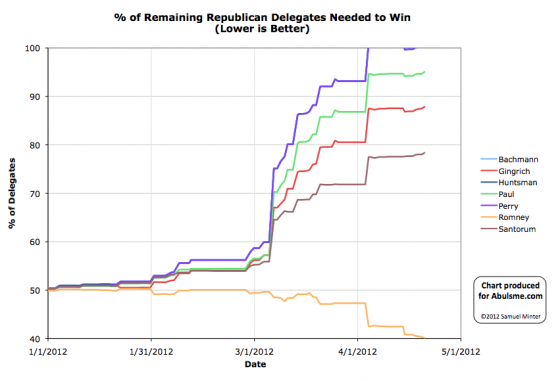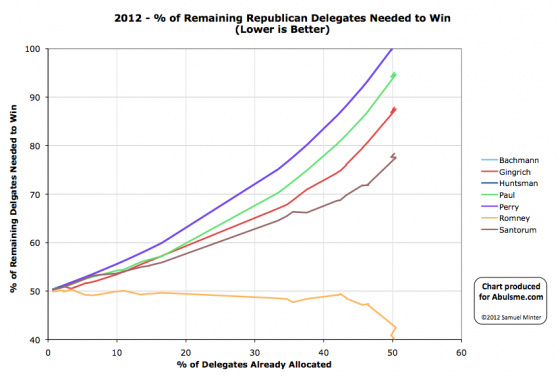 Charts from the Abulsme.com 2012 Republican Delegate Count Graphs page. When a candidate gets down to 0%, they have clinched the nomination. If they get above 100%, they have been mathematically eliminated. The first chart is by date, the second is by "% of Delegates Already Allocated". These numbers include estimates of the eventual results of multi-stage caucus processes which will be refined as the later stages occur.
On Friday Romney had a meeting with the RNC, all of whom are automatic delegates to the convention and most of whom are superdelegates. (Some are not because their votes are bound by the primary or caucus results in their states.) If they wanted a picture with Romney, they had to sign a form saying they promise to support Romney at the convention. There are reports that over 100 of those present signed the form. Some of them checked a box asking that this fact not be made public because of elections they are running in, etc. Others said this could be made public. The Romney campaign hasn't released those names yet. Maybe next week. So potentially there will be a big jump in Romney's superdelegate numbers sometime very soon. In the mean time, DCW was able to verify five more superdelegates publicly endorsing Romney.
In terms of "% of remaining delegates needed to win":
Romney: 40.4% -> 40.1%
Santorum: 78.0% -> 78.4%
Gingrich: 87.5% -> 87.9%
Paul: 94.7% -> 95.1%
And the march to 1144 continues. Romney now has 688. We still have a decent way to go.