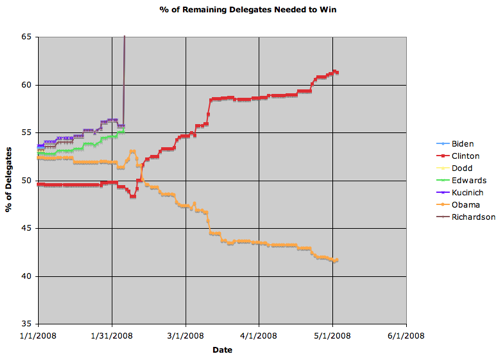 For only the third day since Obama took the lead on February 13th, Clinton gets the ratio of delegates she needs to make what she her job for the rest of the race easier instead of harder. Yesterday her "magic percentage" was 61.4%. She beat that today by getting 5 superdelegates to Obama's 2 (71.4%). This gets her back to… well… somewhere between where she was Thursday and where she was yesterday. But hey, perhaps yesterday was Obama's high watermark, and from now on Clinton will get the 61.3% she needs every day. Uh… or maybe Obama will undo it in a day or two. :-)
Updated stats:
The new delegate count is: Obama 1734, Clinton 1597, Edwards 19
In percent terms that is: Obama 51.8%, Clinton 47.7%, Edwards 0.6%
2025 delegates are needed to win.
There are 698 delegates yet to be determined.
Obama needs 291 more delegates to win.
Clinton needs 428 more delegates to win.
In percentage terms, that means:
Obama needs 41.7% of the remaining delegates to win. (It was 42.9% before PA.)
Clinton needs 61.3% of the remaining delegates to win. (It was 59.3% before PA.)
(Still no update on the final 2 Democratic delegates from the Pennsylvania primaries, or on ANY of the delegates from the Republican Pennsylvania primaries.)