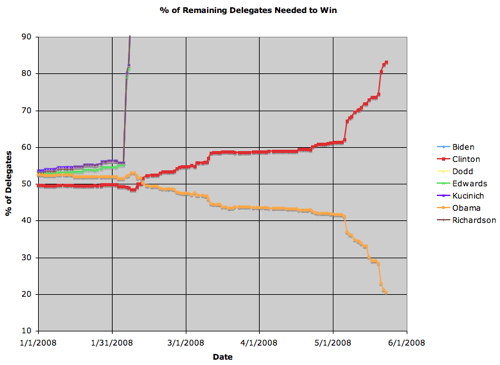 103 out of 103 delegates from KY/OR are now in.
The final results… Clinton 58, Obama 45.
My prediction was… Clinton 58, Obama 45. Woo! Go me!
Today's batch from KY/OR was an even split, 2 for Clinton, 2 for Obama. In addition today Obama picks up one more super delegate. So over all for today, Obama up 3, Clinton up 2.
New stats:
Delegate count is: Obama 1965, Clinton 1779, Edwards 9
In percent terms that is: Obama 52.4%, Clinton 47.4%, Edwards 0.2%
2026 delegates are needed to win.
There are 297 delegates yet to be determined.
Obama needs 61 more delegates to win.
Clinton needs 247 more delegates to win.
In percentage terms, that means:
Obama needs 20.5% of the remaining delegates to win. (It was 28.3% before KY/OR.)
Clinton needs 83.2% of the remaining delegates to win. (It was 74.4% before KY/OR.)
In the last couple of updates, I've also shown stats for what the situation would be if Clinton got her dream result and had Florida and Michigan fully seated based on the current results. I won't do that every day since it is not the situation today, and is a very unlikely result. I just give it occasionally to show that even if that were to happen, Clinton would need to be getting significantly more than 60% of the remaining delegates to be on pace to catch up and win. This would be a DRAMATIC change from the 47.4% of the delegates she has been pacing at so far. And every day where she doesn't get that margin in the delegates… which is almost every day… the percentage she needs continues to go up. She is not doing what she needs to be doing to win EVEN IF she gets what she wants in Michigan and Florida… which she won't.
In any case, if and when there is a revision to the policy on Michigan and Florida that officially changes the number of delegates required for a win, then I will of course make adjustments here. This may well happen on the 31st. (And even after that what is decided may be appealed and have the possibility of changing again later.) But in the mean time, the number needed to win is 2026.