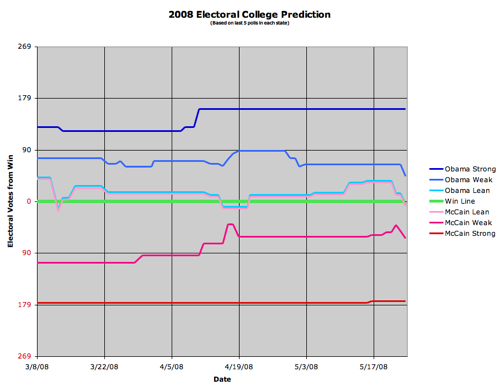 Obama does seem to be on a roll. With the new polls today, three states move in Obama's direction. The most critical is Ohio, which now moves from Leaning McCain to Leaning Obama. Ohio has 20 electoral votes, so this is a huge shift. It is enough to put Obama in the lead (barely) in the situation where you give both candidates all of the states where they are ahead by even a tiny bit. The lead is less than 5% though… actually less than 1%… so really this is a state that very much could easily go either way. But with all the leaning states (and DC) Obama is once again in the lead.
At the same time, Obama strengthens his lead in Pennsylvania. He is now ahead in Pennsylvania by more than 5%. This makes me take the possibility of McCain winning Pennsylvania out of his best case scenario. With Pennsylvania being a pretty large 21 electoral votes though, I fully expect McCain to work hard to bring this state back into play.
Finally, Virginia, which had only strengthened to a more than 5% lead for McCain a few days ago, weakens again and comes back into play as a leaning state, therefore strengthening my "best case" model for Obama.
Current Summary:
McCain Best Case – McCain 313, Obama 225
Obama Best Case – Obama 333, McCain 205
And if everybody gets their leans (and Obama gets DC) – Obama 277, McCain 261
Now, note we still have 11 states and 105 electoral votes in states where the leading candidate is ahead by less than 5%. Either candidate could easily win by pulling the right mix of those states. Right now, all of this basically just means everything is completely up in the air.
Not to mention, this is of course a snapshot of NOW. (Actually, now and the recent past, as many states have very sparse polling, sometimes less than one poll a month.) And between now and the convention, we'll have, as one pundit whose name I can't remember right now called it, two or three "geologic ages" in the state of the race. Things will happen, the candidates will react to them. VPs will be selected. Candidates will make mistakes. Candidates will actively start campaigning in the battleground states. General election TV ads will start airing. Etc.
We have a long way to go. And certainly from this far out, it is completely wide open still.
Having said that, Obama has had a very good last few days in terms of the state by state polls. We shall soon see if this is a long term trend, or if it quickly gets reversed. This is the first time Obama has been ahead since April 20th. And the first time since April 15th that Obama's best case was better than McCain's best case.
Looking back though, in the time since we first had polls in all 50 states back on March 8th, Obama has been in the lead with the "all the leans" metric two other times. Neither time lasted more than a week.
So we shall see. My initial prediction is that this time will last longer and be the beginning of a trend in Obama's direction now that we essentially have a nominee (even if Hillary continues to fight).
I think we'll see more leaning states flip to Obama soon. (I'll go out on a limb and say Michigan will flip soon.) And we'll see some states strengthen for Obama and several more weaken in their McCain support and come back into play for Obama.
I could be wrong though. We'll know soon enough.