States with new poll data added since the last update: Wisconsin, Florida, Ohio, Indiana, New Hampshire, Iowa, Virginia, Colorado, Alaska, Washington, Michigan, Arizona, Tennessee, Maryland, Massachusetts, Oregon, Illinois.
Notable changes in: Michigan and Arizona.
National Summary
As of this update, the most recent polls included in the state averages ended on Thursday. That means that as of yet we do not have any polling that would show the impact (or lack thereof) of Friday's release of 2005 era Trump recordings that have dominated the news since then.
But even before those revelations, Trump was dropping quickly in the aftermath of the first debate and the leak of tax documents. This process continues:
The expected result moves from Clinton by 154 electoral votes to Clinton by 176
Trump's best case moves from a 26 electoral vote win to a 6 electoral vote loss
The tipping point moves from Clinton by 4.5% in MI to Clinton by 5.9% in MN
Looking at the charts: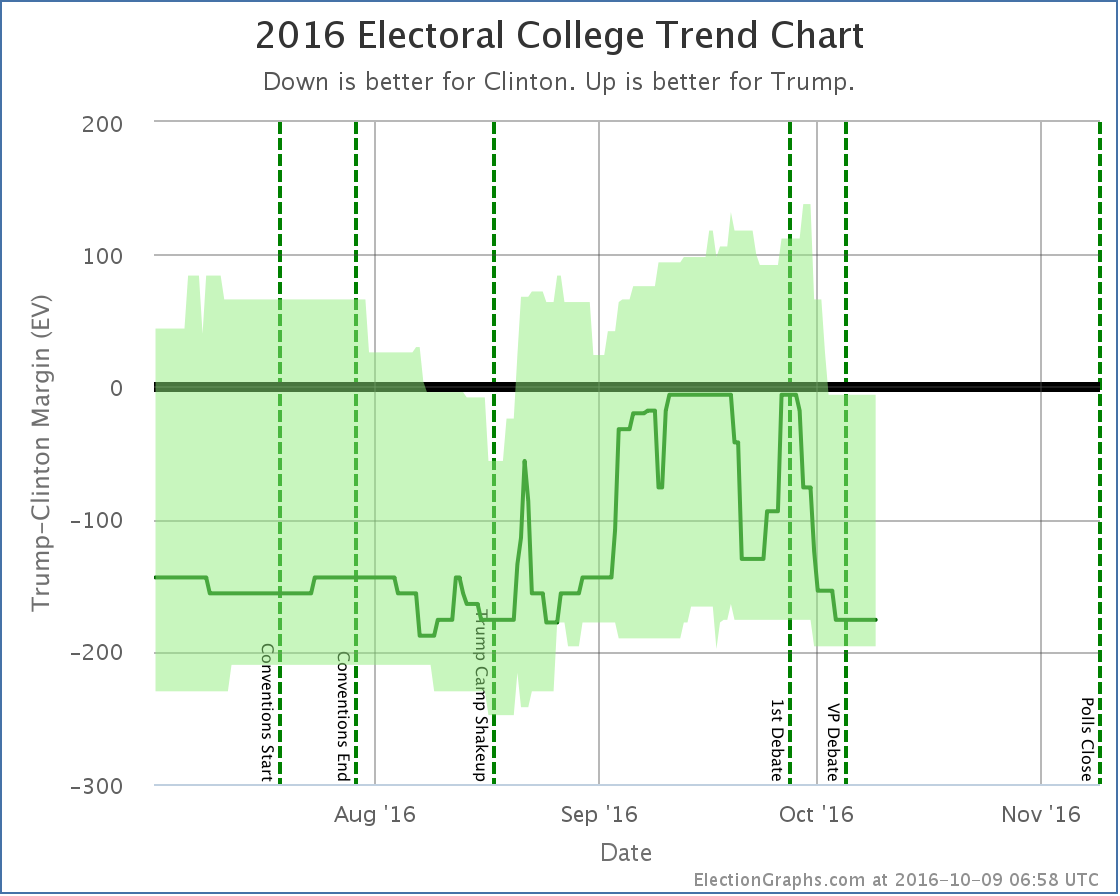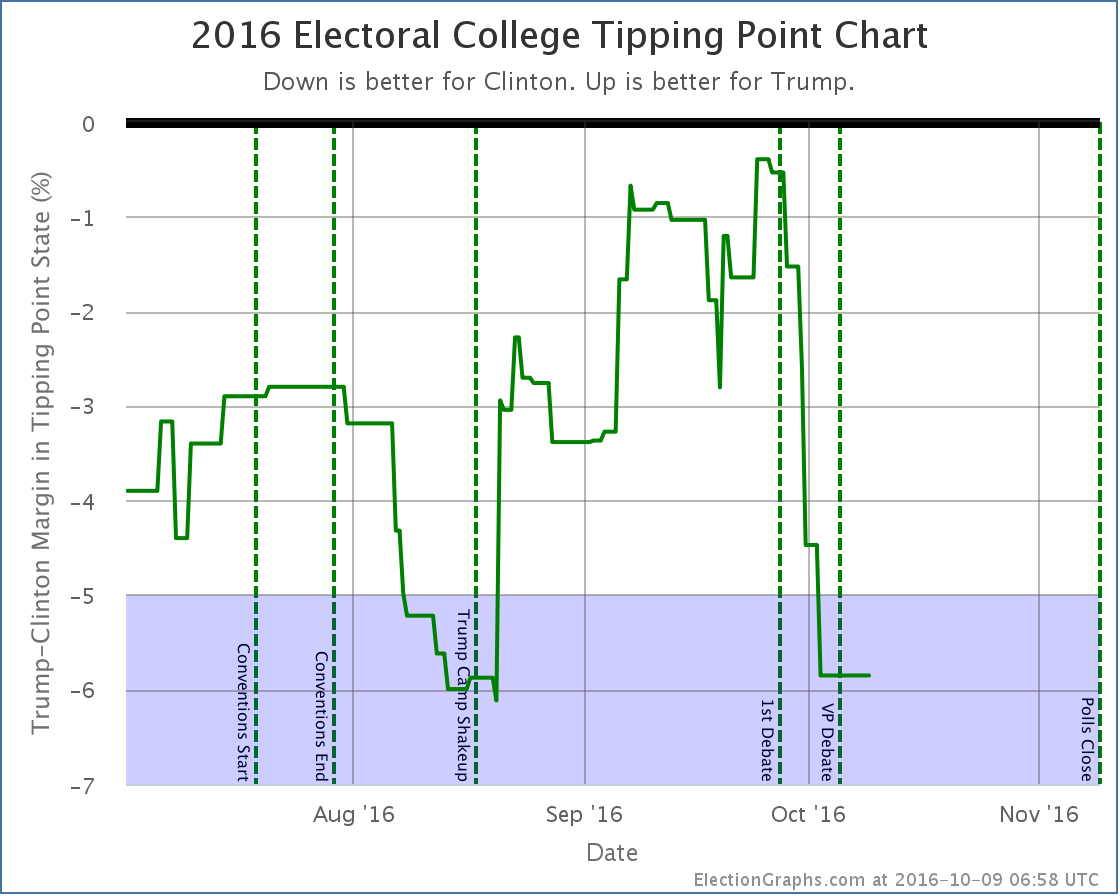 Clinton expands her expected win by taking the lead in Arizona. But perhaps more notable at this point is that her lead in Michigan expands to 5.9%, moving it from my "Weak Clinton" category into "Strong Clinton".
Without Michigan, Trump no longer has a path to victory. He can win all the states he is ahead in, plus all the states where he is close (North Carolina, Arizona, Florida, Ohio, Iowa, and Nevada) and he would still come up short, losing to Clinton 272 to 266.
In order to win, Trump would need to not only pull all of those close states over to his side, but also reverse his fortunes in Michigan or other states where he is currently not just behind, but significantly behind.
Now, with all this, Trump's numbers are actually still slightly better than he was doing at Clinton's high water mark in mid-August. Trump came back from that and moved things to the point where he had almost tied the race. Can't he do that again? Well, look carefully at that recovery. From Trump's low point, it took about a month to reach the point where he had almost tied the race. A month.
We now have 30.3 days left until polls start to close on election day. Many people have already voted. Early voting is ramping up quickly in state after state. In order to catch up and win, Trump would have to have a recovery that was more significant… and quicker… than the successes he managed in August and September.
For any reversal, Trump has to pull out of the tailspin first… and the polls don't yet reflect the latest major campaign events. Things are likely to get worse for Trump before they get better. If they get better. He is running out of time. It may already be too late.
As I write this the 2nd Presidential debate is in just a few hours. Hang on tight.
State Details
Here are the charts for the states whose movements caused the summary changes:
Weak Trump to Weak Clinton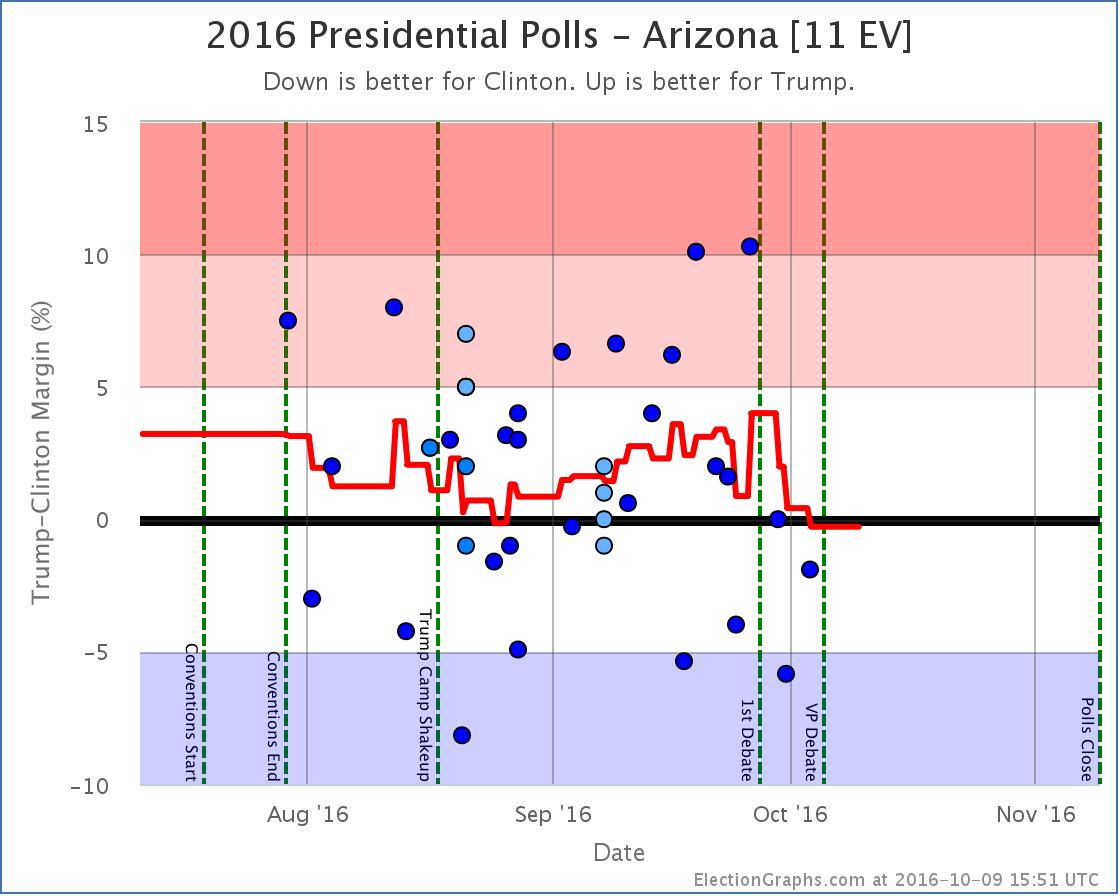 Four of the five polls in the average right now have Clinton tied or ahead in Arizona. All three post debate polls do. Clinton's lead in the average though is a very narrow 0.3% though. Trump could very well take the lead again with the next poll.
Weak Clinton to Strong Clinton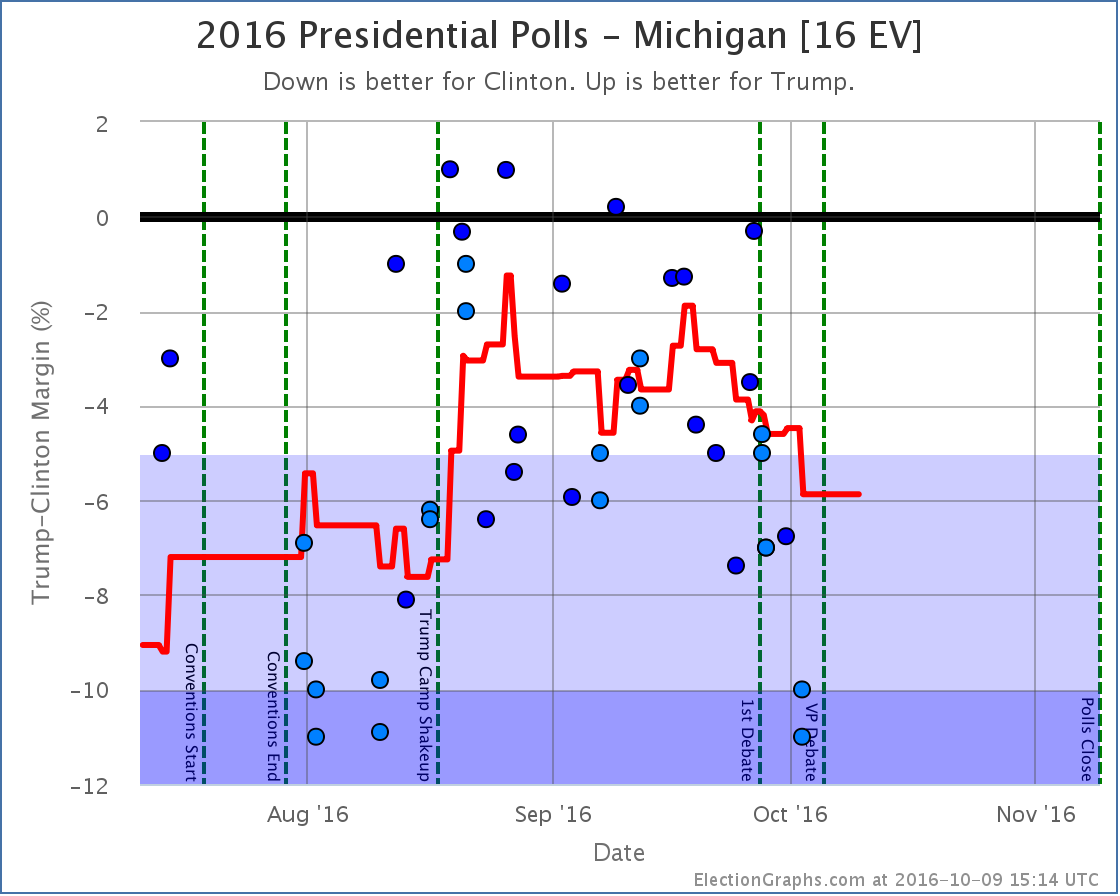 Movement away from Trump is visible starting in mid September. Trump's debate performance did nothing to change this trend. Clinton now holds a fairly substantial lead in Michigan.
For more information…
This post is an update based on the data on ElectionGraphs.com. Election Graphs tracks both a poll based estimate of the Electoral College and a numbers based look at the Delegate Races. All of the charts and graphs seen in this post are from that site. Additional graphs, charts and raw data can be found there. Follow @ElectionGraphs on Twitter or like Election Graphs on Facebook to see announcements of updates or to join the conversation. For those interested in individual general election poll updates, follow @ElecCollPolls on Twitter for all the polls as they are added. If you find the information in these posts interesting or useful, please consider visiting the tip jar.